Here's Who Won The Most Individual Oscars In History
Shutterstock
Winning just one Academy Award is a truly impressive and rare accomplishment, but there is just one person who has won more than 20 Oscars, and they hold the record for most individual Academy Awards by an extremely wide margin.
Starting at the Fifth Annual Academy Awards in 1932, where they won both a competitive Oscar for Best Short Subject (Cartoon) for Flowers and Trees as well as an honorary Oscar for creating Mickey Mouse, and ending with a posthumous win for Best Short Subject (Cartoon) for Winnie The Pooh and the Blustery Day, Walt Disney won 22 competitive Oscars and received four honorary Oscars, for a grand total of 26 Academy Awards. He also holds the record for most nominations by an individual, with 59, second only to the Metro-Goldwyn-Meyer studio itself with a total of 62, per the Academy Awards database. 
Twenty of the award statuettes are available for viewing at the Walt Disney Family Museum in San Francisco, California, according to the museum's website. The site notes that Disney also holds yet another Oscar record. In 1954, he won four Academy Awards, making him the person who has won the most Oscars in a single year. After going on stage to receive his fourth statuette, he joked, "Just gotta say one more word. It's wonderful, but I think it's my year to retire!"
Walt Disney holds several Oscar-related records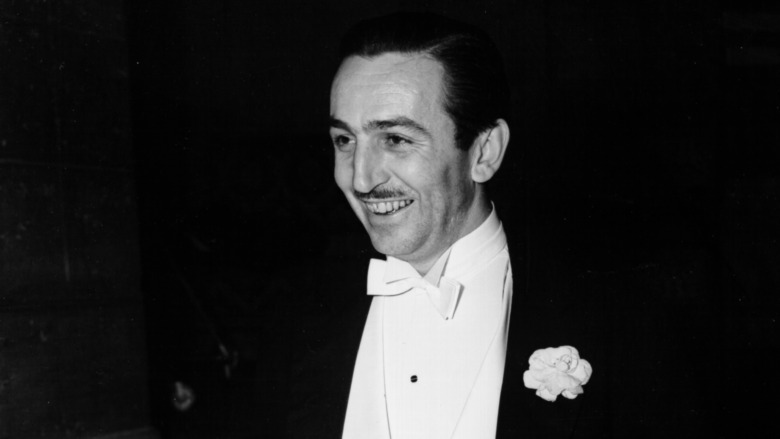 Michael Ochs Archives/Getty Images
The majority of Walt Disney's Academy Awards were for producing in the category Short Subject (Cartoon), where he won a total of 12. He won additional producing Oscars for several Short Subject (Two-reel), Short Subject (Live Action) and Short Subject (Documentary) films, and for two full-length documentaries, 1953's The Living Desert and 1954's The Vanishing Prairie, per the Academy Awards database. His only nomination for Best Picture was 1964's Mary Poppins; the movie lost to My Fair Lady at the 1965 Academy Awards, although Julie Andrews took home Best Actress for her work as Mary Poppins.
In what was perhaps the most aggressively adorable presentation of an Academy Award of all time, Disney won an honorary Oscar for Snow White and the Seven Dwarves in 1939, "recognized as a significant screen innovation which has charmed millions and pioneered a great new entertainment field for the motion picture cartoon." According to the Walt Disney Family Museum, Academy President and legendary film director Frank Capra came up with the idea of presenting Disney with a regular-sized Oscar on a base with seven small statuettes, one for each dwarf, descending down the side. Shirley Temple, the most famous child star of the era, presented the award to Disney, asking "Isn't it bright and shiny? Aren't you proud of it, Mr. Disney?" to which Disney replied "Well, I'm so proud I think I'll bust." The exchange is available on YouTube.