The Real Reason We Don't Hear From Bret Michaels Anymore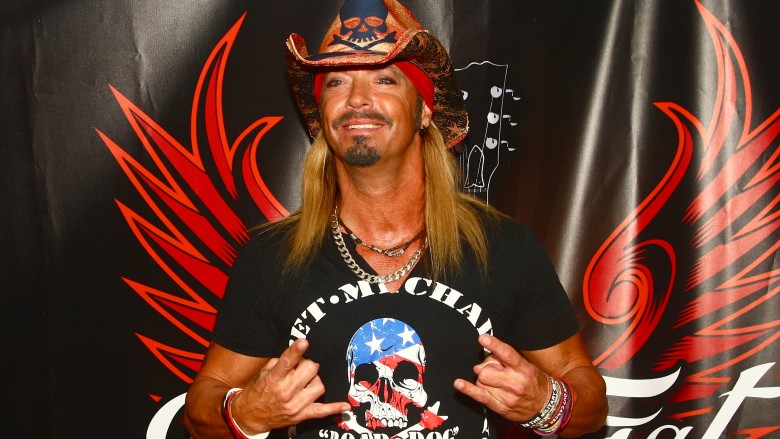 Getty Images
When Bret Michaels and Poison announced they were going to be joining Def Leppard and Tesla on a Summer 2017 tour, it was a bit of a surprise. We've seen Michaels here and there, doing a bit of reality television and then a bit more reality television ... and then still some more. But musically, Michaels — and Poison — seemed to have fallen off the radar a bit. Turns out, there's some good reasons for that.
He put Poison on hold during Rikki Rockett's battle with cancer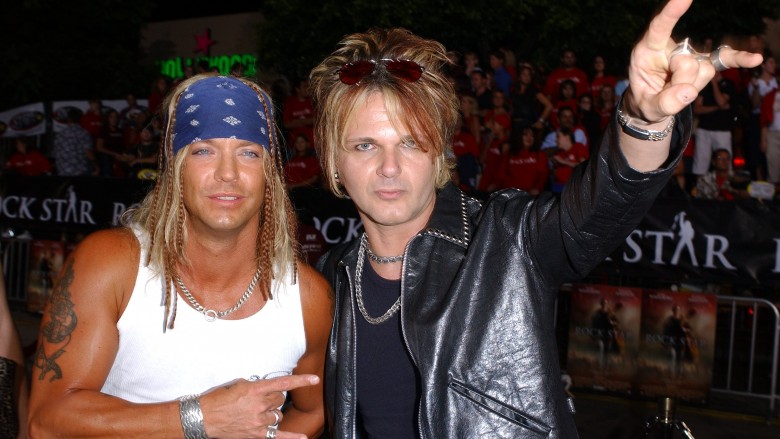 Getty Images
In April 2016, Michaels addressed the lack of new Poison material or a tour schedule, while on Sirius XM's Eddie Trunk Live. The members of Poison have had their challenges — not surprisingly, those tour buses have got to get pretty darn cramped — and there's been a bit of skepticism about Michael's devotion to getting the band back together, as it were. According to him, though, there's one thing that he's most concerned about, and perfectly happy to put the band on hiatus for: his drummer's health while battling cancer.
Michaels said, "Right now, we've all got a prayer out for Rikki and his health; we hope that it's great. And that's number one — for our drummer, and his health, and his kids, and everything... He's working really hard at [his treatment]." He went on to say that not only was the health of his friends the most important thing, but that he was cool with whichever way it went with putting Poison back on tour. "I'm not a bitter guy. I'm happy for what I've got and the amazing time we had together, and hopefully we'll continue to do it in the future. But if not, it was a great journey and a great time."
That treatment was a major one. Rikki Rockett was diagnosed with oral cancer in 2015, and went through both chemotherapy and radiation before finally switching to an experimental immunotherapy treatment. In July 2016, he announced that he was officially cancer-free. That epic announcement came on the heels of his comments about Poison, saying that this year was decision time as to whether or not they wanted to keep going. With everyone on board, it looks like it's all systems go.
His emergency appendectomy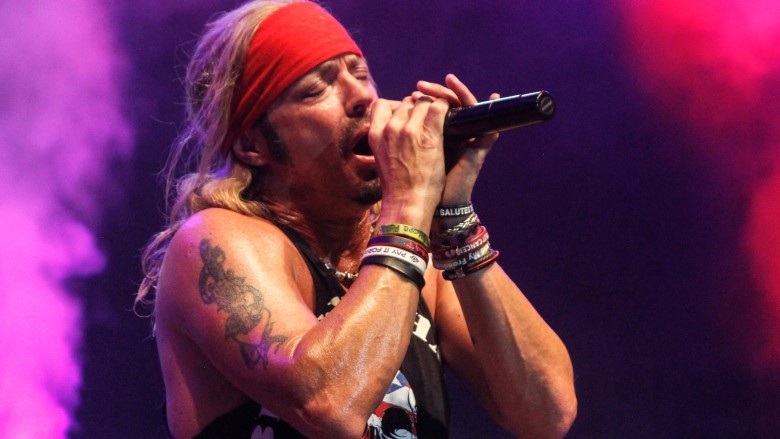 Getty Images
Michaels has had his own set of health issues, like in April 2010, when he was in San Antonio, Texas for a show. After a day of severe stomach pains, on-scene doctors finally convinced him that he needed to go to the hospital. He'd insisted that it was just a bad case of the flu, but once he got to the hospital, he was diagnosed with acute appendicitis and was rushed into emergency surgery. So ... not the flu.
A few days later, he blogged about the experience and said that doctors had told him that if he hadn't canceled and gone to the hospital, there was a good chance that he might have died onstage. They always say that the best way to go is doing what you love, but seriously ... this is an important life lesson for all.
Michaels was told to plan on a 4-6–week recovery, and wrote, "Yes, there are hot nurses taking care of me, in case you were curious. I mean, come on, every man has the nurse fantasy, don't they?" Sounds like it was a fun 4-6 weeks.
Things just went downhill from there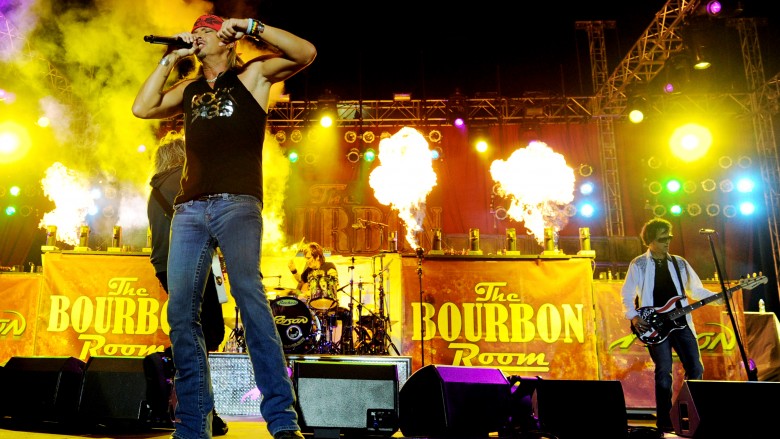 Getty Images
Only days after Michaels' emergency appendectomy, his publicist released a report saying that he had suffered a massive brain hemorrhage, and was back in intensive care. Details were originally sketchy, aside from the fact that he was in critical condition and being monitored around the clock.
Sounds serious? It was, but it gets even more terrifying. He was officially diagnosed with a subarachnoid hemorrhage, which in non-medical speak means "bleeding in the brain." According to Michaels, he felt it happen and, since he was at home at the time, he thought someone had broken into the house and shot him in the back of the head. He was back at the hospital and was told he would make a full recovery, but that he was also in for days of pain as the blood dissolved. Yikes. We've all had bad months, but nothing like this.
At the end of May, the hemorrhage was officially linked to a condition called patent foramen ovale, which essentially means he had a small hole in his heart. About 20 percent of the adult population has it, doctors added, but it's only occasionally that the condition is linked with things like stroke. So, not only was he recovering from the appendectomy and the stroke, but that all meant another surgery to fix the hole in his heart ... and that's all a year after emergency kidney surgery.
That's enough to give anyone an excuse to take it easy for the next year or so — at least — but Michaels was planning charity events as he recovered. He was quoted in People as saying, "I don't have a death wish; I have a life wish. I want to fill my life with as much awesome stuff as I can. You can't have self-pity. At some point, you have to say, 'These are the cards I've been dealt, and I'm going to play them.'" If you ask us, that's pretty badass.
He's been doing a lot for diabetes awareness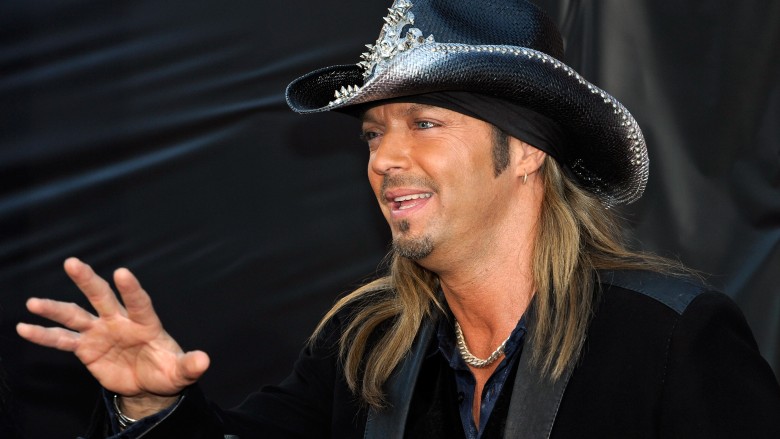 Getty Images
Michaels was diagnosed with Type 1 diabetes when he was 6 years old, and now he's doing all he can to help those who are dealing with the same illness. It's not just a matter of raising money (although he's done a ton of that, donating his $250,000 prize money from The Celebrity Apprentice to the American Diabetes Association). It's about awareness, too, and he says, "I think it helps a lot of people who feel very overwhelmed, not necessarily just depressed, but overwhelmed. I'm just here to show people that I've been through a really radical, crazy life and still have managed to manage my diabetes."
He's out talking about life with diabetes on shows that get a huge viewership — like Celebrity Apprentice — and he's also been heading the Life Rocks Foundation to raise money and send diabetic kids to summer camps, where they learn how to manage their diabetes in a way that's pretty far removed from what Michaels said he had to endure. For him, he said that it was old-school methods that used "scare tactics — a guy with his leg amputated or blindness. It worked a little bit, but it also made you feel depressed. I want to say, look, there are complications and it is a tough disease to manage, but I've done it, and I live a ridiculously outrageous, crazy life."
As if helping all those kids isn't enough, he's also extended the fundraising efforts of the Life Rocks Foundation to help in the fight against childhood cancer. It's not a bad deal when you can reach out and help so many people with one organization, right?
He's designed a line of pet gear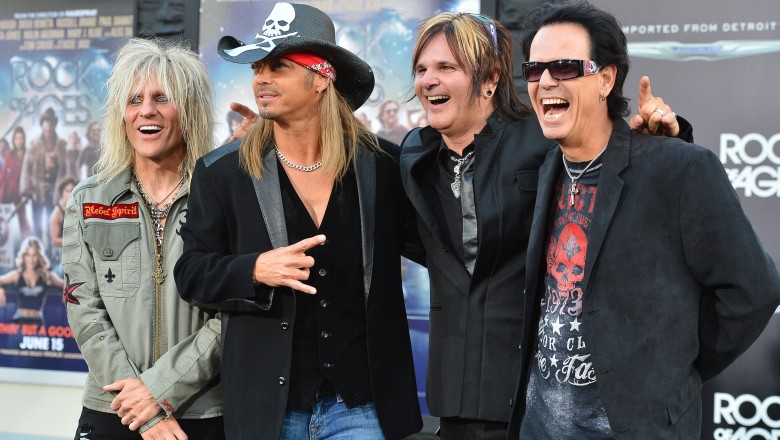 Getty Images
If you've been to PetSmart lately, you might have seen what seems like the strangest tie-in merchandising on the planet: Bret Michaels' line of pet accessories. But there's a story behind it, and it's awesome.
Michaels is a lifelong animal lover, and even credits his life to a Siberian Husky named Nicholas. He told the Chicago Tribune that he'd been at a low point in his life in 1990, and at the time, Nicholas had been at his side though a night when his blood sugar dropped dangerously low. Michaels didn't wake up — but Nicholas did. He wound up being fine, which only helped cement the bond that Michaels has always felt with his animals.
Now, he's opened his home to dogs, rats, and horses, and that all makes the Pets Rock line of merchandise a logical step. "In life, they bring me a certain peace of mind," he says of his animal friends. "There's a sense of unconditional love I get from my dogs — or, as crazy as it sounds, my rats — being around me."
He's also busy partnering the Life Rocks Foundation with PetSmart Charities to help raise awareness and money for pet adoptions and rescues. Seriously, how cool is that? And don't worry — he says he's determined to get a cowboy hat on the market for Fido. Unskinny Bark, anyone?
He filmed a very unlikely reality show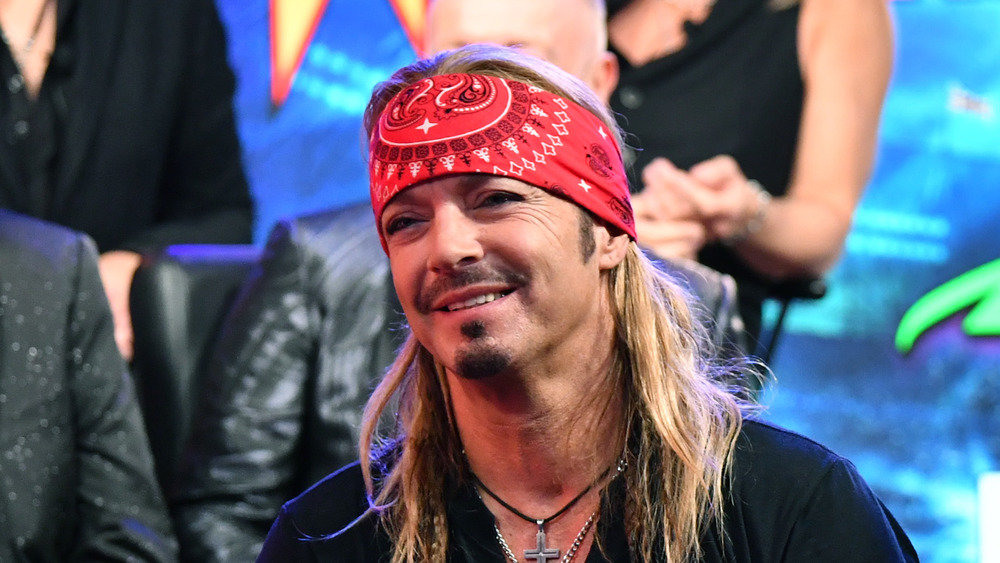 Emma Mcintyre/Getty Images
Rock of Love, we get. He's one of the biggest names (and sex symbols) in '80s music, after all, so it's only logical that someone's going to pitch the idea of putting him in a house full of women named Raven, A-Bomb, Rodeo, and Frenchy. But in 2013, he was busy at the helm of another TV show — this time, it was one you could totally watch with any member of your family.
The Travel Channel's Rock My RV was all about taking boring old RVs and turning them into something that won't just get the family from Point A to Point B on their road trip, but give them enough space — and entertainment — that they're not going to kill each other before the end of the trip. It's one of those ideas that — like the line of pet gear — only make sense after you finish saying, "Whaaaat?" and connect the dots. Michaels lived on the road for a huge part of his adult life, so who better to pimp out some RVs than someone who lived in one for so long?
Also, because Michaels always seems to have something else up his sleeve, there was another motive for this one, too. He got to talking about his experiences not just touring, but camping with his family, and says, "It forces the character of who you are. I learned a lot of responsibility from going camping ... there was a lot of stuff involved with it, but more than anything it bonded me with my family because it forced us into situations where we had to work together." We believe it, but that doesn't mean we're going to be hopping in an RV anytime soon. Holiday dinners are bad enough.
He was busy settling a lawsuit with the Tony Awards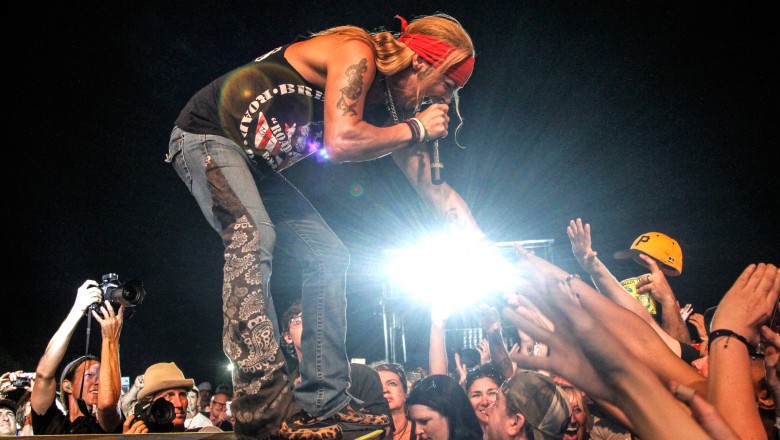 Getty Images
When it comes to health in general, Michaels has had a rough few years. When he — and the rest of Poison — were performing at the 2009 Tony Awards, a collision between a piece of the set and Michaels' skull left him with a broken nose and split lip that needed stitches to close. If you're keeping tabs on dates, that's a year before he suffered the brain hemorrhage.
So he sued the Tony Awards, not only suggesting that the accident had something to do with his head injury, but also condemning CBS's release of the viral footage, and claiming no one warned him what was going to happening to the physical set during the musical one. He also wasn't thrilled with host Neil Patrick Harris, who brushed off the severity of the incident with a few jokes.
The lawsuit was settled for an undisclosed amount in 2012, because there's nothing like an ongoing court case to make life just that much more difficult.
He's doing a ton of charity work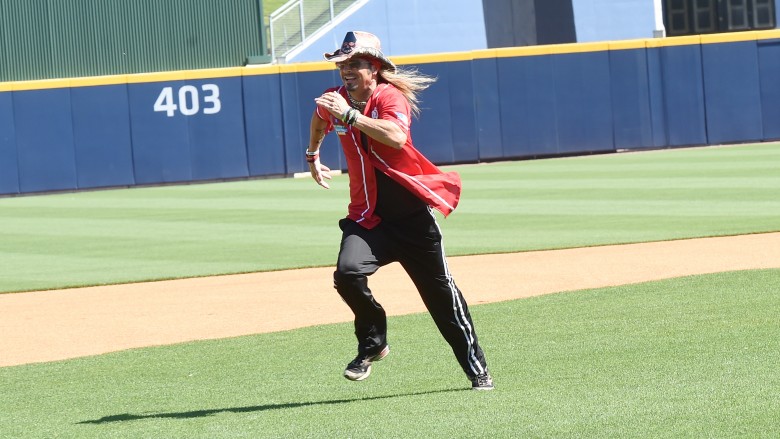 Getty Images
In between the court cases, the hospital stays, and the reality shows, Michaels still finds time to do a huge amount of charity work ... in addition to his work raising awareness for diabetes. In early 2016, he took to the baseball field as a part of the 26th annual City of Hope softball game. The event benefits a research and treatment center for life-threatening illnesses, and that's right in line with everything else Michaels does in the down time he somehow manages to find.
What else? He's been a part of the WWE Superstars for Hope, and a Make-A-Wish Foundation ambassador. He was also on stage for the 2017 Heroes Ball IV, a Washington, DC concert for military veterans, active duty personnel, and families who have lost someone in service. He's been in Nebraska, performing at a benefit concert and writing his own check in support of families who were hard hit by tornadoes and storms that decimated the area. He's been performing at MDA telethons, too, making his own surprise donation on the spot and promising one 9-year-old ambassador a ride on his Harley.
We could seriously keep going, but you get the picture. We're not sure how he does it, but we're pretty sure his personal RV must be pimped out to include some sort of magic, time-traveling fuel that adds some extra days into his weeks.
He's concentrating on being a dad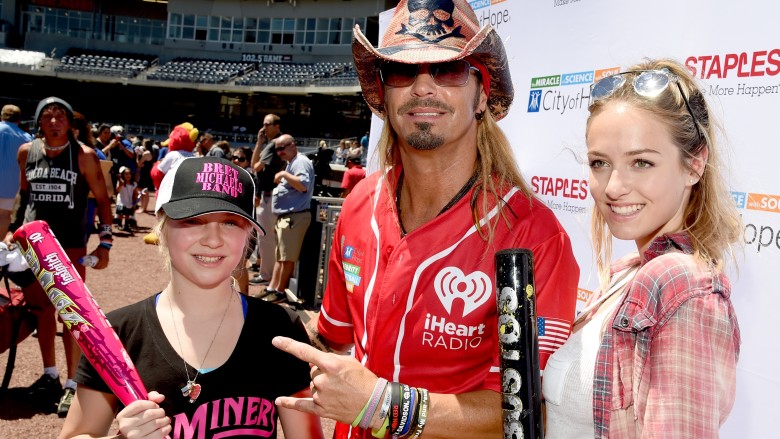 Getty Images
Taking time off to devote to kids and family is something that more big names should spend time doing, and we can totally respect that. Michaels was in the middle of filming The Celebrity Apprentice when he got the phone call that his daughter, Raine, had been diagnosed with borderline diabetes. When he got the call from his crying daughter, he says he felt like he was to blame, but he knew that he was going to help her take the time to try to control it before it developed into Type 1 diabetes, and he was going to get her involved with the kids that had already had been diagnosed.
It's not all seriousness, though, and Michaels also teamed up with both of his daughters to release a version of "Every Rose Has Its Thorn" for Kidz Bop. Of course, proceeds from the album are earmarked for the Juvenile Diabetes Foundation. Family time, charitable work, and fun all at once? Not a bad deal at all, especially since they seem to take their father's giant '80s hair and spandex in good stride, and don't seem nearly as embarrassed as you might expect.
He's keeping quiet on politics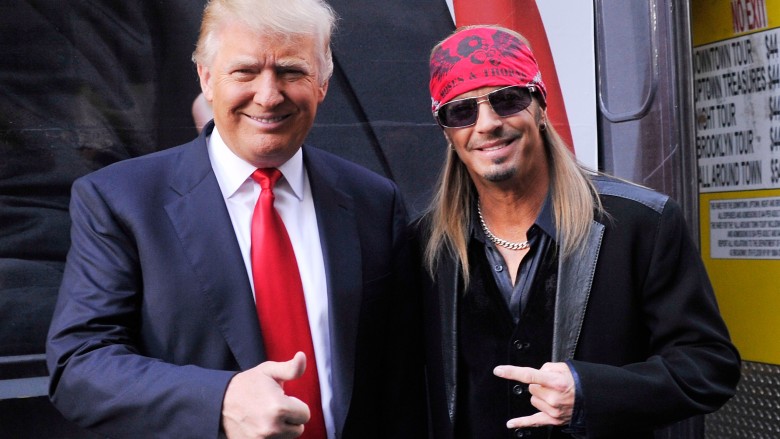 Getty Images
When Michaels won Celebrity Apprentice, everyone knew that meant he had at least earned the respect of Donald Trump. After going head-to-head in a competition to create and market a new flavor of Snapple, Trump ruled in favor of Michaels and his creativity. It might seem like a given, then, that Michaels would at least have some insight into the mind of the man who became the President not long after, but he's been pretty quiet about the whole thing. That's on purpose.
Michaels remained mostly silent throughout the campaign and during the aftermath, and it was only in December, well after the results were in, that Michaels talked to The Tampa Bay Times about his political stance — even then, he was very careful about what he said, and still is. It's not surprising, considering he never endorsed or campaigned for anyone, and we can't blame him. He's a brand, after all, and not taking sides is smart business.
Most of what Michaels does say isn't about his policies and politics at all, but rather about his experiences fundraising with Trump and his kids. "He was a really good guy, and the benefits we did together were amazing, and they raised a lot of money for charity," he says. "In one night, with 500 people in the room, we raised $1.3 million for St. Jude's. That's pretty good."
As for the rest of his opinions, Michaels is keeping mum. That's kept him out of a spotlight that most people might have expected to see him in, and while he might truly feel we have something to believe in, it's clear that to him, it's family, country, and rock n' roll.