The Truth About Laci And Scott Peterson's Relationship
One of the most shocking cases to happen in the early 2000s was the death of Laci Peterson and the trial of her husband Scott Peterson for her murder. The married father-to-be was arrested and subsequently went on trial in California for the death of his pregnant wife and unborn son in 2003. The case enamored the American public and the trial was one of the most-watched televised court cases.
Peterson was convicted for his wife and son's death, and was given the death penalty in 2005. That death sentence was overturned last year, reports The New York Times. Peterson remains locked up in the San Quentin State Prison as he awaits a new trial and penalty that starts later this month (via NBC Bay Area).
It all began in Modesto, California on Christmas Eve in 2002. A heavily pregnant Laci went missing that day and Scott called police to make a report. But he eventually became the main suspect in her disappearance when police learned that he was having an affair with another woman. That woman, Amber Frey, found herself at the center of the case. When the decomposed bodies of Laci and the Petersons' baby were recovered, authorities shortly arrested Scott.
Laci and Scott Peterson meet and get married
The couple had only been married for five years when Laci went missing. They married on August 7, 1997 after two years of dating. The pair first met in 1995 at a restaurant where Scott worked as a waiter, says In Touch Weekly. They both were also studying at California Polytechnic State University. After getting married, the Petersons invested in a hamburger restaurant that they both ran in the California city of San Luis Obispo. It grew to become a popular restaurant that they operated for two years, reported ABC News.
By all accounts they were a newly-married couple in love, running a successful restaurant, and had a seemingly healthy relationship, according to Laci's mother, Sharon Rocha. "They were a happy couple. There wasn't any reason to suspect any problems," she said via In Touch Weekly.
But they wanted to focus on expanding their family and having children. They sold their business and relocated to the city of Modesto, California. Scott worked in sales and Laci worked as a teacher. They also bought a home, and in 2000, they were living the quintessential American life. By 2002, the Petersons learned some good news when Laci discovered that she was pregnant. But Scott's life before and during her pregnancy would drastically change. And his secret lifestyle would evidently define the life of his wife, unborn son, and his own.
Laci might have known about Scott's affair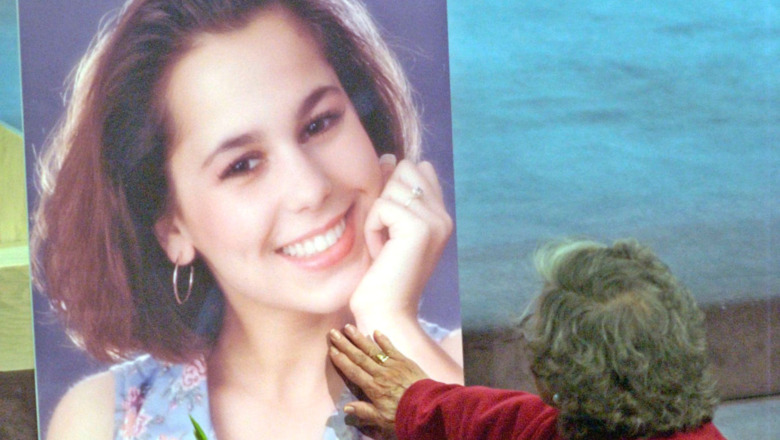 Pool/Getty Images
Although to most of their friends and family the couple seemed happy, there was more happening behind the scenes. A close friend of the couple told ABC News that the Petersons were a pleasant people, and that he was thrilled that his own family was welcoming a baby at the same time the Petersons were. "They were fun to be around. They both seemed extremely excited, as we were. We were both having our first babies at the same time or quite close to the same time. We were both planning on basically raising them together since we both lived here in Modesto and in the same neighborhood," said Greg Reed.
But Scott was having an affair and that fact would be known very early into the case. His mistress, Amber Frey, came forward a few days after he was arrested and identified herself to be dating Scott. During the investigation it was revealed that Laci was allegedly aware of his affair, and at the trial Scott's lawyer said that he had several other affairs that she also knew about, per The Daily Journal. This information was used by his lawyer to demonstrate that his affairs presented no motive for him to kill Laci. It remains unclear if Laci actually did or didn't know about his admitted affairs, but Scott's friends and family maintain she did (via Fox), and Laci's family and friends say she didn't (via SF Gate).