How Paul McCartney Really Felt About The Rock & Roll Hall Of Fame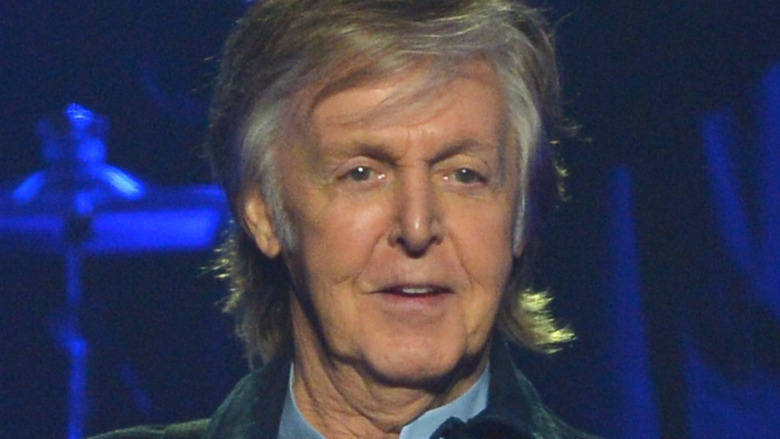 Jim Dyson/Getty Images
Paul McCartney has a fair amount of history with the Rock & Roll Hall of Fame, and from things he's said about it, he seems to consider being inducted an honor — though you might be forgiven for thinking otherwise, as McCartney once famously snubbed an important induction. 
The first time McCartney had an opportunity to go as an inductee was in 1988 when the Beatles were inducted to the Rock & Roll Hall of Fame. Sadly, John Lennon had already been murdered, but Ringo Starr and George Harrison were in attendance. McCartney, however, chose not to attend the event, leaving Harrison, Starr, Lennon's widow Yoko Ono, and his children to accept rock 'n' roll's highest honor on behalf of The Beatles. 
McCartney sent a statement to address his absence, but it didn't have to do with any disdain for the organization. According to the website, Cleveland, "After 20 years, the Beatles still have some business differences, which I had hoped would have been settled by now. Unfortunately, they haven't been, so I would feel like a complete hypocrite waving and smiling with them at a fake reunion."
Whatever those business differences were, they seem to have been cleared up by 1994 when McCartney called it a "privilege" to induct his late bandmate and friend, John Lennon, into the Rock & Roll Hall of Fame. In an emotional speech, McCartney said, "John Lennon, you've made it. Tonight you are in the Rock & Roll Hall of Fame," according to Far Out Magazine.
Paul McCartney was emotional about his late wife, Linda, in his acceptance speech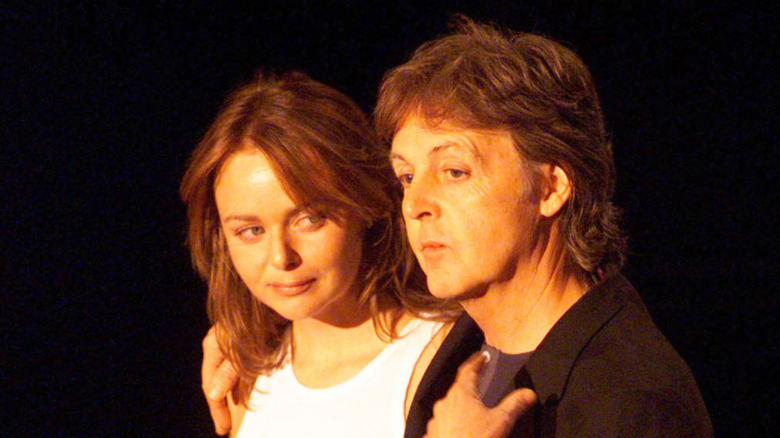 Dave Hogan/Getty Images
Five years later, in 1999 it was McCartney's turn to be honored for his enormous body of work in music, and it was clear he and his family considered it not only an honor but something greatly deserved. Emotions ran high during McCartney's acceptance speech. He called the moment "brilliant" in a video of the occasion posted on YouTube, but noted it's "brilliant-stroke-sad" because he was unable to share the award with his wife, Linda McCartney, who'd died from breast cancer the year before in 1998, Rolling Stone reported. 
McCartney said "I would like my baby to share this with me. She wanted this." In his wife's absence, though, McCartney brought their adult daughter, fashion designer Stella McCartney, to the event and called her up onto the stage. She was wearing a white tank top with the words, "About f***ing time!" 
In his speech, McCartney said "I love rock 'n' roll because it made my life." Then he goaded the board of the Rock & Roll Hall of Fame to honor Beatles George Harrison and Ringo Starr individually, saying "Come on guys." In 2004, the Hall of Fame inducted George Harrison posthumously — three years after he died from cancer. Finally, in 2015, McCartney returned to the awards ceremony to induct Ringo Starr, calling it "a great honor" to induct Starr into the Rock & Roll Hall of Fame.