The Truth About Roddy Piper And Mr. T's Feud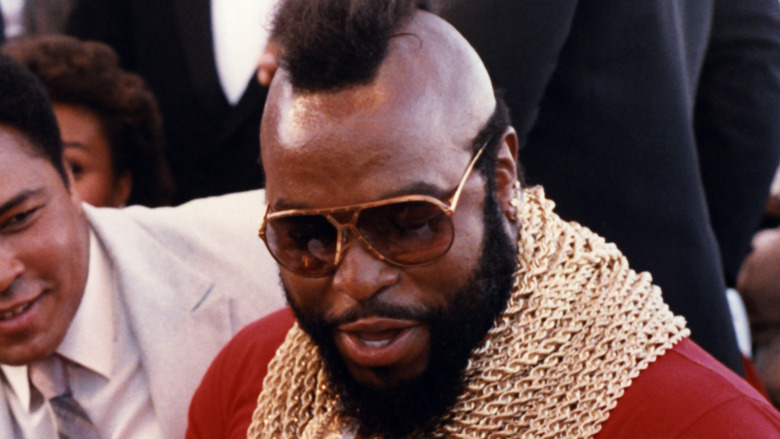 Robert Riger/Getty Images
The sport of professional wrestling is one of the most popular forms of physical entertainment. As part of the job, a lot of pro wrestlers will often put on a persona that is unique to their character in the ring. The Undertaker is known for his paranormal antics, like rising from a coffin. The Wild Samoans acted, well, wild in the ring. Just as sticking to a gimmick is a time-honored tradition in wrestling, so are feuds — after all, it's part of the game. Every popular wrestler has had one or more feuds with a fellow performer at some point in their career. One of those memorable feuds was between wrestling legends Rowdy Roddy Piper — "Hot Rod" — and Mr. T.
Even though wrestling rivalries typically follow a script, sometimes the beef all seemed too real — and at times, it was. In 1986, at the World Wrestling Foundation's (formerly WWF, now WWE) Wrestlemania 2 event, the two men found themselves in the ring for a battle that many fans remember as the peak of their beef. It was a rematch that spilled over from a previous fight they had.
The feud origin
The feud first began the year earlier at the inaugural Wrestlemania event held at Madison Square Garden (MSG) in New York City. Piper did not like Mr. T, who was making his debut in the wrestling world. Mr. T was an actor, known for his role in the show The A Team. He rose to popularity for starring in the film Rocky III, and fame from that movie earned him a spot in a highly-anticipated premier wrestling show. This fact didn't sit right with Piper (via The Sportster) because really? Who was this new guy with no wrestling experience on this big stage? It was personal for Piper and he felt Mr. T was only doing the event as another gig, per Cultaholic. As a result, Piper apparently wanted to teach T. a lesson.
It was a tag team match. Piper partnered with Paul Orndorff, and Mr. T was a tag-in with Hulk Hogan. In a 2016 interview that Piper did with MSG Network, he said he was determined to send Mr. T back to Hollywood but fell short. "Mr. T wanted to come in and bang heads together and then go back to 'The A Team' and laugh about what a good time he had playing wrestling. I got so angry ... I was going to take him out in the match ... for good. But I didn't do it."
The feud that carried on for decades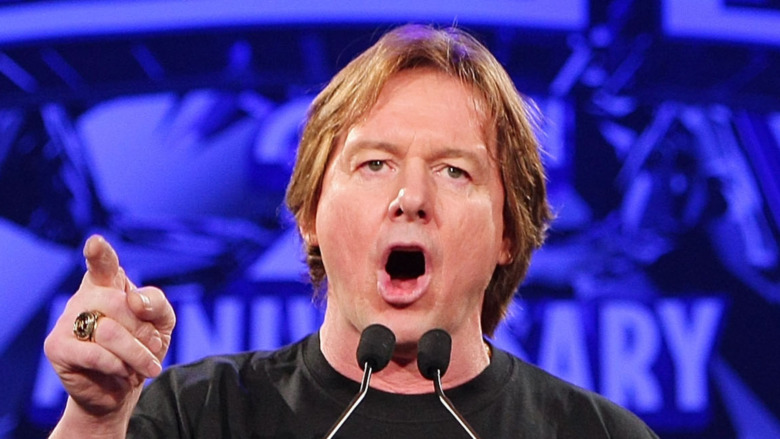 Andrew H. Walker/Getty Images
In the match (posted on YouTube), Mr. T likely wasn't prepared for how the fight turned out. Even though Mr. T and Hogan won, Piper had held Mr. T in holds that seemed like an eternity (via Sports Keeda). And that angered Mr. T. When they met again at Wrestlemania 2, this time it was a solo match. Mr. T was the chosen winner but still Piper played by his own rules. A body slam would ultimately disqualify Piper (also on YouTube) and crown Mr. T anyway. But Piper walked away as a victor of some sort because fans ended up siding with him, even though he was supposed to be the antagonist, per The Sportster. As a result, the WWF switched gears and rebranded Piper's character.
But the beef didn't see an overhaul. The two would continue their feud for close to three decades before they called a truce (via The Sportster). Both men would be inducted into the WWE Hall of Fame in 2005 and 2014, respectively. Mr. T retired from wrestling in the early '90s, and Piper died at the age of 61 in 2015, reported Yahoo! News.
A&E's "Biography" continues its WWE Legends series with an episode on "Rowdy" Roddy Piper on Sunday, May 2.