A Look At The Man Behind The Backpacker Murders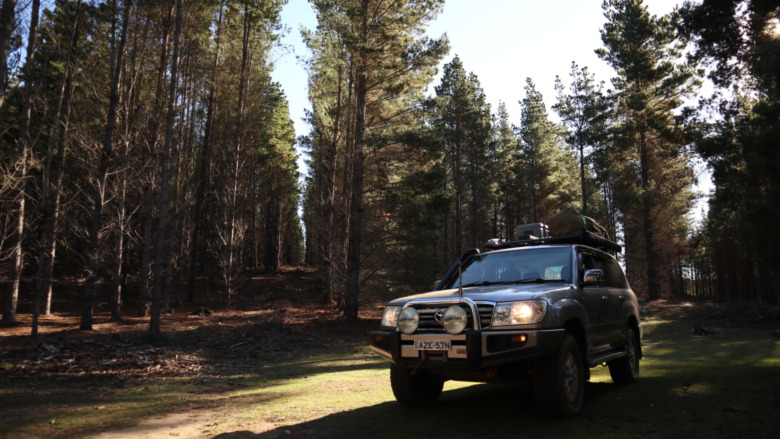 Shutterstock
In September of 1992, a pair of joggers making their way through Belanglo State Forest in New South Wales, Australia came across a disturbing discovery — a dead body, well into an advanced stage of decomposition. They notified the police, who were horrified but unsurprised; there had been four disappearances reported in the area in the last 12 months. When they investigated, they found a second body, hidden just a few feet away (via The Lineup).
The bodies discovered in September belonged to two missing women: British backpackers Caroline Clarke and Joanne Walters. Clarke had been shot in the head no less than 10 times, and Walters had been stabbed 14 times. Unfortunately, the bodies were decomposed enough that the trail ended there, though Clarke and Walters would prove to be far from the last bodies discovered.
A year later, two more bodies were found — those of backpackers Deborah Everist and James Gibson —  who'd both been stabbed multiple times, while Everist has also been brutally beaten. A month later, the bodies of three more missing hikers, Gabor Neugebauer, Anja Habschied, and Simon Schmidl, were found and the similarities with the other murders were quickly apparent. According to The Lineup, all seven had been hidden facedown, with their hands tied behind their backs, and buried hastily. They were also found near campsites that suggested that the killer had spent significant amounts of quality time with them, though whether before or after their murders (or both) was unknown. It was clear there was a serial killer on the loose.
The killer had been picking up hitchhikers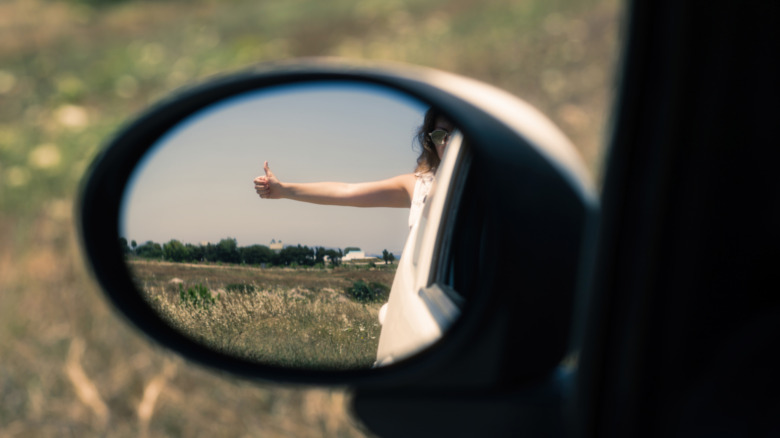 Shutterstock
These days, people are typically advised against hitchhiking — there's an inherent danger in getting into a car with a stranger (looking at you, Uber) — but at the time, the Australian government actually encouraged it, especially among tourists. These were the days of the iconic "shrimp on the barbie" commercials, and the Australian tourism board was promoting backpacking and hitchhiking as a way for British and American tourists to enjoy Australia without breaking the bank. What they didn't tell tourists was that no one in Australia actually calls prawns "shrimp" — oh, and also that there was a killer at large.
New South Wales police received the first real break in the case when British tourist Paul Onions came forward in 1994, says The Lineup. According to Onions, he'd been hitchhiking in the area in 1990, and had received a ride from a man who had introduced himself as "Bill." "Bill" seemed friendly at first but became progressively creepier as the ride went on, asking Onions prying questions about his plans and engaging in unprompted racist rants. Eventually, Bill pulled the car over and pointed a gun at Onions, who was able to escape, flag a passing car, and flee to Sydney. The other victims, as we've seen, were less fortunate.
Onions' testimony proved specific enough that police were able to narrow their list of dozens of potential suspects down to just one: Ivan Milat.
The evidence against Milat was pretty damning
The circumstantial evidence against Milat was pretty significant: He'd worked on a road gang in the same area the victims had been hiking, had sold his original vehicle shortly after the first two bodies were discovered, and, according to friends the police interviewed, Milat had been nursing an obsession with weapons and death, according to The Lineup. When the cops searched his home, it was damning: they found multiple firearms and several possessions that had belonged to the so-called Backpacker Murderer's victims.
According to Biography, this was far from Milat's first run-in with the law. The son of Yugoslavian immigrants, Milat had been in and out of legal trouble since age 17, having served time in both juvenile detention and prison for housebreaking, car theft, and armed robbery; in 1971, he had even been put on trial for the rape of two hitchhikers, but was acquitted due to a lack of evidence. 
The evidence to convict him for the Backpacker Murders, however, was more than sufficient. At his sentencing, according to The Senior, Justice David Hunt commented that "These seven young persons were at the threshold of their lives, with everything to look forward to — travel, career, happiness, love, family, and even old age." Milat was convicted and given a life sentence for each of the seven murders, plus 18 years for assaulting Onions. He died in prison in 2019 from stomach cancer — but not before going on a 2011 hunger strike to demand a PlayStation.