A Look At Elton John And Freddie Mercury's Relationship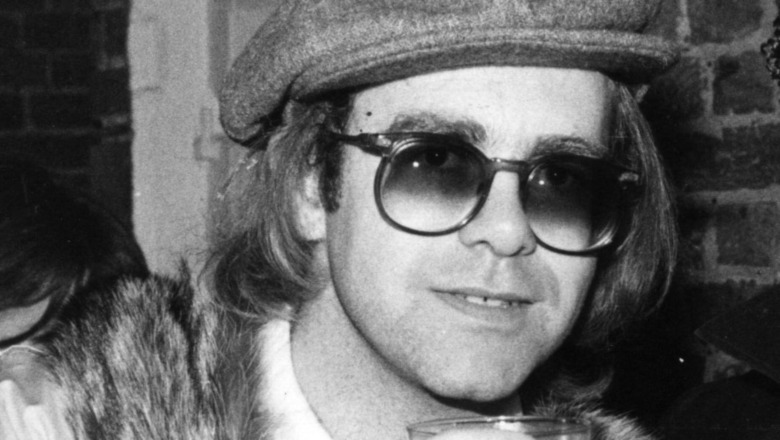 Hulton Archive/Getty Images
Rock 'n' roll superstars Elton John and Queen's Freddie Mercury had a fantastic friendship until Mercury's unfortunate death on November 24, 1991, from the AIDS virus. 
In 2019, John spoke of his friendship with Mercury in an interview promoting his autobiography titled "Me." During "An Evening with Elton John" hosted by David Walliams, which is posted on YouTube, he described Mercury as "larger than life — so funny, so gifted, so talented at what he wanted to do. I mean, his videos, he's used ballet dancing, and he had such an incredible mind and was one of the funniest people I've ever met." 
While John greatly admired Mercury for his artistry, he also said the two men had great times together partying, laughing, and living the lifestyle of 1970s and 1980s rock stars. 
In 2012, the Rocketman told The Hollywood Reporter, "Freddie Mercury could out-party me, which is saying something. We'd be up for nights, sitting there at 11 in the morning, still flying high." 
It's not surprising that John and Mercury got along famously, as they had much in common. Although Mercury spent much of his childhood in India, according to the Freddie Mercury website, both were British. Additionally, both men were prolific musicians and both gay — if not yet openly. 
In fact, they even had drag names for each other. John was called Sharon Cavendish and Mercury was Melina Mercouri, per what John told The Guardian and Walliams. 
Freddie Mercury gave Elton John a gift before he died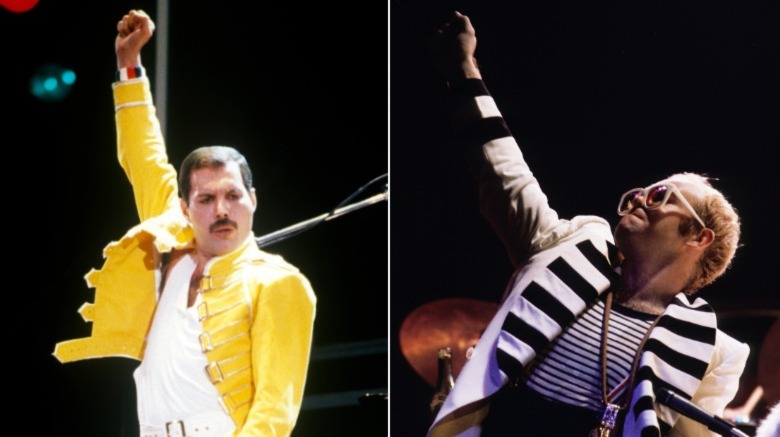 Getty Images
Elton John said even when Freddie Mercury was dying, he maintained his love of life, and particularly, his love for buying Japanese art at auction. However, John admits in the Walliams interview that he didn't visit much, saying, "I found it really, really painful because AIDS was terrifying. And he was physically terrifying to look at."
John told Walliams that when he did visit, he saw Mercury had auction catalogs intermingled with medications all around his bed. 
John said, "It was astonishing. I thought, 'This is amazing. This man has such a love of life. He's not thinking about dying whatsoever. He's still thinking about living,' and he showed no fear to me about dying and no fear or sadness."
That Christmas a mutual friend brought John a gift from Mercury. It was a piece of art done by one of John's favorite artists. 
John told Walliams a note from Mercury said, "Dear Sharon, I saw this at auction and thought you'd love it. I love you, Melina."
John said of the gift, "you can imagine how much I cried. It was really moving. He was dying, and he still thought of his friends and he bought me this. I still have it all on its easel ... That's the kind of person he was. He was so full of love and life. I don't think I've ever met anyone quite like that."