The Reason These Legendary Singers Were Replaced With New Vocalists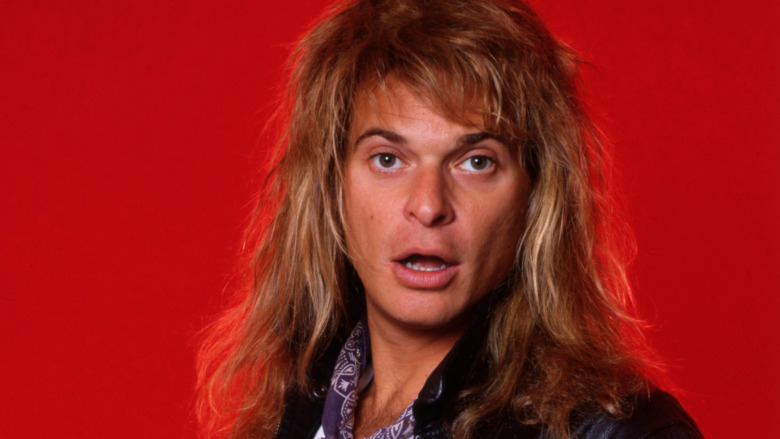 Icon And Image/Getty Images
Many bands are synonymous with their frontman. You can't mention the Rolling Stones without talking about Mick Jagger. Kurt Cobain is intrinsically linked to Nirvana. And Bono is the most recognizable member of U2. It would be hard to imagine these bands continuing without their lead singers. However, over the years, some bands have chosen to or been forced to switch up their frontmen. This can be risky as fans are often very loyal to their bands and resistant to change.
In the rock and roll world, band line ups change frequently due to a variety of factors. Sometimes substance abuse is involved, or the band member chooses to pursue solo projects. Sometimes the members of the group simply don't get along anymore. These frontmen and women are either fired, or they leave on their own volition. And in a few rare instances, the singers return to their original bands after taking a hiatus.
Black Sabbath booted Ozzy Osbourne due to his drinking habits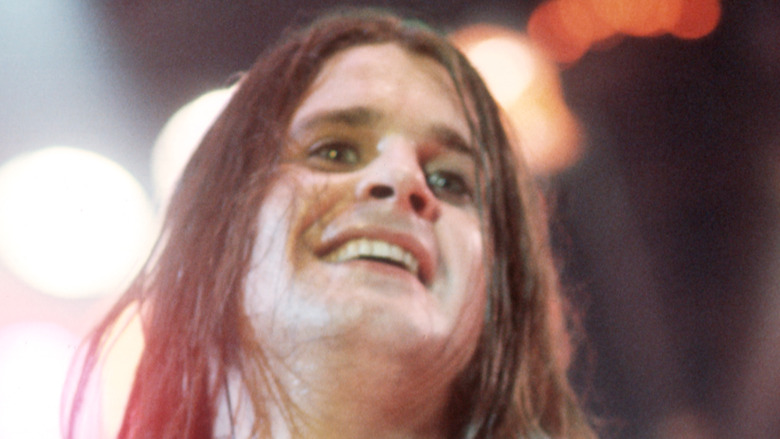 Michael Ochs Archives/Getty Images
Line-up changes happen all the time in bands, often due to drug use, creative differences, or simply clashes among band members. After about 10 years with Black Sabbath, frontman Ozzy Osbourne was drinking excessively and doing a lot of drugs. He was also losing his confidence in his music. His dependence on alcohol and drugs combined with his lack of desire to create a new album led to his firing, according to Loudwire. At one point in 1978, he disappeared for six weeks, and nobody knew where he was.
The band tried many times to get him back on board but officially let him go on April 27, 1979. According to guitarist Tommy Iommi, the group simply could no longer continue playing with Ozzy. He explained in the book "Louder Than Hell: The Definitive Oral History of Metal" (via Loudwire), "As much as everyone wanted us to, we just couldn't do it. Nothing was happening and it would have meant the end of the band. We didn't want to fire him but we had to if we wanted to continue." He was replaced by Ronnie James Dio, according to Ultimate Classic Rock.
Iommi added that Osbourne was hanging out at clubs and simply "came apart." Osbourne returned to Black Sabbath in 1997 for a reunion tour (via ozzy.com), and he remained with the band until its final concert in 2017, according to Consequence.
Peter Gabriel left Genesis to pursue a solo career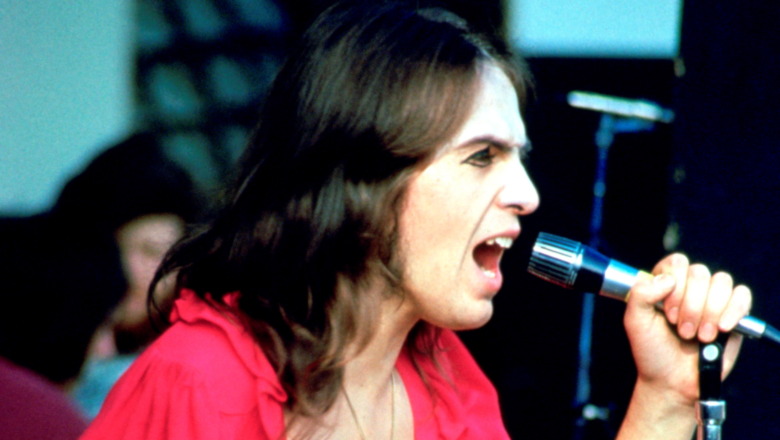 Michael Putland/Getty Images
Frontman Peter Gabriel officially made an announcement on August 15, 1975, that he was leaving Genesis. The statement from the band's record company was that Gabriel wanted to focus on "other literary and experimental interests outside of music," according to Ultimate Classic Rock.
Gabriel explained in the documentary "Genesis: A History" that the band was planning long tours down the line, and he was tired of being "part of a machine." He was no longer comfortable being the stereotypical rock star who thrived on stroking his ego. Gabriel wasn't happy with himself or the constraints he was under (via Ultimate Classic Rock).
In addition, the singer and his wife had just welcomed their firstborn child, which completely changed his priorities. He was the first one in the band to start a family, and not only did the other guys fail to understand the shift in his life, they also got a little upset about it. ​Fellow band member Tony Banks said in retrospect, "He grew up perhaps quicker than the rest of us, really, at that time, and he wanted a bit more time than we felt we could give. So he felt he had to leave."
Gabriel was replaced by the band's drummer, Phil Collins, who first performed as the frontman on March 25, 1976, according to Prog.
Pink Floyd's Syd Barrett Had a Drug-Fueled Mental Breakdown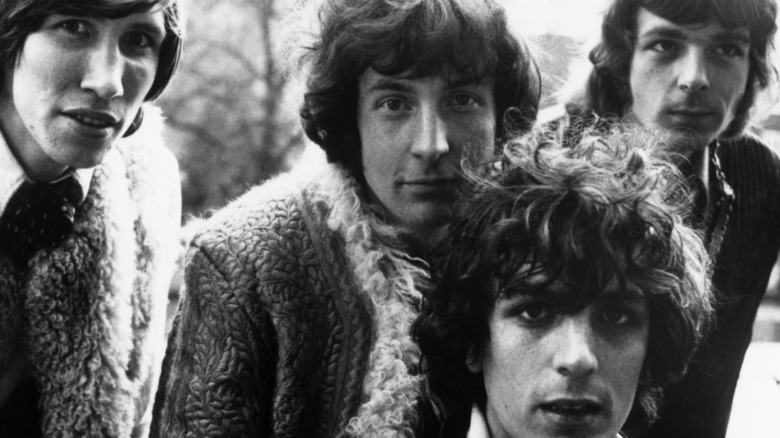 Keystone Features/Getty Images
Syd Barrett was the driving force behind Pink Floyd's debut album, "The Piper at the Gates of Dawn," in 1967. He was only part of the band for two years, yet he left an indelible mark and is responsible for some of its greatest musical achievements. Unfortunately, he had a drug-fueled mental collapse that prevented him from continuing with the band, according to Biography. In the mid 1960s, Barrett started experimenting with LSD. His music was heavily influenced by his drug-fueled escapades, but before long it started interfering with his reality.
Friend and later-replacement David Gilmour stopped by the Chelsea Studios in 1967 when the band was recording and recalled how different Barrett appeared. "Syd didn't seem to recognize me and just stared back," Gilmour explained in the book Crazy Diamond: Syd Barrett and the Dawn of Pink Floyd (via Biography). "I got to know that look pretty well and I'll go on record as saying that was when he changed. It was a shock. He was a different person." Barrett's behavior became so unpredictable that he was eventually let go and replaced by Gilmour. After his breakdown, he spent the rest of his life out of the spotlight until his death at age 60 in 2006, according to the The New York Times.
David Lee Roth No Longer Got Along With the Rest of Van Halen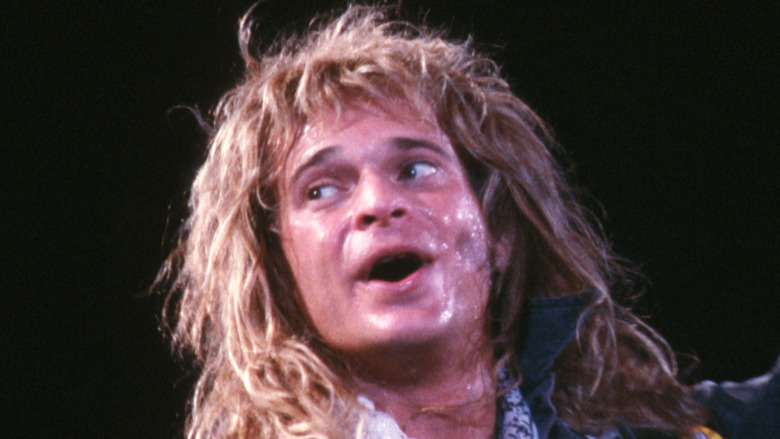 Michael Ochs Archives/Getty Images
David Lee Roth and Eddie Van Halen founded Van Halen with Alex Van Halen and bassist Michael Anthony in 1972. They heavily influenced the hard rock scene of the 1980s, but the frontman eventually left his post due to creative differences, according to Distractify. Eddie Van Halen put a recording studio in his home in 1983, so he started making music without the rest of the band. He also started experimenting with synthesizers and keyboards and a more pop-style type of music.
In addition, Roth was involved in an upcoming film called "Crazy From the Heat" and asked Eddie Van Halen to write the score for the movie, according to Ultimate Classic Rock. After Eddie Van Halen turned down the proposal, Roth reportedly told the band (via Rolling Stone), "I can't work with you guys anymore. I want to do my movie. Maybe when I'm done, we'll get back together." That was 1985, and they parted ways. He was quickly replaced by Sammy Hagar, which turned out to be a good idea.
Working with Hagar was a pleasure. And it started day one in the studio. Eddie Van Halen told the Philadelphia Inquirer via Ultimate Classic Rock. "We started playing and Sammy started singing. It just clicked. It was magic."
Steve Perry Was Mentally and Physically Exhausted When He Left Journey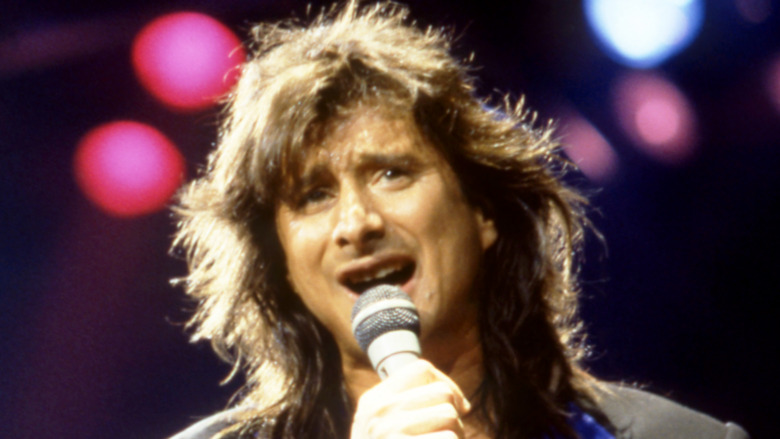 Icon And Image/Getty Images
Steve Perry from Journey sustained a hip injury and was burned out both mentally and physically when he left the band. He explained on his website – "The truth is, that I thought music had run its course in my heart. I'd had an amazing time in an amazing band, and then the chance to express myself as a solo artist too. But I had to be honest with myself, and in my heart, I knew I just wasn't feeling it anymore."
He explained that he reached a point where he no longer wanted to listen to music. After performing with Journey for the last time in February 1987, Perry decided that he was done. While he appreciated everything the band had accomplished, as well as the hard work they had put into it, he needed a break.
Perry was later replaced by Steve Augeri and then by a Filipino singer named Arnel Pineda. Band members Neal Schon and Jonathan Cain found him on YouTube and flew him from Manila to the United States for an audition, according to RockPasta.
Vince Neil's Substance Abuse Issues Caused His Departure From Motley Crue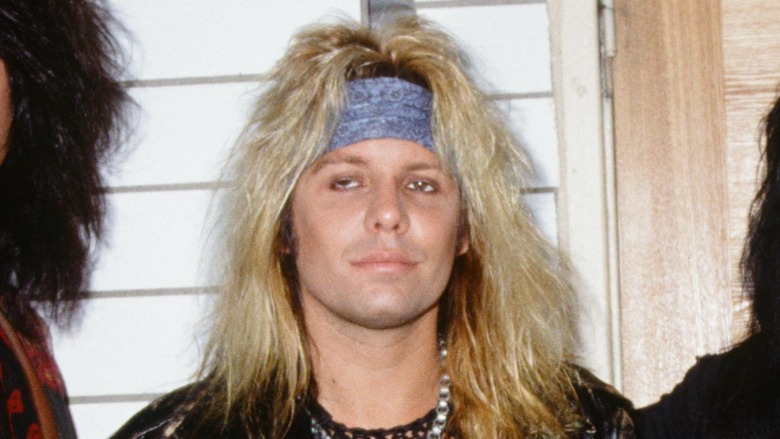 Koh Hasebe/shinko Music/Getty Images
While rock music was starting to take a back seat to alternative rock, Motley Crue got together in February 1992 to make a follow-up album to "Dr. Feelgood," according to Guns N' Roses Central. Unfortunately, Vince Neil's behavior resulted in his firing. The band said in a statement that it was due to Neil prioritizing car racing over music, but it later came out that he was simply drinking too much.
Bassist Nikki Sixx explained that while everyone in the band but Mick Mars was dealing with substance abuse, Neil let it affect the music and consequently was holding the band back. A year later, Neil chalked up his departure to creative differences. He didn't like the direction the band was going in, which included a lot of keyboards. The band wound up bringing John Corabi on board. Neil came back to the band in 1997 after a reconciliation was worked out.
Neil later said he went back to Motley Crue because it was a good business decision, according to Time (via Guns N' Roses Central). "When I was — depending on how you look at it — fired or I quit the band, I was a part of Motley Crue Inc. And I chose not to come back into that. I looked at myself as a free agent on a football team. I didn't have to be worried about any corporate decisions. All I had to do was show up and sing."
Lou Gramm and Guitarist Mick Jones Butted Heads in Foreigner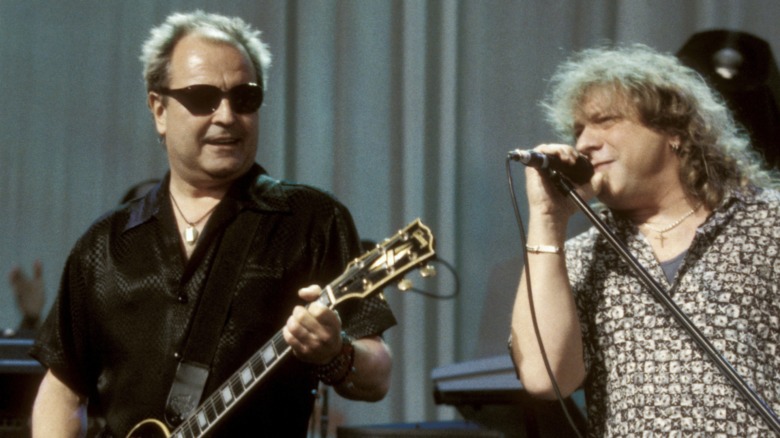 John Atashian/Getty Images
Foreigner is known for hit songs such as "Hot Blooded," "Feels Like the First Time," "and "Urgent," among so many others. Unfortunately, guitarist Mick Jones and singer Lou Gramm didn't get along very well and butted heads, so Gramm left the band in 1989, according to OnMilwaukee.
Jones and Gramm often disagreed over the music they were making together, so they parted ways. Gramm embarked on a solo career, and Foreigner released a 1991 record with a replacement vocalist, but fans were less than impressed with the new singer, according to The Ties That Bind Us. Gramm returned for a greatest hits compilation in 1992 and later went to rehab for a drug addiction. 
In 2013 he told Fox News of his volatile relationship with Jones. "It happens with a lot of very creative people. They want to do everything and they want everything their way. I think they can collaborate with someone up to a point but the big picture has got to have their stamp of approval on everything, being on the other end of it, the guy who co writes, it's very tough, to have a few ideas accepted and everything else rejected for no apparent reason other than their pride."
Stevie Nicks Was on an Extended Break When Fleetwood Mac Replaced Her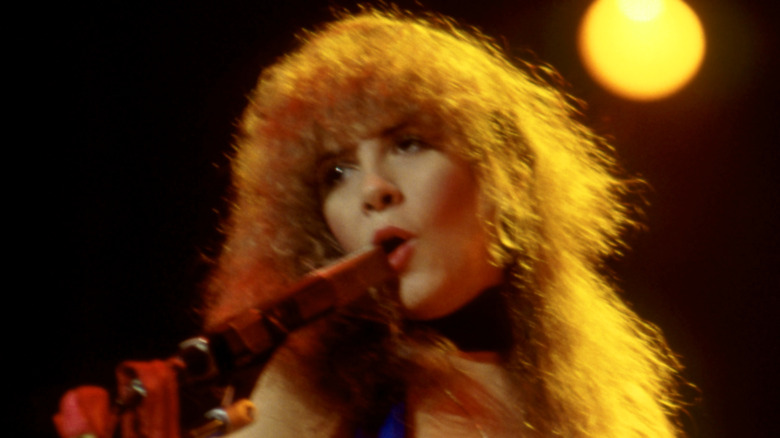 Icon And Image/Getty Images
Bekka Bramlett was a member of Fleetwood Mac from 1993-95 and was essentially hired to replace Stevie Nicks. Nicks had left the group to embark on, ultimately, a successful solo career in 1990. Prior to that, Fleetwood Mac hadn't actually played together for six years following Lindsey Buckingham's departure from the group in 1987.  They did, however, regroup to play at Bill Clinton's inauguration in 1993, according to Far Out Magazine.
After the inauguration, Bramlett joined the lineup. She had previously worked with Mick Fleetwood's band, The Zoo, on the album, "Shakin' the Cage," in 1992, before joining Fleetwood Mac, according to Fandom. She was part of the 1995 "Time" album and toured with the band. However, Bramlett and guitarist Dave Mason didn't get along very well, and the album was a commercial failure, so the two left the band.
In 1998, Mick Fleetwood, John McVie, Lindsey Buckingham, and Stevie Nicks reunited sans Christine McVie, according to Ultimate Classic Rock. They released "Say You Will" in 2003 and later "Extended Play" in 2013.
Stone Temple Pilots Replaced Two Singers, Both Who Died Tragically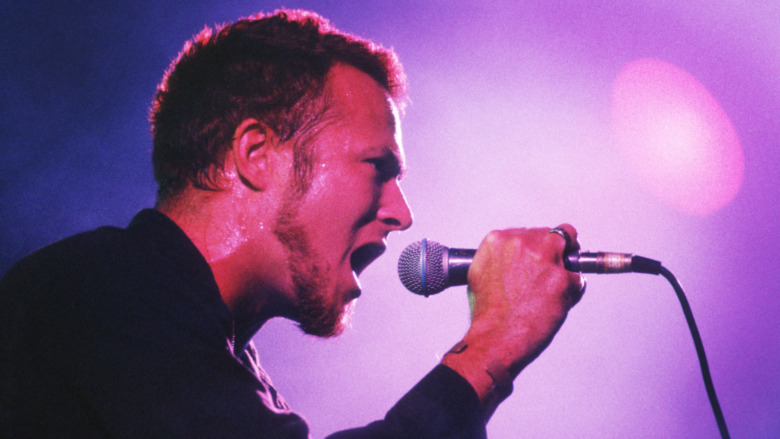 Gie Knaeps/Getty Images
Scott Weiland was part of the Stone Temple Pilots from 1989 to 2002 and 2008 to 2013. He was fired in 2002 after reportedly clashing with guitarist Dean DeLeo, according to Ultimate Classic Rock. He left and formed the supergroup Velvet Revolver, who also fired him in 2008. Weiland returned a month after that to STP, who released a self-titled album in 2010, nine years after their previous album.
However, they let him go again in 2013. DeLeo told Rolling Stone that it was very hard to fire Weiland because he was the face of the band. They all agreed that they could no longer pull his weight. DeLeo explained, "We've always looked out for Scott's best interests and tried to be a great friend to someone who really didn't care to be friends with us. ... And I don't think we had any other choice. ... I think Scott's made it very clear, his path and his decisions on what he's done with or to this band."
Weiland was later replaced by Chester Bennington, the frontman of Linkin Park. Weiland died of a drug overdose in 2015. Bennington took his own life in 2017, around the same time Stone Temple Pilots took on frontman Jeff Gutt.
AC/DC's Brian Johnson Lost His Hearing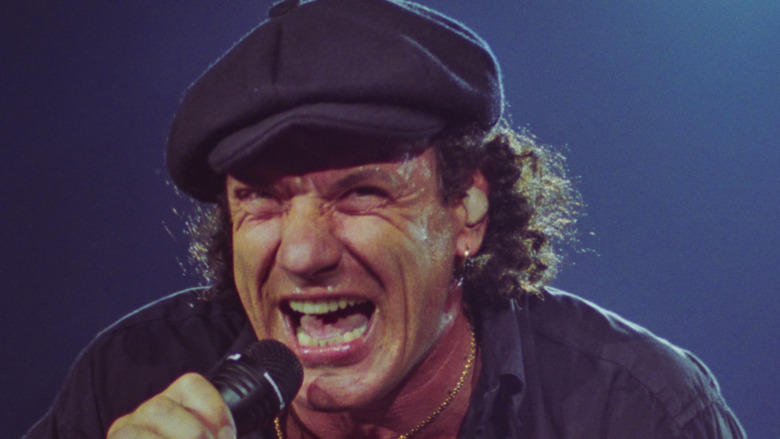 Brian Rasic/Getty Images
AC/DC has had a lot of line up changes over the past few years. In 2015, drummer Phil Rudd left to deal with legal problems, while Malcom Young retired the previous year after being diagnosed with dementia (he passed away in 2017 at age 64), according to USA Today. Then singer Brian Johnson quit midtour in 2016 due to hearing loss. Doctors warned him that he could eventually lose his hearing completely.
Guns N' Roses singer Axl Rose took his place on tour, according to Ultimate Classic Rock. Angus Young explained (via Total Guitar) that Rose came through when the band was in a tough spot. He reached out to them and was very generous with his time, willing to help them out as long as it didn't conflict with his own commitments. Rose wanted to sing some of his favorite AC/DC songs and also recommended some tunes the band hadn't played in a while. "I'm definitely grateful that he volunteered, and that had helped us finish off our commitment. But he has his own life," Angus Young noted.
In 2020, Johnson was able to rejoin the group and record an album with the help of special hearing aid technology. He told USA Today that when Angus Young and management asked him if he wanted to play with the band again, he jumped at the opportunity. "You don't realize sometimes how much you miss things," he explained. "I missed the boys, and the way the boys make music. So it didn't take much to get me. I was on board straight away."
Miscommunication Led To Rob Halford's Judas Priest Departure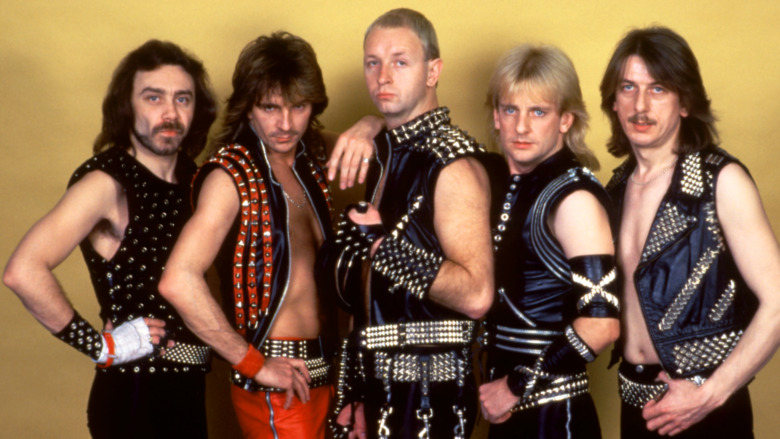 Icon And Image/Getty Images
Rob Halford quit Judas Priest in 1992 in the midst of some controversy. People accused the band of putting subliminal messages in their songs, and two fans committed suicide, according to Ultimate Classic Rock.  After their 12th album, "Painkiller," was finally released, they went on a grueling world tour. Afterwards, Halford revealed he was leaving the band.
Years later he explained (via Cleveland.com) that his departure was a miscommunication. At that point, Halford was feeling a bit fragile. The band had just finished dealing with the subliminal message case, which was dismissed, according to Louder Sound. Then they made the "Painkiller" album and embarked on a world tour. Halford, in retrospect, wished he told the band he needed a two-year break.
Also, Halford wanted to make a solo album and believed he had to leave the group in order to do so. "It was a miscommunication and breakdown that lasted a decade. That's a long time. So, I say to bands now, especially younger bands, stay with your bands as long as you possibly can. It's important." He was replaced by Tim "Ripper" Owens until his return to Judas Priest in 2003.
Queen's Freddie Mercury Died of AIDS Complications But Hasn't Officially Been Replaced
Graham Wiltshire/Getty Images
Queen frontman Freddie Mercury died of AIDS complications in 1991. Surviving members Brian May, Roger Taylor, and John Deacon took some time off and made the album "Made in Heaven" in 1995, according to Smooth Radio. In 2004, the band collaborated with singer Paul Rodgers and billed themselves as Queen + Paul Rodgers. They toured together in 2005 and 2006. At the time, May's website noted that Rodgers would be "featured with" Queen as "Queen + Paul Rodgers" and would not be replacing the late Mercury.
Rodgers ended his collaboration with the group in 2009, explaining that it was always meant to be a temporary arrangement. That same year, a friend told Taylor about an "American Idol" contestant named Adam Lambert, according to Smooth Radio. The members of Queen were blown away by Lambert and asked to be on the show to perform with him to see if they had any chemistry. May said, "We get on personally and that counts for a lot. And we were awestruck by his instrument and the way he used it. And then when we went onstage it felt natural."
Lambert is also billed with Queen as Queen + Adam Lambert.