The Truth About John DeLorean's Many Marriages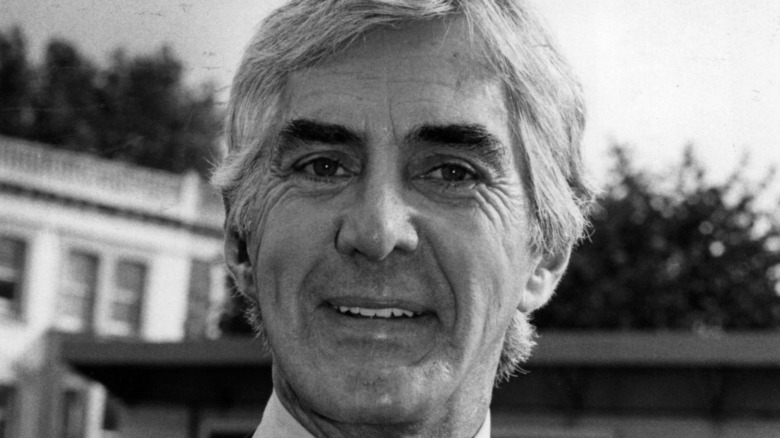 Central Press/Getty Images
You'd think that a figure like the visionary motor engineer John DeLorean — whose astronomical rise and stunning fall are detailed in "Framing John DeLorean," which hits Netflix on May 5 — would live a quiet personal life. This was a man who rose to become Pontiac's head of operations at the age of 40, which, per Forbes, made him the youngest general manager in the whole of General Motors.
But DeLorean's love life was also eventful — he was married four times. Born in 1925, the Detroit native married his first wife, Elizabeth Higgins, a receptionist, in 1954, according to The Outline, just two years before he began his career at General Motors. The two remained married until 1968, while DeLorean was on his upward trajectory and establishing himself as an automobile industry visionary. The couple had no children, and their divorce was far from amicable, with The Outline reporting that Higgins sued her former husband for "cruelty."
Per The Los Angeles Times, it was after separating from Higgins that DeLorean began to live a "fast life" and established a glamorous image for himself. The Times claims DeLorean bought a Maserati and dyed his hair and dated some of the most famous supermodels of the period. In 1969, DeLorean remarried, this time tying the knot with Kelly Harmon, herself a model and the daughter of famed football player Tom Harmon. She was 20, according to The New York Times, while DeLorean was 44. They divorced in 1973.
John DeLorean's later marriages
DeLorean then wed yet another model, Cristina Ferrare (above) in 1973, who at 23 was already an established society figure, per Vanity Fair. The LA Times claims DeLorean told Ferrare: "You're a very cute girl, like a painting on the wall. Right now, you're hanging on my wall, but some other time, you might be hanging on someone else's wall."
The couple had two children: an adopted son, Zachary, and a daughter, Kathryn, born in 1978, according to People. The LA Times describes the couple's life as "opulent," as they enjoyed their material success across a total of four homes. The marriage seemed to be going strong until, in the 1982, their world came crashing down, as DeLorean was arrested on drug smuggling charges, per The Guardian. The automobile tycoon had been running his own firm, the DeLorean Motor Company, for the best part of a decade, and, facing massive debt, was busted in a drug-smuggling deal orchestrated by the FBI. Although he was acquitted on grounds of entrapment, his relationship with Ferrare fell apart; she divorced him in 1985, taking their children with her.
The Guardian describes DeLorean as a "world-class conman," and his remaining decades were spent fighting multiple legal challenges for fraud and embezzlement. He married once more, in 2002, to Sally Baldwin, who remained with him until his death in 2005, at the age of 80. Their daughter, Sheila, was born in 2002.