Why People Don't Believe Son Of Sam Killed Alone
On July 29, 1976, David Berkowitz pulled a gun out of a paper bag and shot Donna Lauria and Jody Valenti as they sat talking in a car near their homes in the Bronx, New York. As reported by History, Lauria was killed and Valenti was seriously injured and thus began Berkowitz's reign of terror. Over the next year, the serial killer shot and murdered a total of six people and injured 10 who survived, including two women he stabbed during his first attempt in 1975, before moving on to his weapon of choice, a .44 caliber Charter Arms Bulldog revolver, per Murderpedia. In fact, the press referred to Berkowitz as "The .44 Caliber Killer" before he wrote letters to the police, as well as reporter Jimmy Breslin of the New York Daily News, in which he referred to himself as the "Son of Sam," writing "...I am a monster. I am the Son of Sam. I love to hunt, prowling the streets looking for fair game. The weman are prettyist of all [sic]..."
Berkowitz was finally caught on August 10, 1977, 10 days after his last kill. Per History, he "gleefully admitted to being the Son of Sam" and explained he had been on his way to perform another murder with the semiautomatic rifle found on his person. He pled guilty to all six murders on May 8, 1978 and was given six sentences of 25 years to life. Many considered the case over at that point, but there are those who suspect Berkowitz didn't work alone.
Did the Son of Sam belong to a Satanic cult?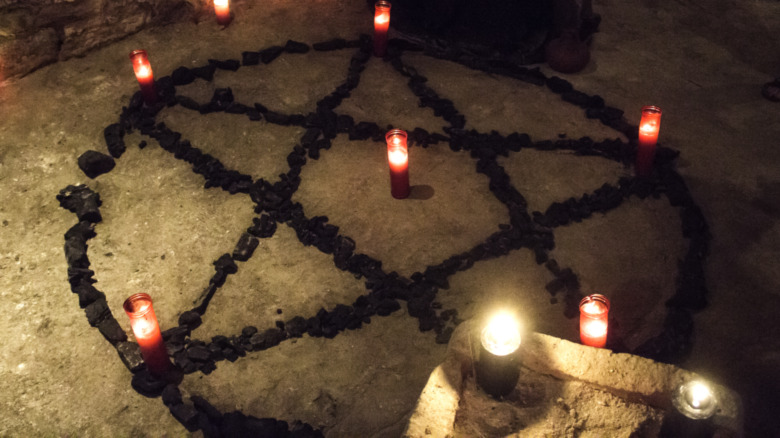 Shutterstock
In 2004, NBC News reported that David Berkowitz didn't change his original story about performing the Son of Sam shootings alone for years, "claiming a dog had ordered him to kill, he still seemed under some demonic influence when he showed up in court." Jimmy Breslin believed this, saying "When they talked to David Berkowitz that night, he recalled everything step by step by step, the guy has 1000 percent recall and that's it. He's the guy and there's nothing else to look at." The shootings and killings did stop after Berkowitz's arrest. However, writer Maury Terry had suspicions, and around the time Berkowitz's first life sentence began, Terry began his intense, obsessive research on the case, working from the theory that the Son of Sam didn't kill alone. 
The result was a 500 page tome published in 1989 titled "The Ultimate Evil: The Search for The Sons of Sam." In 1997, Berkowitz agreed to speak to Terry and his original story changed dramatically. He called the murder of Stacey Moscowitz "a team effort and he a minor player" and "claimed he was a lookout not the triggerman, one of many, part of a group of Son of Sam killers, a group he first came in contact with two years before Son of Sam crimes." Berkowitz told Terry he'd met "some interesting people" at a party and it escalated into occult rituals, including animal sacrifices and "plotting ritualistic murder, human sacrifices to the devil."
A lifetime of investigations with few answers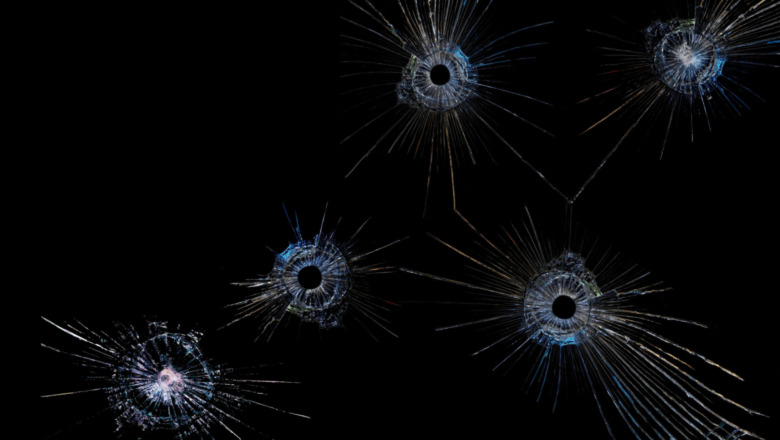 Shutterstock
Per NBC News, Berkowitz told Terry that the Satanic group he fell in with were also involved in distributing child pornography. According to James Rothstein, formerly of an NYPD vice unit, years before the Son of Sam killings he'd received leads about "a nefarious ring involved in pedophilia, and child pornography." An investigation turned up evidence in Untermeyer Park in Yonkers, which Berkowitz mentioned as a meeting spot for the group. The evidence also suggested animal sacrifice and, per Rothstein, "it came down that somebody was murdering German shepherds." Berkowitz was particularly afraid of German shepherds and was convinced they were possessed by demons. Rothstein's discoveries happened five years before the first Son of Sam shootings. Terry noted that a murder conspiracy "Makes a hell of a lot more sense than thinking some guy listened to a talking dog and went out and shot people. It's ridiculous."
Quirk Books reports that when Maury Terry died in 2015, documentary filmmaker Josh Zeman took over his research on the Son of Sam case and "followed leads Terry left for him." The result is a new edition of "The Ultimate Evil" as well as a docuseries and companion podcast. The docuseries, "The Sons of Sam: A Descent Into Darkness"  according to Indiewire, focuses on Terry's decades of work "attempting to prove that the web of darkness behind the murders went deeper than anyone imagined — and his pursuit of that elusive truth would eventually cost him everything." 
"The Sons of Sam: A Descent Into Darkness" premiers on Netflix on May 5.