How Vincent Gigante Became A Gangster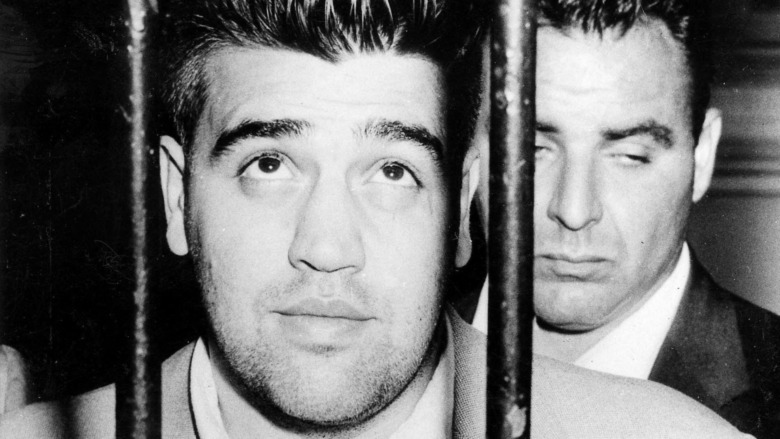 Apic/Getty Images
For decades, Vincent "The Chin" Gigante, also known as "The Oddfather," faked insanity to slip under the radar of law enforcement and evade their clutches — at least temporarily. But before his unique Mafia stint, eventual arrest, and death, Gigante began like many mobsters before him: as a boxer.
As reported by Mafia Wikia, Gigante used his pre-mob life to focus on honing his skills in the art of combat. Between 1944 and 1947, Gigante fought 25 matches. According to The Independent, he thrived in the intense sport and won all but one of his bouts as a light heavyweight. Yet, success in boxing was apparently not enough for Gigante; he was hungry for more.
Boxing has long been linked to the mafia and provided fertile ground for Gigangte's rise in crime. At the age of 16, Gigante dropped out of Textile High School to focus on his boxing career. His penchant for fighting eventually paved the way for his time in the underworld, where he worked as an enforcer for the Genovese crime family. Along with his skill in thievery, Gigante used his brute strength to take on the role of personal bodyguard for Vito Genovese.
From boxer to bodyguard to boss
After rising to power and becoming the head of the Genovese family, Gigante committed himself to the role of a mentally ill person who would be unfathomable as a Mafia leader. The Independent reported that Gigante used his past fighting career to bolster his claims of insanity, and with good reason: the link between boxing and brain injuries that cause dementia and Alzheimer's is well-documented, per Brain & Life.
Over the years, Gigante checked himself into Westchester County psychiatric hospital a slew of times and was often seen muttering to himself as he wandered Greenwich Village in pajamas and slippers, making a name for himself as a local eccentric. Nevertheless, it was only a matter of time before authorities caught on to his game, and his carefully crafted role fell apart. He was eventually imprisoned for his elaborate criminal charade, and on December 19, 2005, Gigante died at the age of 77, behind bars in the United States Medical Center for Federal Prisoners in Springfield, Missouri.