Adam Lambert Is Actually Worth A Lot More Than You Think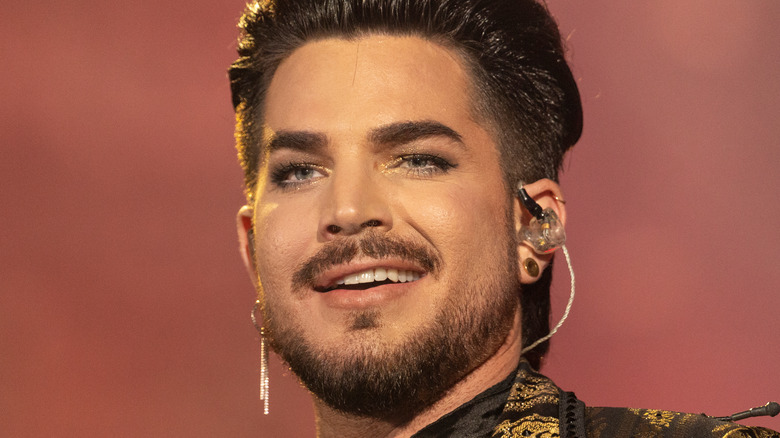 Shutterstock
Although Adam Lambert performed as a youngster in local theater, he didn't hit it big until appearing on the Season 8 of "American Idol" in 2009, where he gained international fame. His first studio album, "For Your Entertainment," came out that same year, debuting on the Billboard charts at No. 3. After those successes, the entertainer has sold more than three million albums and has frequently performed with the British band Queen since 2011, according to Discogs. 
Lambert got his start at 9, performing in professional companies of "You're a Good Man, Charlie Brown," "Chess," and "Joseph and the Amazing Technicolor Dreamcoat," according to Biography. Lambert, who was born in Indiana on January 29, 1982, later moved with his family to San Diego. At Mount Carmel High School, he participated in the arts, singing in the jazz band and choir, and acting in the school plays. He attended California State University, Fullerton, for five weeks before moving to Los Angeles to jumpstart his career.
Fame came slowly. He took a job for 10 months entertaining cruise ship guests, and then traveled in a European tour of "Hair." He spent much of his time prior to "American Idol" acting in theatrical productions: as Joshua in 2004's "The Ten Commandments: The Musical" (with Val Kilmer), and then as an understudy and ensemble member for a touring company of "Wicked."
From American Idol to Queen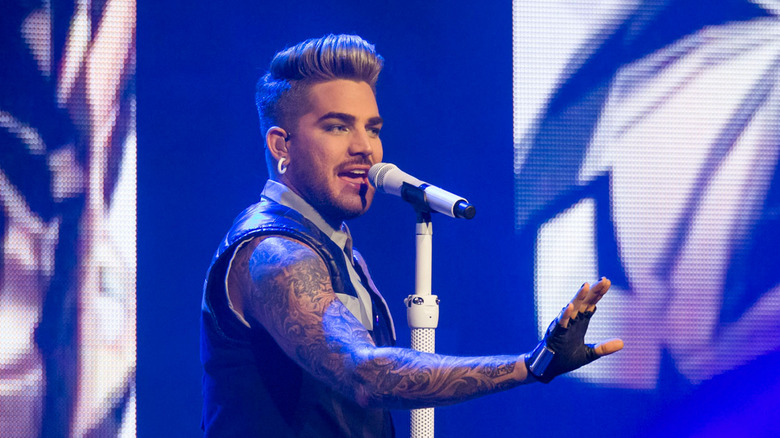 Scott Legato/Getty Images
Lambert lost to Kris Allen on "American Idol," but remained a popular contestant. His 2009 album spawned international hits "Whataya Want from Me" and "If I Had You," and even earned a Grammy nod for Best Male Pop Vocal Performance in 2010.
While Lambert didn't speak about his sexuality on "Idol," he admitted that he was gay soon after the competition ended, according to ABC News. "I don't think it's going to limit anything," he said to the news organization in 2009. "I can see how certain people might get turned off by it. And if they do, it's their loss, you know?"
Since then, he has made three other albums — 2012's "Trespassing," 2015's "The Original High" and 2020's "Velvet." On "Idol" he sang with Queen members Brian May and Roger Taylor. The pairing worked well and Lambert and the band joined forces at the 2011 MTV European Music Awards, reported Smooth Radio. The next summer, he joined them on tour in Europe and Russia. They released several albums together, including "Live in Japan" in 2016 and "Live Around the World" in 2020. The group has performed more than 200 shows, according to USA Today.
A charitable star
Alberto E. Rodriguez/Getty Images
As an actor, noted IMDb, Lambert often makes guest appearances, including on shows such as "Project Runway," "Pretty Little Liars" and "RuPaul's Drag Race." He's also had recurring roles on "Glee" and appeared in "The Rocky Horror Picture Show: Let's Do the Time Warp Again."
With all his projects, the singer-songwriter-actor is now worth $30 million, according to Celebrity Net Worth. He also has some mighty fine real estate, like the 5,000 square-foot, 14-room Hollywood Hills home he bought in 2018 for $6.5 million. But Lambert likes to share the wealth. He's involved in many charities, including DonorsChoose, MusiCares, and The Trevor Project. He created his own charitable organization, the Feel Something Foundation, in 2019, to support LGBTQ+ rights.
"My idea of success has evolved," said Lambert to Variety. "Being allowed to continue being a creative as a career — and live comfortably — is a blessing. It's easy to measure financial success by streaming numbers. But to me, the most important thing is to find a sense of personal satisfaction, and it's so much more than numbers."