The Disturbing Death Of The Love Has Won Cult Leader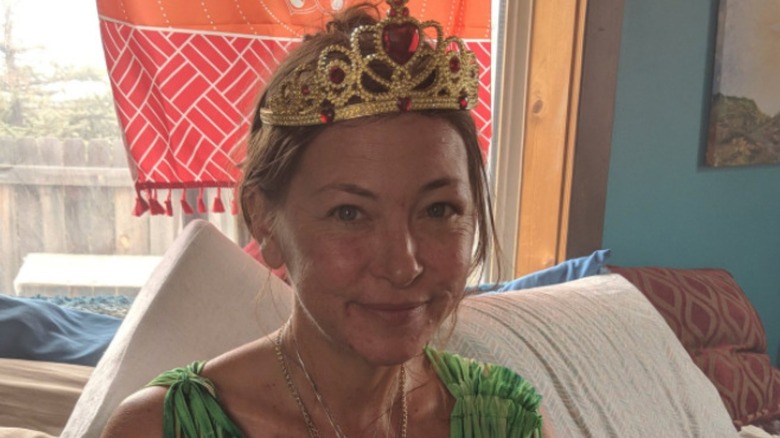 Facebook
The corpse of Lia "Amy" Carlson (pictured above, from a Facebook page that has since been taken down), the 45-year-old leader of the new-age religious group called "Love Has Won" was found mummified and decorated with Christmas lights in the apartment of one of her followers on April 28 after that follower told police several other members of the cult brought the body there from California.
According to a probable cause affidavit shared by Fox 21 News from the Saguache County Sheriff's Office in Colorado, Miguel Lamboy went to police to report the death and said he knew she was dead because her eyes were missing and her teeth were "exposed through the lips." When they searched his apartment, they found the body of Carlson, whose followers called her "Mother God" or just "Mom," in a back bedroom lying on a bed and wrapped in a sleeping bag. Her eyes were missing but had glittery make-up around the sockets. Her mummified body was decorated with Christmas tree lights in something akin to a shrine, per the police report.
The enshrined corpse was visible from the hallway in the apartment where a 13-year-old and a 2-year old were sleeping. The 2-year-old is Lamboy's son. The 13-year-old is the daughter of Karin Raymond, one of the followers involved in transporting the corpse. She, along with six others — including the cult's current "Father God", 45-year-old Jason Castillo — were arrested and charged with abuse of a corpse and two counts of child abuse, per the Sheriff's police report. 
Carlson's cause of death has not yet been determined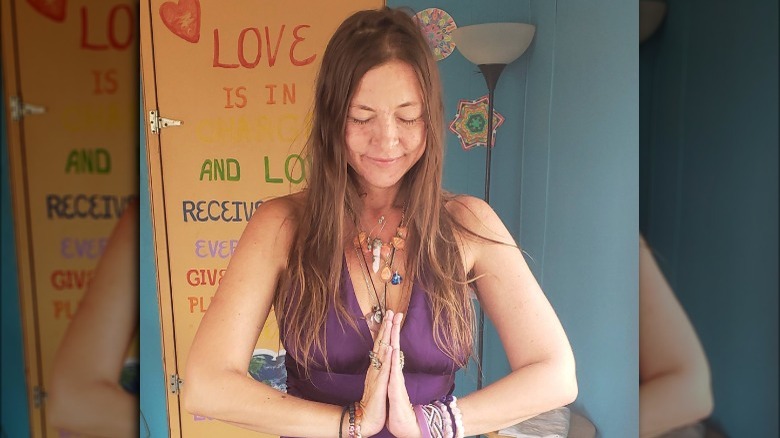 Facebook
Saguache County Coroner Tom Perrin told Grunge in a phone interview that so far the cause of death of the 45-year-old looks to be from natural causes, but they can't say for sure until the toxicology report comes back, probably in four to six weeks.
In a short documentary on the cult done by Vice in March 2021, one Love Has Won follower claims that drugs are forbidden in the group, but Carlson taught that alcohol is organic and therefore was okay for her to use, which she did in abundance. A former member claimed she would drink eight to nine full highball glasses of vodka every night, making her surly, angry and aggressive — "a different person," he said.
The Mother God's followers believed she was a divine entity on this earth who was living her 534th reincarnation with a goal to save humanity. The story went that she'd been working to save humanity for 19 billion years (the earth is roughly 4.54 billion years old, according to National Geographic). Carlson was going to lead "144,000 chosen ones into a new mystical dimension," Vice reported. Interestingly, that's the exact number of chosen people Jehovah's Witnesses believe will be admitted to heaven.
"Love has Won" has followers around the world who do live streams via YouTube in order to solicit donations. The Saguache County Sheriff's Office said in the arrest warrant that they "had received many complaints from families within the United States saying that the group is brainwashing people and stealing their money."