A Look At Frida Kahlo And Diego Rivera's Troubled Relationship
One of the art world's most fiery romances began with "La Creación," a vast fresco mural of Christian imagery. In 1922, while Diego Rivera painted the mural at the Simón Bolívar Amphitheater at a high school in Mexico City, he carried a pistol to arm himself against right-wing students (per DiegoRivera.org). But the student who took a particularly keen interest in the artist and his work was Frida Kahlo.
According to Google Arts & Culture, Kahlo began watching Rivera as he painted the mural and he talked to her about Paris and his famous artist friends. She was 15 years old at the time, while he was 36.
Kahlo and Rivera were reintroduced by their mutual friend, an Italian photographer named Tina Modotti, in 1928. When they married the following year, Kahlo's parents deemed them "the elephant and the dove."
It was Rivera who encouraged Kahlo to keep painting and ultimately build a career as an artist. Kahlo reportedly dressed conventionally before she met Rivera, but with his influence, she donned handmade dresses and developed her folk-art style. The couple became the key figures of Mexican modernism.
Still, some of the artists' most intriguing works — especially Kahlo's — revealed clues of marital unrest. While Kahlo and Rivera's marriage appeared to be deeply passionate and mutually inspiring, it was also continually disturbed by pain and conflict.
Infidelity and miscarriages tainted Frida Kahlo and Diego Rivera's marriage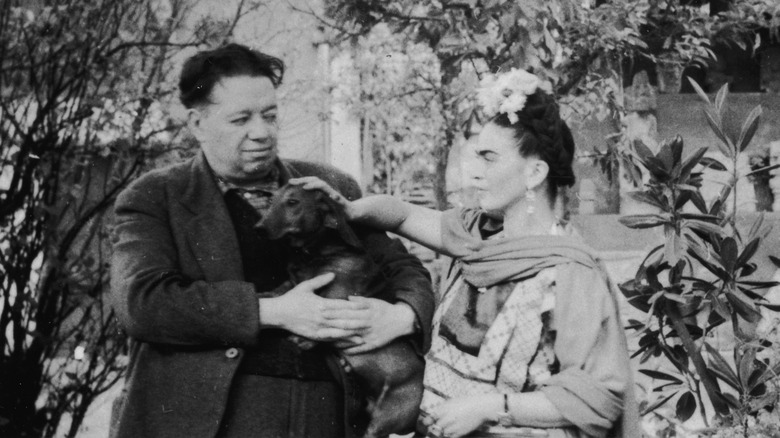 Hulton Archive/Getty Images
"There have been two great accidents in my life," Frida Kahlo once wrote (via Google Arts & Culture). One was the 1925 bus crash that sent an iron handrail through her pelvis "the way a sword pierces a bull" (via Biography). The other was meeting Diego Rivera.
Trouble came in the early years of their marriage. In 1930, while Rivera painted a mural on a trip to San Francisco, Kahlo suffered her first miscarriage. She would go on to suffer two more and ultimately never have children — a consequence of the bus crash that punctured her uterus. Meanwhile, Rivera's career was keeping him busy and in demand in the United States.
The key insights into Rivera and Kahlo's relationship can be found in their paintings. Kahlo's 1931 portrait "Frida and Diego Rivera" shows Rivera clutching an artist's palette and paintbrushes in one hand and Kahlo's hand in the other, while Kahlo appears to be letting go and clutching her stomach. As noted in a BBC article, the subjects' "wandering eyes" may foreshadow the infidelity that would creep into their marriage on both sides.
Rivera and Kahlo even divorced once, in 1939, only to remarry the following year. In spite of its complications, their partnership in art, love, and life lasted until Kahlo's death in 1954. "Being the wife of Diego is the most marvelous thing in the world," Kahlo once said (via FridaKahlo.org). "I let him play matrimony with other women. Diego is not anybody's husband and never will be, but he is a great comrade."