The Tragic Death Of George C. Scott
Evening Standard/Getty Images
Legendary actor George C. Scott, known for his rough, raspy voice and striking presence, struggled in his final years. By 1991, Scott had survived three heart attacks, according to the Orlando Sentinel. He also suffered from diabetes and high blood pressure (via Irish Times). But he didn't let these health challenges slow him down. Scott made one of his final film appearances in 1993's "Malice" with Nicole Kidman, Alec Baldwin, and Bill Pullman. But his health took another hit in 1996 when he had an aneurysm while in New York that was "never properly treated" (via The New York Times).
Despite being unwell, Scott pressed on with his work. He returned to the Broadway stage in the 1996 revival of "Inherit the Wind." This drama drew inspiration from the Scopes Monkey Trial of 1925, which basically put Charles Darwin's theory of evolution up for trial by jury. Scott fell ill during rehearsals and the play's opening had to be delayed, according to The New York Times. Still, Scott earned numerous accolades for his portrayal of defense lawyer Henry Drummond, including a Tony Award nomination (via Internet Broadway Database).
Sudden loss of George C. Scott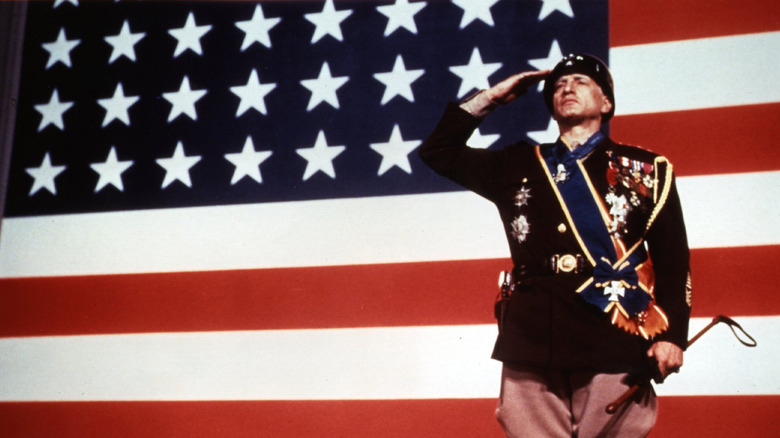 United Archives/Getty Images
Scott joined an all-star cast, which included Jack Lemmon, Ossie Davis, and Hume Cronyn, for the TV movie remake of "12 Angry Men" in 1997. He played one of the 12 jurors in this courtroom drama. For his last project, Scott brought to a favorite play, "Inherit the Wind," to the small screen. But this time he played the prosecutor, not the defense attorney. Instead Jack Lemmon took the role of Henry Drummond. By the time this production aired in 1999, Scott only had a few months to live.
On September 22, 1999, Scott died at the age of 71 of "a rupture of a major blood vessel in his abdomen," according to Variety. The body of the man who had made his mark on Hollywood with such films as "Patton" and "Dr. Strangelove" was discovered by a friend in Scott's Westlake Village, California home. Despite his declining health, his sudden passing came as a shock. "It was unexpected," Scott's publicist, Jim Mahoney, told the Baltimore Sun. Scott was survived by his fourth wife Trish Van Devere and five children, including actor Campbell Scott. Perhaps in keeping with Scott's disdain for honors, he was laid to rest in an unmarked grave at the Pierce Brothers Westwood Village Memorial Park in Los Angeles. After all, Scott made history in 1971 as the first man to decline an Academy Award (via E Online).