This Is How Much Bing Crosby Was Worth When He Died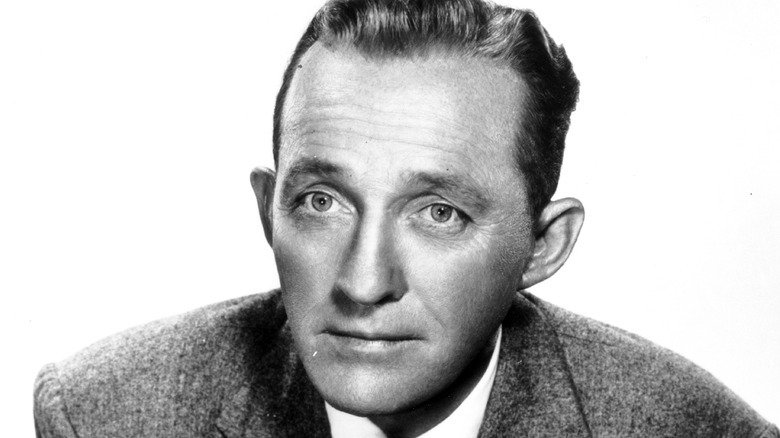 Michael Ochs Archives/Getty Images
Starring in 57 films and selling more than 300 million records, Bing Crosby managed to make himself one of the greatest stars of the 20th century. Known for songs like "You're Getting to be a Habit With Me" and "I Found a Million-Dollar Baby," along with movies like "White Christmas" and the string of "Road to ... " comedies he made with Bob Hope, Crosby raised himself from humble working-class beginnings to become both a hugely popular entertainer and a technological innovator.
Born in 1903 in Tacoma, Washington, in a house his father built, Crosby was the fourth of seven children. His parents named him Harry Lillis Crosby Jr., but he picked up the nickname "Bing" in childhood, allegedly due to his fondness for a satirical comic strip called "The Bingville Bugle" (via Boston.com). Shortly after his birth, his parents moved the family across the state to Spokane, a move that memorably brought with it a purchase of a (recently invented) phonograph record player, which proved to have a lasting influence on him. In 1917, he took a job as a prop boy for the Spokane Auditorium, allowing him to see acts live that he had previously only heard on records.
Crosby was an innovator on stage, screen, and radio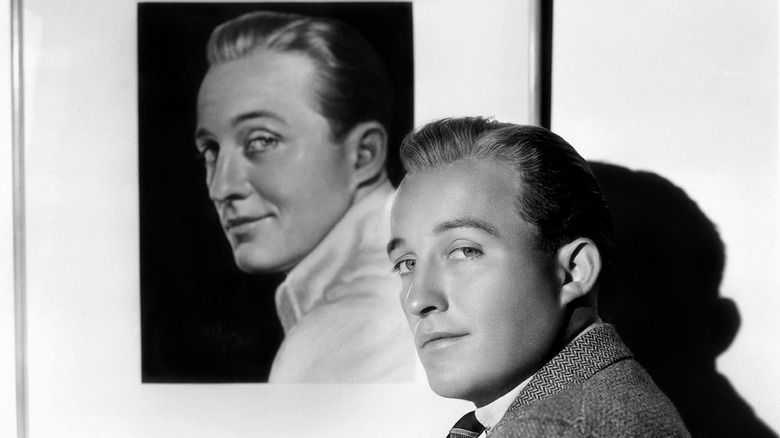 Donaldson Collection/Getty Images
After finishing high school in 1920, Crosby attended Gonzaga University for several years, but in 1923 dropped out to pursue a vaudeville career with his friend Al Rinker. The duo performed as "Two Boys and a Piano," singing songs and telling jokes, which led to collaboration with various jazz ensembles and eventually landed Crosby a regular radio gig with CBS, where he hosted a show that would run under various titles for a solid three decades (via Biography).
An innovator in radio, Crosby was the first to pre-record his programs onto magnetic tape, which was at first controversial with the networks, who preferred live broadcasts, but eventually became widespread throughout the industry. Crosby took the practice with him when he went on to television, going so far as to invest in the companies who produced the tape and recording equipment.
During World War II, Crosby performed for the troops and was voting the "most positive influence" on troop morale, beating out everyone from President Franklin Roosevelt to Bob Hope. As a singer, Crosby was mainly noted for the introduction of a "crooning" singing style to the American pop landscape. Previously, most pop singers had focused on "belting" — singing loudly from the chest — to reach the back seats in the theater. Crosby, however, being ever the lover of technology, employed a smoother, quieter singing style made possible by the use of what were then cutting-edge microphones and amplification.
Crosby invested his money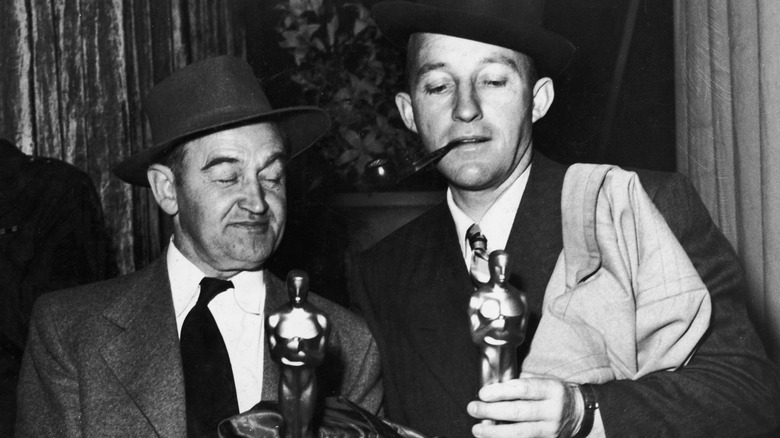 Hulton Archive/Getty Images
Unsavory allegations against Crosby — that he was an abusive father, a gambling addict, and had mafia ties — would surface after his death (via the Los Angeles Times), but during his life Crosby managed to keep his image fairly clean, and even occasionally stuck his neck out for the downtrodden. When he co-starred alongside Black jazz trumpeter Louis Armstrong in 1936's "Pennies From Heaven," for instance, Crosby insisted that Armstrong get equal billing with all the other actors — and he got what he asked for. In 1945, he won an Academy Award for Best Actor in a Leading Role (above) for the film "Going My Way," in which he played a Catholic priest. In 1963 he finally won his first Grammy — a lifetime achievement award.
As his fortune grew, Crosby continued to invest his money, often almost shockingly wisely. He bought land in California and oil wells in Texas; he bought stock in Minute Maid Orange Juice and for a while was part owner of the Pittsburgh Pirates (via Bing Crosby News Archive). He even founded his own golf tournament, the Bing Crosby Invitation (now known as the AT&T Pebble Beach Pro-Am), which has become a staple of the PGA tour.
Between spectacular success as an entertainer and as an investor, Crosby had amassed a solid fortune when he died of a heart attack on a Spanish golf course on October 14, 1977. At the time of his death, adjusted for inflation, he was worth more than $50 million (via Celebrity Net Worth).