The Time Van Halen Sent Its Fired Members To Their Rock And Roll Hall Of Fame Induction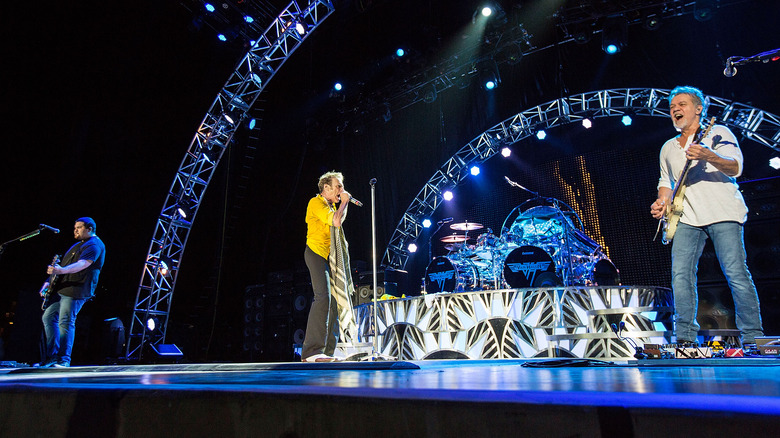 Daniel Knighton/Getty Images
There are quite a few interesting chapters in the controversial history of the Rock and Roll Hall of Fame. The majority of them have to do with musicians being angry at the institution for one reason or another and refusing to show up. One of the most famous Hall of Fame snubbers was Paul McCartney, who did not go to the 1988 ceremony when he and the other Beatles were inducted in, citing "business differences" with his former bandmates, according to the Los Angeles Times.
Others who have refused to show up to their own inductions into the decidedly un-rock-n-roll institution include the Sex Pistols and most of the members of Guns N' Roses and Dire Straits. The epic '80s rockers from Van Halen also had a row with the memorializing museum that led to a peculiar induction ceremony. Let's take a look back and see just what happened when Van Halen was inducted into the Rock and Roll Hall of Fame. 
They were at least members of Van Halen at one point in time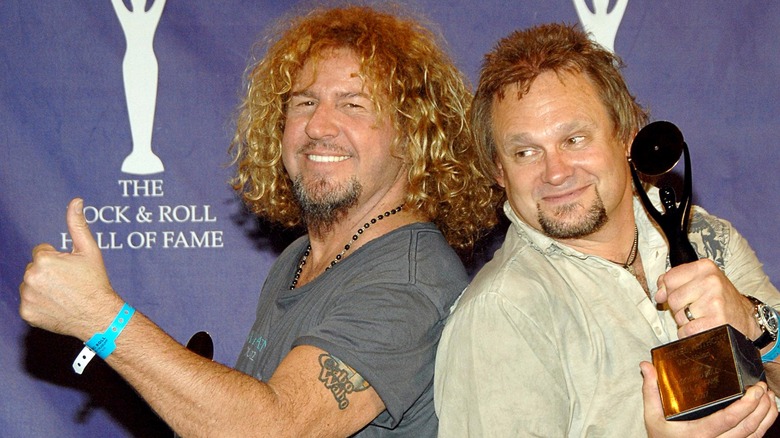 Shutterstock
According to Billboard, the trouble began in March 2007, when the most prominent member of Van Halen, guitarist Eddie Van Halen, announced he wasn't going to attend the Rock and Roll Hall of Fame induction ceremony. He had apparently signed up at a rehab clinic for "undisclosed reasons." And without Eddie, the other Van Halens in the group weren't going to show up, either. No Alex, who played drums, or Wolfgang, Eddie's son who had joined the group after they fired the original bassist Michael Anthony. And without these guys, there was going to be no Van Halen performance, so David Lee Roth wasn't having it, either.
In his 2011 biography of Eddie Van Halen, Kevin Dodds noted that Roth had considered attending and singing a song with the super group Velvet Revolver, made up of Stone Temple Pilots singer Scott Weiland and some of Guns N' Roses. But, in true David Lee Roth fashion, he was unable to come to an agreement with the super group. They wanted to play "You Really Got Me," but Roth didn't want to sing a cover at his induction and pushed for them to play "Jump." Velvet Revolver refused, so Roth said no to the whole shebang. As a result, the only guys to show up to accept Van Halen's membership in the Rock Hall were Michael Anthony and Sammy Hagar, both of whom had been fired from the band.