A Look At Joe Walsh And Ringo Starr's Relationship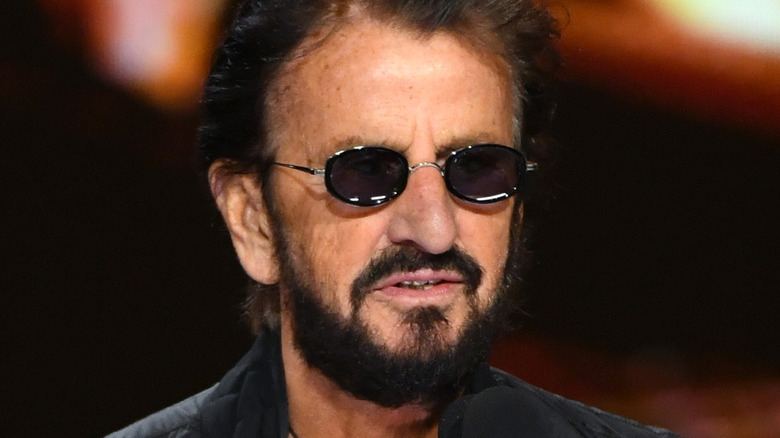 Kevin Winter/Getty Images
Beatles drummer Ringo Starr and Eagles guitarist Joe Walsh have a friendship that spans decades. In fact, their story dates back to 1965 when Walsh first saw Starr perform with the Beatles at their legendary Shea Stadium show, per Vulture. According to Rolling Stone, the two would formally meet in the mid-1970s during an all-night jam session at the Record Plant studio in Los Angeles. Previous to their meet, Walsh had spent time perfecting the George Harrison guitar solo to the Beatles song "And Your Bird Can Sing." While Walsh had hoped to make a good impression, Starr thought Walsh was nuts — the solo is actually two separate guitar parts that were later put together. "I think I'm the only guy who can play it — including George," Walsh told the Chicago Tribune.
The two would work together in the early '80s when Walsh would produce Starr's solo album, "Old Wave." By 1989, their friendship would tighten as Starr would bring Walsh into his First All-Starr Band as a multi-instrumentalist. While Walsh wouldn't remain a constant member, he would continue to perform with the band. According to Ultimate Classic Rock, in 2008, the two rock icons would become more than friends when Walsh would marry Marjorie Bach, Ringo Starr's sister-in-law. Walsh told 105.7 WROR how surreal it all is. "He's my brother-in-law, and he wants to involve me in making music, and what am I gonna say? No? I'm really, really, really blessed to...be in this family that I'm in that came along with my wife...and I still get in the studio, and I'll be playing guitar, and I'll look over and go, 'That's f***ing Ringo Starr! I don't believe it!' It still happens sometimes," he said.
Joe Walsh and Ringo Starr today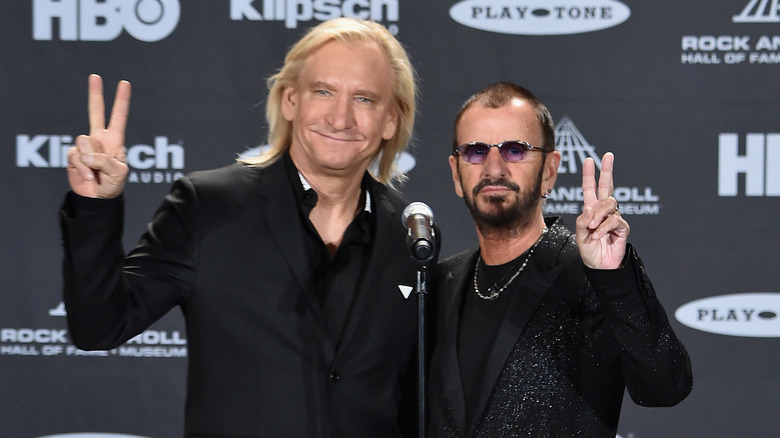 Mike Coppola/Getty Images
By 2010, Ringo Starr's achievements would lead to receiving a star on the Hollywood Walk of Fame. Of course, none other than Joe Walsh would be one of the guest speakers to introduce his friend, longtime collaborator, and brother-in-law. "He's not just the greatest drummer in rock history — from the greatest band in rock history — he's also the greatest guy I know and the most kind and helpful friend you could ever want," Walsh said, per Rolling Stone.
Starr and Walsh would continue doing projects together, eventually working on the 2019 album "What's My Name?" According to Rolling Stone, Walsh would collaborate on the song "Gotta Get Up to Get Down" and add a rap: "Everybody's on the internet, what's up with that/Your body just waitin' for your brain to come back." The song would demonstrate how both artists still rock and have fun while making a bit of a statement to the world. According to Relix, in 2020, Starr would release the song "Here's to the Nights" with Walsh and many other guests on vocals, including Paul McCartney, Corinne Bailey Rae, Eric Burton (Black Pumas), Sheryl Crow, FINNEAS, Dave Grohl, Ben Harper, Lenny Kravitz, Jenny Lewis, Steve Lukather, Chris Stapleton, and Yola.