What Happened To David Sancious From The E Street Band?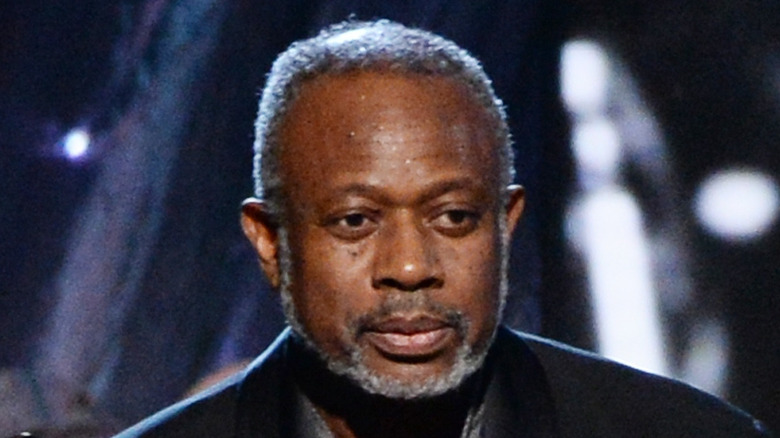 Larry Busacca/Getty Images
Since the early '70s, Bruce Springsteen's E Street Band has gone through lineup changes and evolved into the legendary rock band it's become today. However, before there was the E Street Band, there was an earlier version of the New Jersey group known as Dr. Zoom and the Sonic Boom, which included Springsteen, Steven Van Zandt on guitar, Vini Lopez and Bobby Williams on drums, Danny Federici on organ, Southside Johnny on harmonica, a choir comprised of many singers, and David Sancious on keyboards. "It was a fun thing," Sancious told New Jersey Stage. "I think that was a kind of maybe inspired by or had something to do with bands like Leon Russell and the Shelter People or Mad Dog and Englishmen. That whole Delany & Bonnie and Friends period. There was this whole group of large ensemble things with 12-15 people in the band — that energy, you know, I think that was his idea to put something together like that."
Sancious would stay with the band as it became the E Street Band and would even help inspire its name. Before rehearsals, the band members would sit on E Street in Belmar, New Jersey, and wait outside Sancious' mother's house for David to be ready to play, per BruceSpringsteen.net. In Clarence Clemons' autobiography, "Big Man," via BruceSpringsteen.net, Springsteen apparently said, "This band has spent so much time parked on this... street we should call it the E Street Band." After getting signed, Sancious would play keyboards for "Greetings From Asbury Park, N.J." and "The Wild, the Innocent & the E Street Shuffle." Sancious' last album with the E Street Band would be "Born to Run."
David Sancious' life after leaving the E Street Band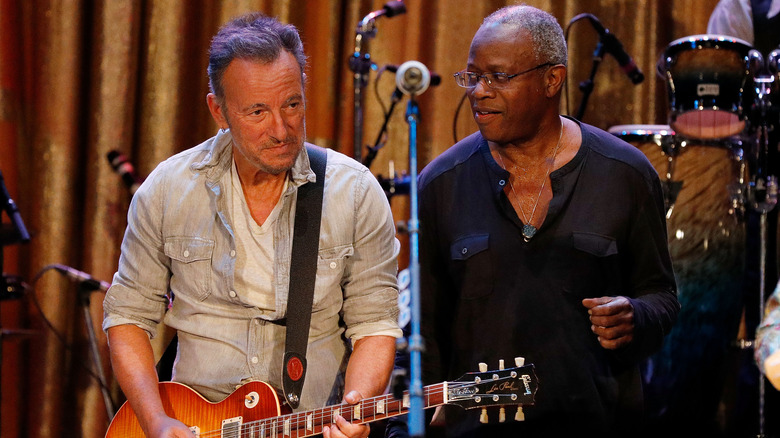 Taylor Hill/Getty Images
David Sancious would leave after recording only one song: "Born to Run." In an interview with Rolling Stone, Sancious said that he'd been approached by an A&R man from Columbia Records who heard one of his demo tapes and wanted to offer him studio time to record another one. "I said, 'Sure.' They gave me the studio time and I made a demo. I think it was maybe another month or two from when I actually did it that they said they wanted to offer me a contract. When all that happened, I was at Bruce's house. He used to live in Long Branch right across the street from the ocean. We got together and I told him. 'This is happening. I feel like I need to do it now. I need to put the same kind of energy into it that you're putting into your records,'" Sancious recalled. "He was a sweetheart. He understood. Not only did he understand, but he's been one of my biggest supporters to this day. He's one of my biggest supporters of whatever I'm doing musically."
In 1974, the keyboardist would soon form a jazz-rock fusion band with E Street alum "Boom" Carter called Tone — eventually, Patti Scialfa of the E Street Band would also work with Sancious for a short time. In 1975, Sancious would begin releasing his work as a solo artist and member of Tone. He would work on Jack Bruce's 1980 album "I've Always Wanted to Do This." Sancious would work with someone he'd always admired. "Yeah. Jack was one of my heroes and Cream was one of my favorite bands," he said. "I digested that Cream music so much, man. There was a point where I could play it note for note."
David Sancious' music today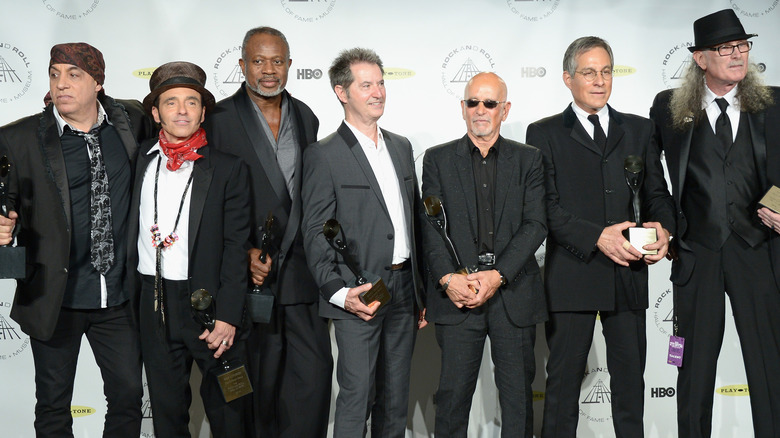 Michael Loccisano/Getty Images
David Sancious would collaborate with more artists, including Sting, Peter Gabriel, Eric Clapton, Jeff Beck, and Jon Anderson of Yes. Sancious would reunite with Springsteen and the E Street band for the Amnesty International tour in 1988 and at the Rock & Roll Hall of Fame in 2014. "It was super special, though I really missed Clarence," Sancious told Rolling Stone. "That was heavy. It was double duty. It was ironic because not only did I get to be inducted into the Rock & Roll Hall of Fame as part of the E Street Band, and I got to perform with the E Street Band again, which was too much fun; I got to perform with Peter Gabriel because he got inducted on the same night. I had to do two rehearsals. I rehearsed with the E Street Band and then went into another room, changed, and rehearsed with Peter Gabriel. We did two songs. What a privilege that was. It was great."
In 2020, Sancious would release another solo album called "Eyes Wide Open." The album would be more political and relate to the state of the world right now. "I wanted to make a statement about the insane state of where this country is, and the world was well. There's some major problems happening, and they affect all of us. No one is exempt from what's going on here. The music, over time, just wrote me." Today, Sancious lives in Hawaii with his family and hopes to go back to touring whenever the COVID-19 pandemic allows. "I think the business will come back, but we need to make as much progress as a society as we can. That's the challenge for all of us."