The Truth About Shawn Michaels' Addiction Struggles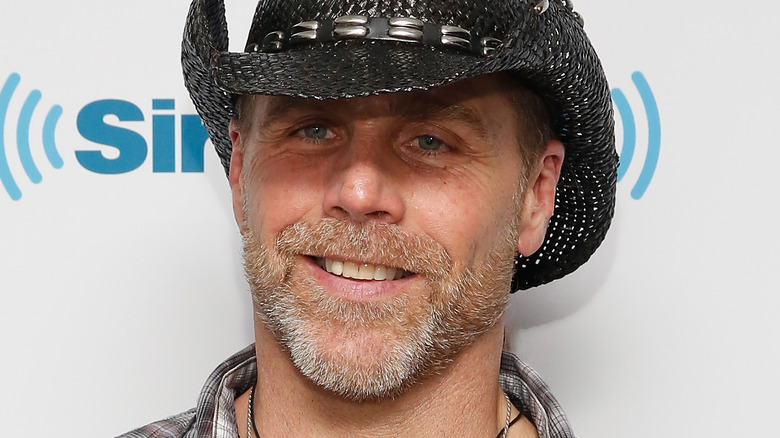 Robin Marchant/Getty Images
Three time WWE World Heavyweight champion Shawn Michaels has had a long and storied wrestling career. From his days wrestling for the National Wrestling Alliance (NWA) in Dallas, Texas, during the early '80s through his retirement from the WWE in 2010, the Heartbreak Kid has become a legend in his own time. It hasn't been an easy ride for the former champ, however, who spent a good portion of the late '80s through the '90s battling addictions to drugs and alcohol (via The Fix). As Marty Jannetty, Michaels' former tag-team partner, told Biography, if they were on the road for 300 days a year, they "partied 290 of them." In those days, Michaels' penchant for alcohol and drugs grew just as fast as his popularity.
Born Michael Shawn Hickenbottom on July 22, 1965, in Chandler, Arizona, Michaels was the youngest of four kids in a military family (via Biography). In his book, "Heartbreak and Triumph: The Shawn Michaels Story," the wrestler relates as a kid, he disliked his first name so much, family and friends took to calling him by his middle name, Shawn. Not only would the name stick, Michaels would adopt the name "Shawn Michaels" early in his wrestling career.
Make way for the Heartbreak Kid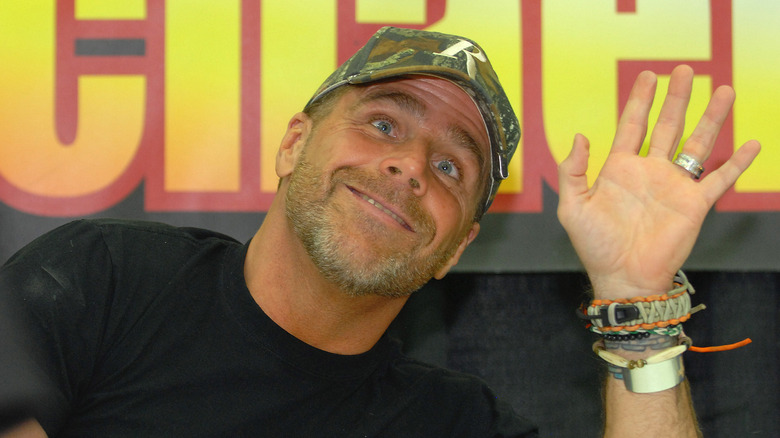 Paul Warner/Getty Images
Shawn Michaels' career flourished through the '80s as he hopped from one wrestling territory to another throughout the Midwest. In 1986, Michaels met wrestler Marty Jannetty during his time in the NWA, and the pair became tag team partners, calling themselves the Midnight Rockers (via Bleacher Report). In 1988, the pair signed to the then-WWF, dropped the "Midnight" from their name and began an unprecedented run as The Rockers, winning the WWF Tag Team Championship in October 1990. It was during this time, however, that Michaels' drug abuse started becoming a problem, telling Biography that "nine times out of 10," he would accept a partial payment for his work in the form of cocaine while wrestling for Continental Championship Wrestling (CCW).
In 1992, the WWF began to put Michaels "over" and split the Rockers up, by way of a "superkick" to the face of Marty Jannetty courtesy of Michaels, himself. The move not only turned Michaels into what's known in wrestling as a "heel" (bad guy), but propelled him into superstardom. Adopting the moniker "Heartbreak Kid," Michaels spent the rest of the '90s wrestling (and beating) the biggest names in the sport: Tito Santana, Macho Man Randy Savage, Rowdy Roddy Piper, and even the legendary Ric Flair.  Not able to handle the pressures of his growing success and popularity, Michaels' use of prescription drugs and alcohol started to become apparent to friends and colleagues. According to Biography, friend and fellow wrestler Paul Levesque (Triple H) watched Michaels pass out nightly, having to roll Michaels to his hotel room on a luggage cart and "set an alarm to check on him every couple of hours."
Power of prayer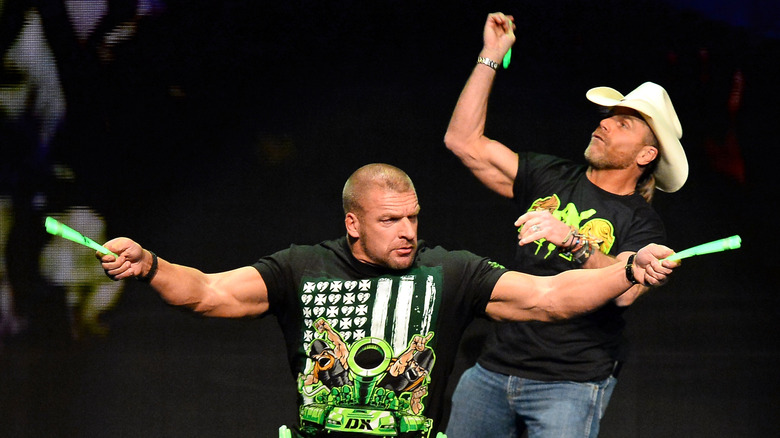 Ethan Miller/Getty Images
After suffering a back injury at the hands of The Undertaker in January 1998, Shawn Michaels' drug addiction escalated even further. Using muscle relaxers to deal with the pain, Michaels' wife, Rebecca Curci Hickenbottom, watched her husband continually pass out at meals (via Biography). After his 2-year-old son, Cameron, caught Michaels passed out on the couch, the Heartbreak Kid had an epiphany. According to his wife Rebecca, "He woke up the next morning and told me he was never taking pills or drinking again, and from that point, he didn't. It was an instantaneous letting go of the drugs and alcohol." 
After which, Michaels became a born-again Christian after using the power of prayer to heal his back, returning to the ring in 2002. And even though he retired from wrestling in 2010, the Heartbreak Kid is still very much involved with the sport that made (and broke) him.