How Joseph Bell Was Involved In The Jack The Ripper Case
Who was the vicious, mysterious Jack the Ripper who prowled the streets of London in the late 1880s? Decades of investigation have been unable to provide a definitive answer to that question.
There's a strong case to support the theory that the killer was H.H. Holmes. The timing of the killings and of Holmes' own death makes this more than possible, but this prolific killer isn't the only Holmes with ties to Jack the Ripper. Dr. Joseph Bell, inspiration for legendary literary detective Sherlock Holmes, may have investigated the case himself.
Bell was an Edinburgh-born doctor, who lectured at the University of Edinburgh's Medical School around the time the Ripper killings began. According to Crime Traveller, he pioneered forensic science, advocating the importance of bringing science into investigations through meticulous examination. His methods would have been exactly what the baffled Whitechapel police sorely needed.
After all, such techniques were truly in their infancy at the time: Sir Francis Gaton hadn't yet published his findings on the viability of using fingerprints to identify suspects, per Casebook, and Scotland Yard reportedly didn't begin using this method until 1902 (four years after the killings ended). In the interim, they needed all the help they could get. According to Diane Madsen, author of The Conan Doyle Notes: The Secret of Jack the Ripper, this was where Bell came in.
Did Bell crack the Jack the Ripper case?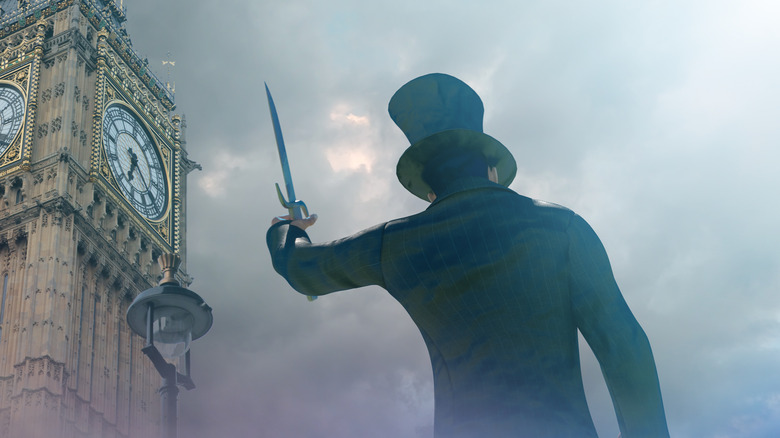 Shutterstock
Alongside Sir Arthur Conan Doyle, said to have been the Watson to Bell's Holmes, Madsen claims that the doctor was among many great analytical minds asked to aid in the case. This perhaps even included Doyle investigating the Whitechapel streets where the crimes were perpetrated. Scottish Field claims that Bell worked instead with Sir Henry Duncan Littlejohn, a surgeon of the police with famed deductive abilities of his own, but the outcome in either telling is the same. Bell and another brilliant mind waded through the documents on the case and reached a conclusion independently: the same conclusion. 
This is said to have happened just a week before the Ripper murders ended, and there's no record of the name of the killer Bell potentially identified. Madsen suggests that this was a result of the police hiding a scandal, that the killer was in fact James K. Steven, teacher of Prince Albert Victor. Ultimately, though, whether Bell was invited by the police or did his own independent sleuthing, whether he unmasked the killer or he didn't, it's all just another tantalizing Ripper mystery.