The Truth About Drew And Stacy Peterson's Relationship
In 2012, the notorious "wife killer" Drew Peterson was found guilty of the 2003 murder of his third wife. But that probably would not have happened if his most recent wife at the time, Stacy, didn't go missing. When she mysteriously vanished from Bolingbrook, Illinois, in 2007, police started looking into the death of Peterson's ex-wife from his third marriage — Kathleen Savio. Despite her death initially being ruled an accident and considered closed, it was reopened and determined a homicide. Peterson was later charged for the crime. And suspicion gradually grew when Stacy never turned up and people wondered if he was involved in whatever might have happened to her. 
While serving a 38-year sentence for his murder conviction, the same prosecutor who helped put him behind bars also promised to bring charges against him for Stacy's disappearance. However, that would go sour when Peterson tried to orchestrate a murder-for-hire plot from the jailhouse, against the state's attorney, according to The Los Angeles Times. He got convicted again, and a judge added 40 more years to his sentence. But the spotlight on Peterson's attempt to wipe out a prosecutor just to hinder an investigation may have given the impression that he was possibly guilty and drew more interest into the type of relationship he had with the young suburban mother.
A big age difference between the Petersons
In 2003, a 48-year-old Drew Peterson married 19-year-old Stacy not long after getting divorced. Their relationship raised a lot of eyebrows and not only due to the large age gap. It was because Peterson allegedly started the relationship with Stacy when she was just 16 years old, says ABC News. As a former police sergeant working nights, Peterson would often interact with Stacy, who also worked nights at a Bolingbrook hotel. According to Stacy's family, even with some concerns about the age difference, they maintained support of the pairing. "I said, 'I don't mind just as long as you're happy.' Age doesn't matter as long as you're in love and happy with that person," said Stacy's sister Cassandra Cales.
But Peterson was still married to Savio when he began his relationship with Stacy. In 2001, Savio allegedly received an anonymous letter stating that her husband was having an affair with a teen named Stacy Cales (via The Los Angeles Times). They later separated, of course. In 2003, Stacy and Drew had a son named Anthony and got hitched a few months later. The following year, Savio was found dead and Stacy then became a mother of three when Peterson and Savio's sons, Kristopher and Thomas, moved in with them. By 2005, the couple had another addition to the family when they welcomed their only daughter, Lacy. But in just two years, the growing family would be one person short. The mother of four was 23 when she vanished in 2007.
Stacy Peterson allegedly wanted to part ways with Drew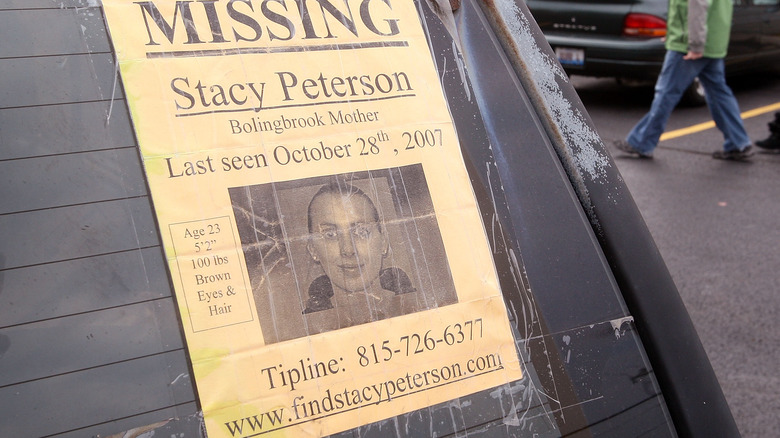 Scott Olson/Getty Images
Her disappearance may have a lot to do with the Petersons' marriage crumbling and Stacy apparently wanting out. According to Stacy's sister, she admitted to only staying in her relationship with Drew for the sake of her children (via ABC News). A friend of Stacy's told ABC News that she expressed that she wanted a divorce from Drew on multiple occasions and feared for her life. She also confided in another friend about coming to realize that her marriage was abusive and controlling and asked for prayers regarding her safety.
Not long after sending that message to her friend via email, Stacy went missing. Since then, she has never reappeared and is believed to be dead. With a 78-year prison sentence, Peterson will likely die behind bars, but he can still face another conviction if a prosecutor decides to bring charges for Stacy's disappearance. Her children and stepchildren with Drew are currently in custody of Peterson's adult son Stephen, per The Chicago Tribune.