The Inspiration Behind Mel Brooks' 2000 Year Old Man Character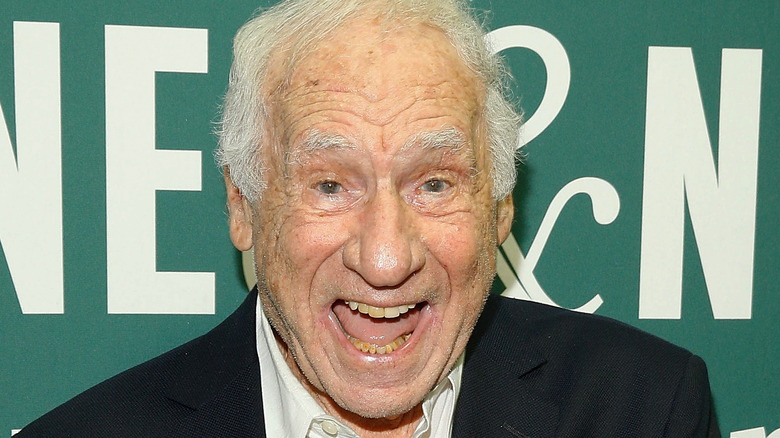 John Lamparski/Getty Images
Comedians Mel Brooks and Carl Reiner were such close friends that, until Reiner died in June of 2020, they would meet up every night to chat, eat dinner, and watch "Jeopardy" together, as reported by The Guardian. The two had a friendship and creative partnership that went back to 1950, the year they met while both working on the TV variety show "Your Show of Shows" helmed by Sid Caesar. They "got a kick out of one another right away," said Brooks, and the sketch that made them famous, "The 2000 Year Old Man," started as a private joke between the two of them. 
Per Mental Floss, Brooks and Reiner were inspired by a weekly news program called "We The People Speak" which featured actors dramatizing the week's current events. Reiner pitched the idea of basing a skit on this premise to Sid Caesar but was turned down. During a break in the "Your Show of Shows" writers room, Reiner quipped, "Here's a man who was actually seen at the crucifixion of Jesus Christ 2000 years ago," while imitating the voice of "We The People Speak" host Dan Seymour, and Brooks replied, "Ooooh boy," in a thick Yiddish accent. Little did they know where a little workplace humor would lead.
The inside joke that set off two iconic comedy careers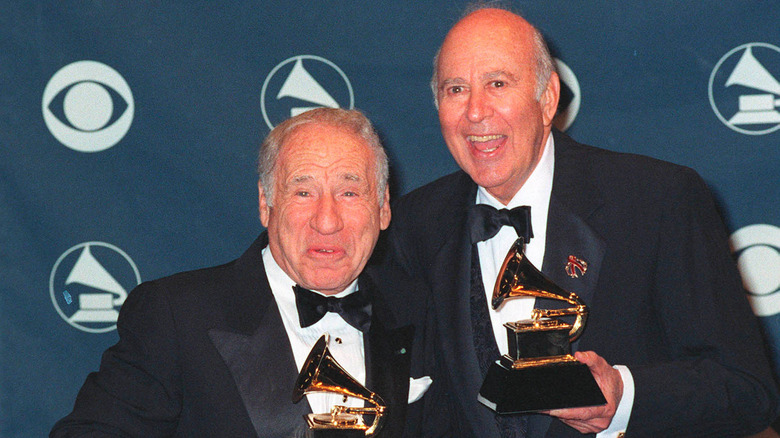 Shutterstock
In a 2009 interview with The New York Times, Brooks said the sketch "was pure made-up craziness and joy, and there was no thought of anybody else hearing it except maybe a couple of dear friends at a party." According to Reiner, they did perform it at a party, and comedian George Burns asked if there was a 2000 Year Old Man album. When they replied no, Burns responded, "Well, you better put it on an album, or I'm going to steal it." 
Reiner and Brooks made five comedy albums together, all of which featured the 2000 Year Old Man sketch, starting with 1960's "2000 Years With Carl Reiner and Mel Brooks." They also made a half-hour animated special in 1975, which All Music notes used the original 1960 recording as a soundtrack and was released to coincide with Mel Brooks' soaring popularity thanks to the success of his movie "Blazing Saddles." 
In 1998, Brooks and Reiner won the Grammy award for Best Spoken Comedy Album for "The 2000 Year Old Man In The Year 2000," per the official Grammy website. Referencing the Grammy nominations that "2000 Years..." and "2000 and One Years With Carl Reiner and Mel Brooks" had received in 1960 and 1961, respectively, Reiner joked about the other nominees: "Thirty-nine years ago we were nominated for [a] GRAMMY and didn't win. We can't wait another 39 years — they can."