Inside Julianna Margulies' 'Frightening' Hotel Room Encounter With Steven Seagal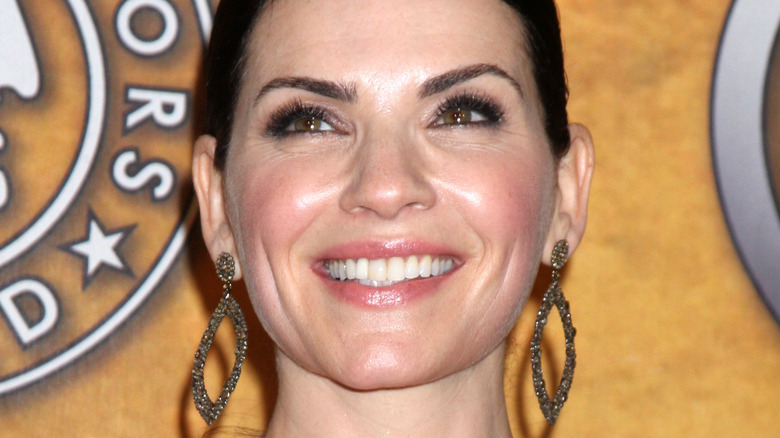 Shutterstock
On May 17, actress Julianna Margulies claimed that she had a terrifying encounter with actor Steven Seagal in a New York City hotel room in the early 1990s, repeating a claim that she had originally made several years earlier. Specifically, she appeared on a daytime talk show to promote her recently released memoir, "Sunshine Girl: An Unexpected Life," during which she told the host about the alleged encounter.
The "Good Wife" actress provided little in the way of details of the alleged incident, providing the story only in the outline. According to her, she did this because she didn't want the book to be a "tell-all," and instead wanted it to reflect her personal experiences in her journey from struggling actress to winner of multiple Emmys.
"[I wanted the book to] convey my journey and how my reactions to every situation is how I managed to get to where I am," she said, via The Hollywood Reporter.
This is Margulies' version of what happened during that fateful encounter with Seagal in a hotel room.
Seagal reportedly had a gun just lying around
Shutterstock
Back in the early 1990s, Steven Seagal was at the peak of his career as a Hollywood action star. Julianna Margulies, meanwhile, was a struggling actress. As she told Drew Barrymore on "The Drew Barrymore Show" on May 17, she was so broke at the time that she couldn't even afford cab fare across town.
"I lived in Brooklyn and I couldn't afford a cab, I was waitressing, I was broke," she said, via The Toronto Sun.
Seagal, however, had gotten wind of one of her auditions and wanted to go over it with her in his hotel room. Producers arranged for a car to take her across town to meet with Seagal.
Once inside the room, however, Margulies noticed something was amiss.
"[Seagal] asked me to sit on a couch and underneath this cushion, I jumped up because there was something hard, and he pulled out a gun, and said, 'Oh I must have left my gun there,'" she said.
Margulies had made the same claim three years earlier, in 2018, as The Hollywood Reporter noted.
Seagal allegedly continued to make Margulies uncomfortable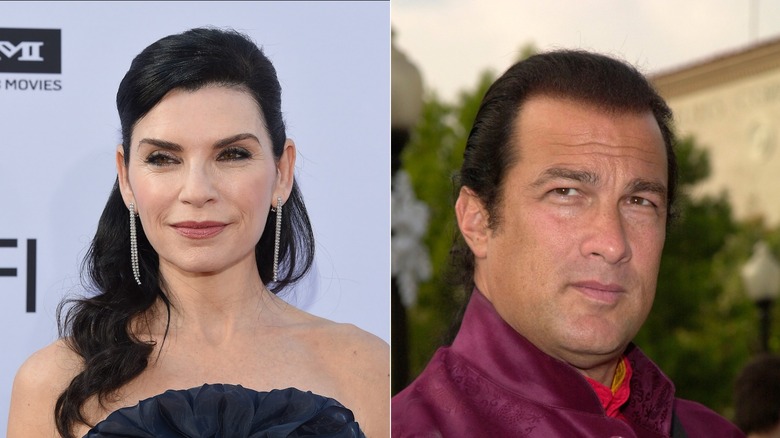 Shutterstock
It wasn't just the gun that made the young actress uncomfortable, as she told "The Katie Couric Podcast" in 2018, and as The Hollywood Reporter reported. Specifically, Julianna Margulies thought that, at the very least, she'd have a casting director in the room with her, rather than being left alone with the gun-toting action star.
Further, Seagal continued to give his guest the heebie-jeebies. For example, he allegedly told her he was a "healer" and asked if he could read her palms.
"He told me I had really weak kidneys," she said.
Fortunately, she was able to extricate herself from the situation with no harm coming to her.
In 2017, Margulies told SiriusXM's "Just Jenny" program that she learned a valuable lesson about being alone in hotel rooms with men that day, a lesson she applied later in life when she was given the chance to meet Harvey Weinstein alone.
"Because of my experience with Steven Seagal in that room, which was horrific, I refused to meet Harvey Weinstein in his hotel room," she said, via The Hollywood Reporter.