Are The Queen And Elton John Actually Friends?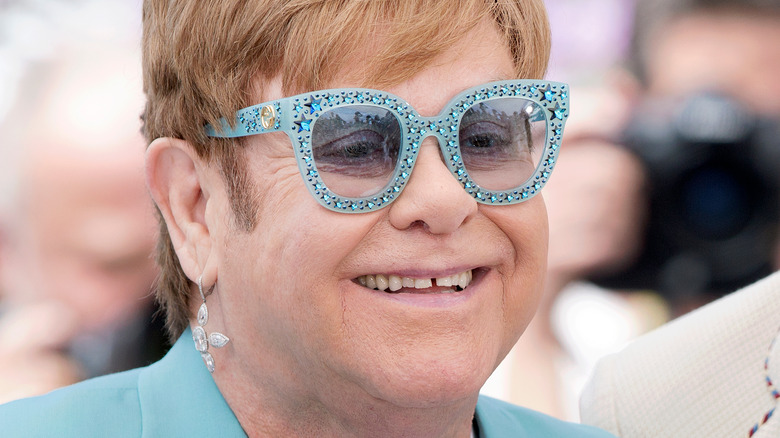 Shutterstock
Sir Elton John is probably the most famous English singer and pianist of our time. Since making his debut into the music industry in the late '60s, the legendary composer has had a highly decorated and lauded career spanning over 50 years. John has also worked with so many other known artists, most notably for several of his classic duets. As a result, he has quite the list of famed friends as well. But he's been famous for so long, he also has friendships with prominent people beyond the entertainment industry. One of those close associations led him to forming several bonds at Windsor Castle — the home of none other than the queen of England.
It all started in the '70s when John was first invited to a dinner party at the castle, reports Time Magazine. His inviting hosts (Queen Elizabeth's mother and sister Princess Margaret) were huge fans of the singer, per Biography. He would revisit the royals several times over for other occasions, and he was invited to perform at Prince Andrew's birthday party in 1981. That year, the young prince was turning 21 years old, and John was interacting with several members of the family at the event. One of them being Princess Diana, who would go on to have a well-known and documented friendship with the singer. And he'd also have an encounter with the monarch herself, Queen Elizabeth II.
Elton John's relationship with the royals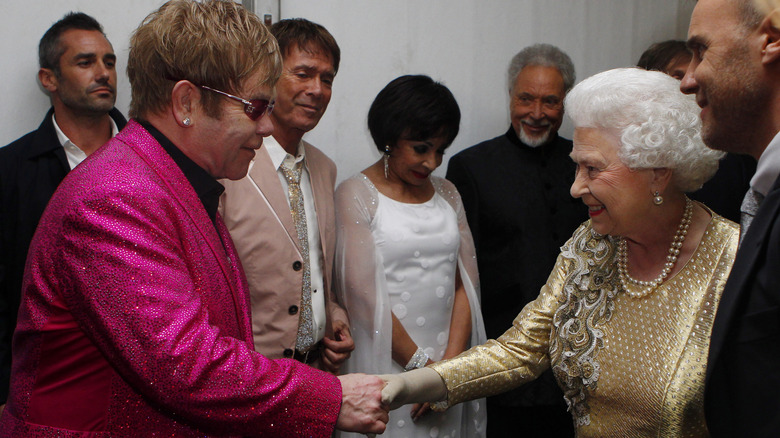 Anwar Hussein/Getty Images
At the same 1981 party, John had a brief interaction with the queen that he recalls in his 2019 autobiography, "Me." In the book, he mentions her unique sense of humor.
"I know the queen's public image isn't exactly one of wild frivolity, but ... in private, she could be hilarious," noted John in his book (via Smooth Radio). He described seeing the queen slap her nephew, Earl of Snowden, across the face several times after he ignored her requests to go and tend to his ill sister during the party. John says after the hilarious slap session, her nephew left to do as he was told, and the queen gave him a gesture of approval. "As he left, she saw me staring at her, gave me a wink and walked off," said John.
He would also get to share a dance with the queen and her sister that night to the '50's rock 'n' roll hit song, "Rock Around the Clock" (via Biography). John would describe the encounter as a surreal moment in his life, per Express.
Yet, John was much closer to Princess Diana and would maintain a very close friendship with her until her death. Even growing close to her son Prince Harry.
It's not clear just how close John is to the queen, but they are indeed friends and even live nearby each other. The location of John's U.K. home (Woodside) makes him neighbors with the residents of Windsor Castle, per Architectural Design.