True Stories Behind Popular Elton John Songs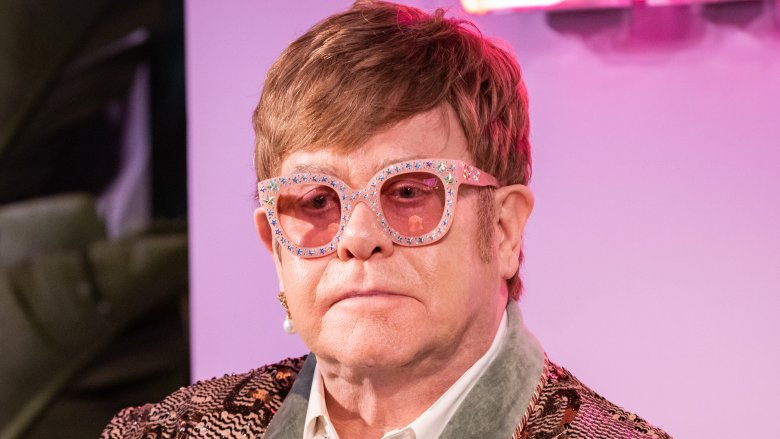 Getty Images
Only a handful of musicians have earned the title of "legend." Along with such rarified company as the Beatles, Led Zeppelin, and the Rolling Stones, there sits Elton John, who, if he had his way, would be sitting there on a piano stool covered in precious gems. The man knows how to put on a show, wearing elaborate costumes and spectacular spectacles throughout his 50-year career as a musician equally at home in pop, rock, and R&B. Presentation can only get a guy so far, though. Elton John has lasted this far because his songs are impeccable. Usually writing with longtime collaborator Bernie Taupin (John comes up with the music, and Taupin the words), Elton John has recorded a staggering number of classic tunes, from ballads like "Your Song" and "Don't Let the Sun Go Down On Me" to straight-up bangers such as "I'm Still Standing" and "Crocodile Rock." Writers pull from everywhere when creating, and John and Taupin frequently used their own experiences in the name of art.
So get back, honky cat, and find out the real-life inspiration behind some of the Rocket Man's most unforgettable songs.
Sorry, Tony Danza
A fan favorite from Elton John's 1971 album Madman Across the Water, "Tiny Dancer" was a minor hit upon initial release and didn't truly become one of the singer's best known songs until its inclusion in Cameron Crowe's early '70s period piece Almost Famous, where a bus full of rock musicians and their associates triumphantly sings along. It's not about a real-life ballerina that fit in John's pocket, nor is it about Tony Danza, as a famous mishearing of the song would suggest.
In Is Tiny Dancer Really Elton's Little John?: Music's Most Enduring Mysteries, Gavin Edwards interviewed the song's lyricist, Englishman Bernie Taupin, who said it's a reflection about his first trip to sunny California, and the women he met there. "We came to California in the fall of 1970, and sunshine radiated from the populace. I was trying to capture the spirit of that time, encapsulated by the women we met," Taupin said. They were free spirits, sexy in hip-huggers and lacy blouses, very ethereal, the way they moved." So those are the "dancers," but why are they "tiny"? "Well, that's poetic license," Taupin says, "although they were all petite and lithe."
The truth about "Daniel" is plain to see
Elton John's 1973 hit "Daniel" isn't a romantic love song or an allegorical tale. The titular fellow is a Vietnam War veteran struggling to readjust to his regular, civilian life after enduring some horrific combat experiences, not to mention Americans' polarized attitudes about that conflict.
"I'd seen this article in Time magazine on the Tet Offensive," Taupin wrote on his website (via SongFacts), referring to the 1968 event, one of the most violent moments in the Vietnam War. "And there was a sidebar next to it with a story about how many of the soldiers that were coming back from 'Nam were these simple sort of down home country guys who were generally embarrassed by both the adulation and, depending on what part of the country you came from, the animosity that they were greeted by. For the most part, they just wanted to get back to a normal life, but found it hard."
All that is made abundantly clear with the song's final verse ... which John ultimately decided to chop. But Taupin says it added nothing. "It didn't really explain anything. Sure, it was cut out. But that used to happen all the time with our songs. I would often overwrite, and Elton felt it necessary to edit somewhat. But believe me, it didn't say anything that the rest of the song didn't say."
Elton John's song about an even more famous musical John
Elton John played piano and sang backup on John Lennon's 1974 single "Whatever Gets You Thru the Night." Lennon didn't think the song would go over that well, but John thought he knew a #1 hit when he heard one. So, he placed a wager: If the song topped the charts, Lennon would have to join him on stage at a future concert. In November 1974, "Whatever Gets You Thru the Night" hit #1 on the Billboard Hot 100, and Lennon, true to his word, joined John onstage at a concert at Madison Square Garden. (They performed their big hit, along with a couple of Beatles tunes.)
That would ultimately be Lennon's last live performance before he was murdered outside his New York apartment in 1980. Elton John and Bernie Taupin were devastated by the loss, and the latter tried to process his grief by penning the words to "Empty Garden (Hey Hey Johnny)." "I don't remember writing it. It just fell on the page," Elizabeth J. Rosenthal quotes Taupin in His Song: The Musical Journey of Elton John. Rosenthal also quotes John, who took the lyrics and immediately wrote a melody. "It said everything I wanted to say without sounding too cloying. I thought it was so perfect for me that I just sat down and wrote the song immediately."
There are too many "Candles in the Wind" to count
"Candle in the Wind," Elton John's song about the brief, fragile nature of life — particularly for a celebrity under the weight of public scrutiny — first appeared on his 1973 album Goodbye Yellow Brick Road, but didn't hit the top 10 in the U.S. until John released a live version in 1987. Both versions discuss the life and tragic end of screen legend Marilyn Monroe, who died at age 36 in 1962. Then in 1997, John and Bernie Taupin altered the song into a tribute to Princess Diana, who died, like Monroe, at age 36. Lyrics changed from "Norma Jean" (Monroe's real name) to "English Rose" (a nickname for Diana), and John sang it at the beloved royal's televised funeral. A recording of that performance was released under the title "Candle in the Wind 1997," where it went on to become the bestselling single in U.K. history and topped the U.S. pop chart for 14 weeks. (The proceeds benefited some of Diana's favorite causes.)
And yet the original isn't absolutely about Monroe. "It's not that I didn't have a respect for her," Taupin said. "It's just that the song could just as easily have been about James Dean or Jim Morrison, Kurt Cobain. I mean, it could have been about Sylvia Plath or Virginia Woolf. I mean, basically, anybody, any writer, actor, actress, or musician who died young."
Don't trust the "B" behind the 88 keys
Long before any rapper or even Meredith Brooks slipped some mild profanity into a hit song that got major radio airplay, Elton John pushed the boundaries of acceptable pop radio content in 1974 with "The Bitch is Back," a single off the album Caribou. As is often the case with a John song, the pianist-singer wrote the music while lyricist Bernie Taupin came up with the words for his Elton to sing. But amusingly, those lyrics that Elton John sings are about Elton John. According to Elizabeth J. Rosenthal's His Song: The Musical Journey of Elton John, the song's title stems from a catchphrase Taupin's then-wife Maxine Feibelman quipped whenever she or her husband would run afoul of the temperamental rock star: "Oh God, the bitch is back!" According to Rosenthal, John was well aware that he was the "Bitch" of the title," and even enjoyed poking fun of himself and his tendency toward foul moods.
It's not gonna be a long, long time to hear about "Rocket Man"
Inspired by the dazzling human achievement of space travel — particularly NASA landing men on the Moon in 1969, along with an almost routine series of follow-up missions — the late '60s and early '70s were a fruitful time for songwriters writing songs about space. Alongside David Bowie's "Space Oddity" in this mini-genre is Elton John's "Rocket Man," a meditation on the ho-hum, humdrum life of an astronaut.
According to His Song: The Musical Journey of Elton John, lyricist Bernie Taupin got the idea for the 1972 Honky Chateau single while driving one night across in the tranquil English countryside and looking up at the sky. He saw either a shooting star or airplane streak across the sky, and it made him think of astronauts. By the early '70s, NASA had launched half a dozen manned flights into space, which, to Taupin turned the once unthinkably awesome profession into an almost "everyday occupation." As Taupin kept driving, the song's opening lyrics popped into his head, fully formed.
Holy Moses, Bernie Taupin was bummed out
"Border Song," the first Elton John song to hit the charts in the U.S., stalled at #92 on the Billboard Hot 100 in 1970. A choir-driven, gospel-tinged tune that showcases John's vocals range and piano work, the track from Elton John made quite the auspicious bit of exposure for the legendary performer. It's such a legit piece of music that Aretha Franklin covered it later in 1970, and she took it into the top 40.
So what's it about? His Song reports that Bernie Taupin doesn't claim the song is about anything or anyone in particular, while John thinks lyrics like "Brand of people who ain't my kind" (as well as "Won't you please excuse my frankness but it's not my cup of tea") suggest that it's about the "alienation" and outsiderness Taupin felt when he moved from his home in rural England into big, bustling, foggy London Town in the late 1960s.
The story of what could've been the best song ever written about tennis
One of the best and most popular athletes in the world in the mid-1970s was tennis superstar Billie Jean King. The highest ranked player in the world at one point, by 1975, she'd amassed 12 Grand Slam singles tournament wins and 12 doubles championships. That doesn't even count her most famous match, the 1973 "Battle of the Sexes" exhibition, in which she soundly beat male competitor Bobby Riggs.
In 1975, King temporarily refocused her energies on building a new sports league she'd helped found: World TeamTennis. King also coached the member franchise Philadelphia Freedoms in 1974. Around that time, Elton John was so enamored with her and such a fan of King's new venture (he attended lots of Freedoms matches) that he asked Bernie Taupin to write up some lyrics. As reported in His Song: The Musical Journey of Elton John, Taupin balked, saying, "I can't write a song about tennis!" So he didn't, not really. Instead, the song builds on references to classic Philadelphia soul music and taps into the growing "Bicentennial Fever" gripping the U.S. in the lead-up to 1976.
Bernie Taupin saved Elton John's life (tonight)
"Someone Saved My Life Tonight" is one of Elton John's most anguished songs — as it's about coming back from the brink of two anguished and desperate situations in which Elton John actually found himself. He survived both thanks to lyricist Bernie Taupin ... who then essentially wrote this song about himself.
In the late '60s, John was playing in musician Long John Baldry's band when he met a woman named Linda Woodrow at a club. Planning to marry, they moved into an apartment in North London and took in Taupin as a roommate. In the notes for the John/Taupin tribute Two Rooms (via SongFacts), John explained, "I went out and got drunk with Long John Baldry and Bernie, and John said I shouldn't get married. I knew he was right," Elton explained, alluding to how he's now openly homosexual, "but I didn't know how to get out of it, so I just got drunk and went home and said I'm not getting married."
Taupin added in Two Rooms that John's suicide attempt while they were flatmates also inspired "Someone Saved My Life Tonight." Taupin "smelt gas" one day, and went into the kitchen. "And there's Elton lying on the floor with the gas oven open. My immediate thing should have been 'Oh my god, he's tried to kill himself.' But I started laughing because he'd got the gas oven open, he was lying on a pillow and he'd opened all the windows."
If you or anyone you know is having suicidal thoughts, please call the National Suicide Prevention Lifeline at 1-800-273-TALK (8255).
The best song about Saturday night not by the Bay City Rollers
Party rock is in the house tonight with "Saturday Night's Alright for Fighting," a hard-charging glam jam about some of the subjects rock 'n' roll is most adept at covering: going out, getting drunk, and getting in fights. As a young man, lyricist Bernie Taupin grew up in the small village of Owmby-By-Spital, but when it came time to blow off steam — in the forms of snooker and beer — he and his friends liked to hit hit the Aston Arms, a pub in the English town of Market Rasen. Things got a bit more charged (and out of control) on Saturday nights at the Aston Arms, with a fistfight or two more of an expectation than a possibility. A nostalgic picture of that very pub appears on the album sleeve of Elton John's 1975 album Captain Fantastic and the Brown Dirt Cowboy, a song cycle about John and Taupin's younger years, although "Saturday Night" appears on the earlier Goodbye Yellow Brick Road album.
Elton John's song about mass shootings ... from 1974
School and public shootings happen with alarming regularity in the U.S. these days — location names like "Parkland," "Aurora," and "Sandy Hook" serve as shorthand for the horrible tragedies that happened in those places. But when it happened on American soil for one of the first times, in the '60s, it was sad, terrible, and also completely unexpected. On August 1, 1966, Charles Whitman walked up to the observation deck of Austin's University of Texas Tower and started shooting seemingly at random. Over the course of 90 minutes, Whitman killed 17 people and injured more than 30 ... until he was killed by police.
That terrible event — and others in its wake — led to a growing culture of violence and fear. It also led to the Elton John/Bernie Taupin collaboration "Ticking," a cut off the Elton John's 1974 album Caribou. When Elton played the song at a concert in England in July 2003, he said, "It's a song that deals with violence in America in about the year 1973." (Caribou saw a 1974 release.) "When Bernie [Taupin] wrote the song, we thought things would get better — not worse. Well, here we are 30 years on, down the line, and things have gotten worse. And so the song is more relevant than when it was written."
Guess what's why they wrote this song
The 1983 album Too Low for Zero is credited to Elton John, but he let his loyal lyricist Bernie Taupin have the dedication: "Hey Toni, this one's from me to you. Love, Bernie." Toni is Toni Russo, model, sister of Get Shorty's own Rene Russo, and Taupin's second wife. Toni Russo is also the main inspiration for the record's catchy-but-maudlin breakout hit "I Guess That's Why They Call It the Blues." Taupin was overseas and feeling vulnerable, and so he wrote some correspondence that he later turned into a song. "Basically, it's a letter home with a small tip included about making the most of time, not wishing it away just because you can't be with the one you love," Taupin later said. "Time is precious; read books, paint a picture, bake a cake. Just don't wallow, don't be content." That letter became the song, although Taupin regrets some of the lyrics. "The whole 'loving you more than I love life itself' is something I would never say now. It's kind of a crass sentiment and totally false.