How Krist Novoselic Nearly Wasn't In Nirvana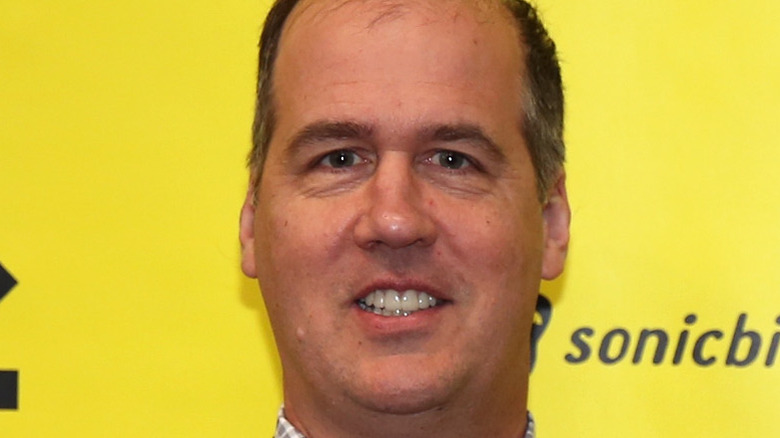 Andy Pareti/Getty Images
Nirvana may have only released a handful of albums before the untimely death of their singer, guitarist, and primary songwriter Kurt Cobain, but their legacy as grunge icons is unquestioned. Cobain is remembered to this day as the creator of some of the 1990s' most memorable rock anthems, including "Smells Like Teen Spirit," "Come As You Are," and "All Apologies," while drummer Dave Grohl went on to achieve great success himself as the leader of the Foo Fighters. But what about that unusually tall, somewhat goofy dude who was holding down the deep end for Nirvana back in the day?
After Nirvana disbanded in 1994, bassist Krist Novoselic mostly maintained a low profile as a musician, forming a band called Sweet 75 a few years later but never getting anywhere near the commercial success of either Nirvana or the Foo Fighters. These days, he's mostly known for his political activism and commentary, and he finds other ways to keep busy aside from thumping on the bass, such as farming and flying planes. All in all, it's a pretty good life for someone who was once one of the world's most visible rock stars, but there was a time when Novoselic was this close to becoming Nirvana's bass-playing answer to Pete Best. Here's a closer look at how Krist Novoselic nearly left Nirvana before their rise to stardom.
Screaming Trees vocalist Mark Lanegan was 'instantly drawn' to Novoselic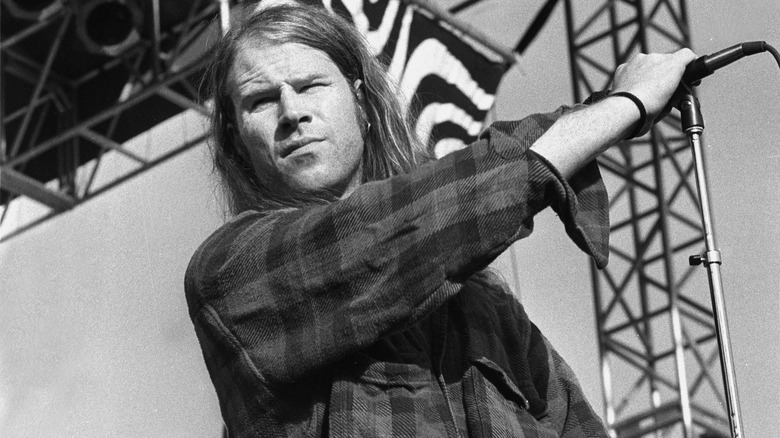 John Atashian/Getty Images
For a few years in the 1990s, the Screaming Trees were a pretty solid, second-tier grunge act that showed a lot of promise, particularly with their album "Sweet Oblivion," which peaked at No. 3 on the Billboard 200 in 1993. Two years before that, however, the Trees had just lost their bassist, Van Conner, who temporarily quit due to his bandmates' issues with his young wife. Needing to find a replacement fast, singer Mark Lanegan (pictured) got in touch with a friend who referred him to an up-and-coming act that was scheduled to play a show at the Trees' hometown of Ellensburg, Washington. That band, of course, was Nirvana, and they were far from established at that point in their career.
As Lanegan recalled in his autobiography, "Sing Backwards and Weep," he was "immediately" struck by the 6-foot-7-inch Novoselic and how intense he looked while he and his bandmates were setting up. "He looked p***ed off and I was instantly drawn to him," he continued, as quoted by GQ. "I admired his openly angry countenance since that was how I felt every time I was onstage, like I was going into battle."
According to Lanegan, Novoselic's size and charisma made him an ideal fit for the Screaming Trees. "This guy had all that in spades," he wrote. "I began to formulate a plan to steal him away from this band I'd not even heard yet."
Novoselic wanted out of Nirvana, but Lanegan ultimately convinced him to stay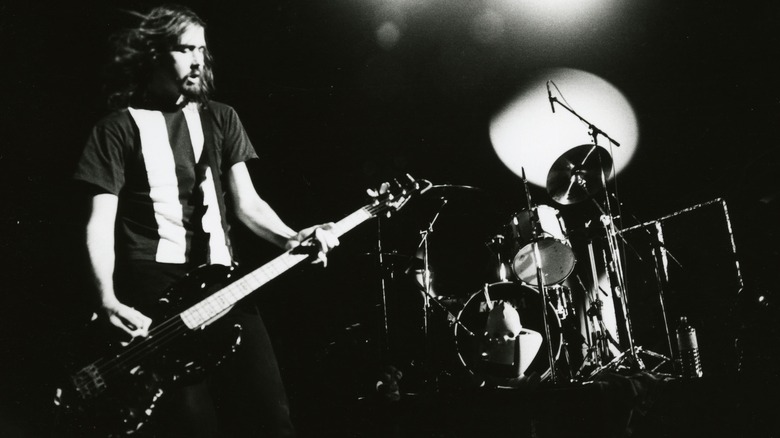 Gutchie Kojima/shinko Music/Getty Images
Sure enough, Mark Lanegan was impressed by Nirvana's abbreviated set at Ellensburg, and after the show, he exchanged numbers with Kurt Cobain as they expressed their mutual admiration for each other's bands. A few weeks later, however, it was Krist Novoselic who gave Lanegan a call, asking him if he could still join the Screaming Trees. Per GQ, the singer recalled in his memoir that Novoselic told him he "can't stand playing with Kurt any more" and that he was sick of Cobain always having his way when it came to band matters.
According to Lanegan, he was momentarily conflicted on how to push forward — Novoselic seemed like a great fit for the Trees, but on the other hand, he had already seen first-hand how Nirvana had so much more potential to make it big. As such, Lanegan let Novoselic know that he loved his playing style but also advised him to talk things out with Cobain instead of putting Nirvana's future in jeopardy by quitting. He also made sure not to tell Cobain about the conversation he had with his bassist, so as not to endanger their newly established friendship, and once again, because Nirvana had all the tools to succeed whereas the Trees — who often squabbled with each other and had a disjointed musical direction at the time — didn't. 
Given how things worked out for both Nirvana and the Screaming Trees (albeit briefly) in the years that followed, it's safe to say that Novoselic made the right decision to stick it out with his bandmates.