How Brian Johnson Nearly Missed Out On Joining AC/DC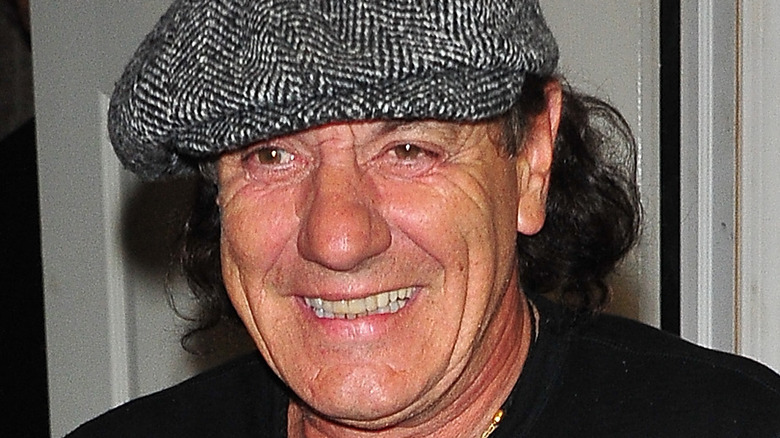 Brian Killian/Getty Images
1980 was a tragic year to be a rock fan. As pointed out by the Brooklyn Bugle, that was the year when rock music "discovered its mortality," as fans mourned the deaths of John Lennon, Led Zeppelin drummer John Bonham, and Joy Division frontman Ian Curtis. AC/DC singer Bon Scott was also among the more prominent musicians who died that year, as he was found dead in his car on February 19, 1980, having apparently choked on his own vomit after a night of heavy drinking. At that time, AC/DC was finally enjoying international success, as the Australian band's sixth album, "Highway to Hell," became their first release to crack the upper half of the Billboard 200. 
Losing a charismatic and talented frontman at what should be the peak of your career is the type of tragedy that could potentially force a band to call it a day. However, AC/DC decided to push forward, hiring British vocalist Brian Johnson just weeks after Scott's death. He did take a leave of absence for a few years as he dealt with hearing problems in the mid-2010s, but he was back with the band in time for their most recent release, "Power Up," which was a tribute to their late co-founder, rhythm guitarist Malcolm Young. Yet if you look back at AC/DC's search for a new vocalist in 1980, Johnson was far from the only person they were considering for the job.
AC/DC considered a few familiar names aside from Johnson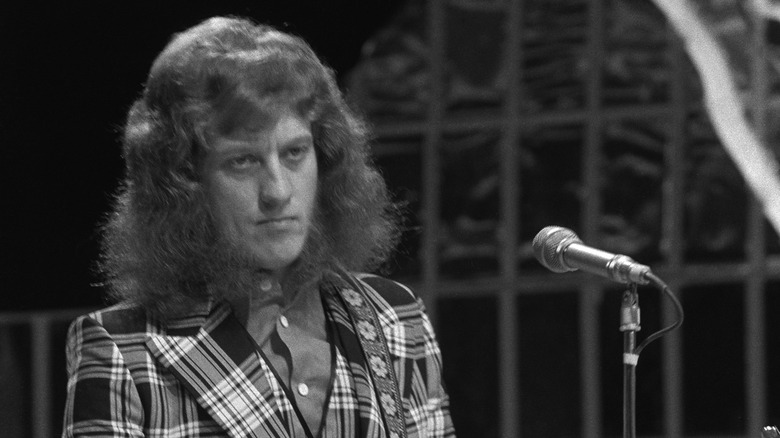 Michael Putland/Getty Images
While nowhere near as big in the U.S. as they were in their home country, British glam rockers Slade were nonetheless fairly well-known in the 1970s, thanks to quirkily misspelled songs such as "Cum On Feel the Noize" and "Mama Weer All Crazy Now," both of which were covered in the 1980s by Quiet Riot. Slade singer Noddy Holder (pictured above) had a high-pitched, powerful voice that wasn't too far removed from Bon Scott's (if a bit gruffer), and as he later admitted in an interview with Soundchecks, AC/DC did invite him to audition for the lead vocalist job back in 1980. He turned down the offer, observing that Brian Johnson sounded "[exactly] like him" anyway. Many fans may beg to differ — talented as he is, it's still hard to imagine how Holder would sound like if he was singing lead on "Back in Black," "Thunderstruck," or any other Johnson-era AC/DC hit.
Krokus frontman Marc Storace also had a singing style comparable to Scott's, and he was likewise considered as a potential replacement. However, he told Swiss newspaper Blick in 2013 (via Blabbermouth) that he wasn't interested in the opportunity to audition and that he wanted to stick it out with Krokus, which was breaking out in their native Switzerland and getting some international attention as well. "In the band, there was this great camaraderie," he added. "I did not [want] to leave to go anywhere else. I was here at home. I am a loyal dog."
Brian Johnson was semi-retired from music when he auditioned for AC/DC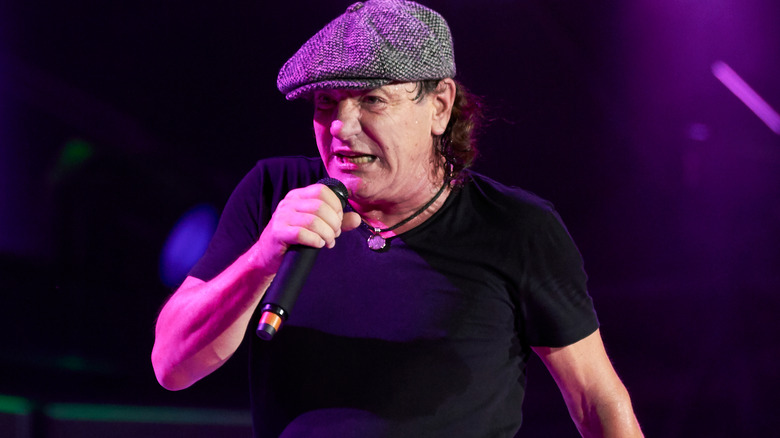 Shutterstock
At the time he was hired by AC/DC on April 1, 1980, Brian Johnson wasn't as well-known as Noddy Holder, and unlike Marc Storace, he wasn't exactly in the "rising star" category of hard rock vocalists. But Bon Scott had long been familiar with him, per Ultimate Classic Rock — back in 1973, his band at the time had played a number of gigs in England opening for Johnson's band, Geordie. Apparently, Scott came away with a lasting positive impression of Johnson, and would tell his AC/DC bandmates later on that Johnson had a terrific act as a frontman, one where he was "on the floor, kicking and screaming." (As Johnson recalled, he was actually suffering from a terrible case of appendicitis, hence the onstage histrionics!)
When AC/DC invited Johnson to audition, he was working in an auto shop and was mostly retired from music. As such, he had to ask his boss for some time off in order to attend the audition, which, luckily for the Newcastle native, was held in London and not in Australia. He also ended up getting a bit too preoccupied playing pool with the roadies while waiting his turn to sing. Fortunately, everything worked out in the end; Johnson nailed his audition, and just three months after he officially joined, AC/DC released "Back in Black," which went on to sell 25 million copies as the band became an even bigger success with their new frontman.