The Strange Reason The FBI Had A File On Borat
Shutterstock
The Federal Bureau of Investigation (FBI) has, throughout its century of existence, sometimes involved itself in popular culture, perhaps without a justifiable reason for doing so. For example, as NPR News reported, the Nixon administration didn't fully appreciate John Lennon's anti-Vietnam War efforts, and the FBI developed an extensive file on him. Similarly, as Polygon reported, the agency was also once interested in the tabletop role-playing game "Dungeons & Dragons," ostensibly over concerns that the game was associated with drug trafficking.
You may be surprised to know that the agency also took an interest in Borat, a fictional character portrayed by English comedian Sacha Baron Cohen. Borat, for those not familiar, is a fictional journalist from the real nation of Kazakhstan who inserts himself into ridiculous situations and plays unsuspecting real people (not portraying characters) for fools. It's a style of comedy that, although not everybody's cup of tea, has led to two blockbuster movies, 2006's "Borat" and 2020's "Borat: Subsequent Moviefilm."
Though ostensibly a comedy act, Cohen's method of getting his footage, combined with his habit of nearly always appearing in public in-character, rubbed some people the wrong way, and concerns about what he was up to reached all the way up to the nation's highest law enforcement body.
This is the story of why the FBI has a file on Borat.
Borat's schtick confused bystanders
For those not familiar, Borat's method of generating laughs, like those of Sacha Baron Cohen's other characters, involves getting his character into a situation with unsuspecting regular people, playing the part of a confused and uneducated foreigner to almost extreme exaggeration, and letting the jokes write themselves. If the unsuspecting straight man embarrasses himself or reveals a true nature, well, that's even better, as far as Baron Cohen is concerned. For example, "Borat" once tricked drunken frat boys into making racist comments, according to Reuters, for which the men later sued — and lost.
However, filming those scenes involved a man traveling around the country, in-character as a Central Asian (and Muslim) bumpkin (who was often misunderstood as being Middle Eastern), while followed by a camera crew. And Cohen told NPR News, some passersby, who weren't in on the joke, weren't sure what to make of what was going on.
"[Police] had so many complaints that there was a Middle Eastern man ... driving through America in an ice cream van," he said.
There were so many police complaints, the FBI got involved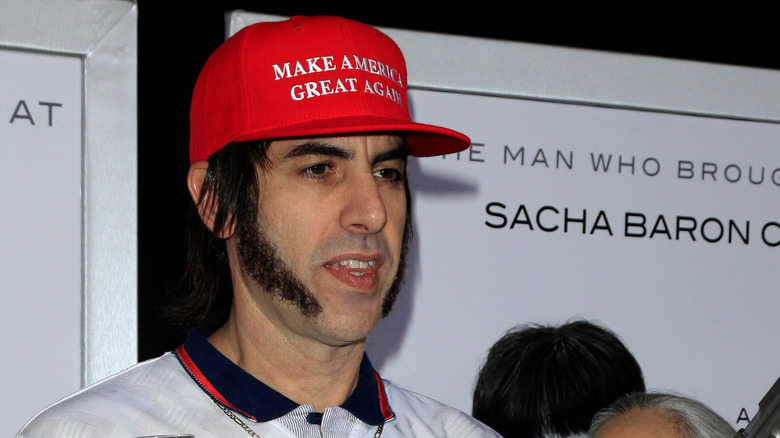 Shutterstock
Sacha Baron Cohen noted to the NPR News interviewer that while he was filming his first "Borat" movie, the police were called on him approximately 45 times.
"I got so used to the police turning up," he said.
Complaints about his Borat-related activities even reached a desk in Washington.
"The FBI were following us for a while ... [there were so many police complaints that] the FBI assigned a team to us. And so we had the FBI and then we had the Secret Service," he said, adding that the FBI and police also showed up from time to time when he was filming scenes involving another one of his characters, Brüno.
Nothing ever came from all of that law enforcement attention, but it certainly made an impression on the actor behind the characters.
"It would take about six months afterwards for me not to totally freak out whenever I saw a policeman," he said.