The Making Of This Foo Fighters Album Was A Mess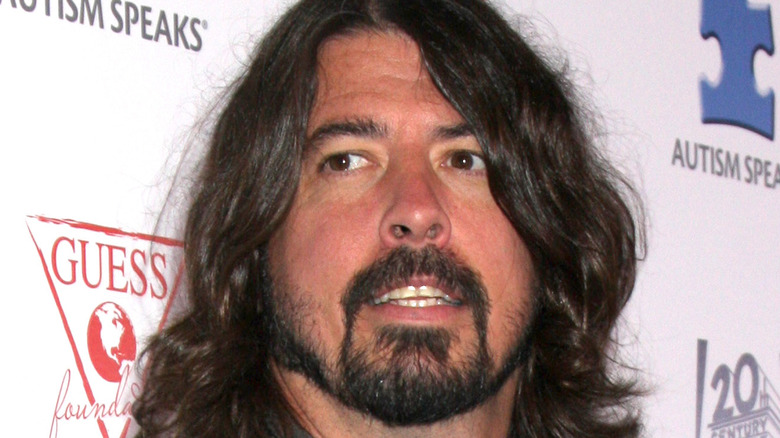 Shutterstock
Sometimes, it's still hard to believe that Dave Grohl's post-Nirvana project, the Foo Fighters, remains active and successful after more than 25 years and 10 studio albums under their belt. As Nirvana's drummer, Grohl played a supporting role to Kurt Cobain, but what many fans didn't know was that he was quietly writing his own songs behind the scenes, songs that might not have had a chance to see the light of day had Nirvana not disbanded after Cobain's death. Many of those tunes ended up on the Foo Fighters' self-titled debut in 1995, and in the years since then, they've evolved so dramatically as a band, with each new album sounding different from the last one.
As you may expect from a band that's been around for over two and a half decades, the Foo Fighters have dealt with quite a bit of drama through the years. For starters, original drummer William Goldsmith left the group in 1997 after most of the drum tracks he laid down were re-recorded by Grohl, and he remains salty about it to this day; in fact, he compared Grohl — who is often seen as an all-around nice guy — to a playground bully in a 2017 interview. Then there's the one Foo Fighters album that, according to Grohl and current drummer Taylor Hawkins, was especially stressful and expensive to record for a number of reasons.
The band had to discard their original recordings for 2002's One by One
Gie Knaeps/Getty Images
In 2018, Dave Grohl and Taylor Hawkins spoke to Louder's Kevin Murphy for a retrospective on the Foo Fighters' first five albums. "One by One," which came out in 2002, was the Foos' fourth album, and to say it spent quite some time in development hell is putting it mildly. Eventually, it did feature several memorable songs, including the hard-hitting carrier single "All My Life," but there was a time when it wasn't even sure whether the album would ever see the light of day. In fact, Grohl recalled that the band had to discard their original recordings because they weren't happy with how they turned out. "The making of that album was a fiasco," he revealed. "We spent four months and nearly a million bucks recording that record and we threw it away."
In addition to those creative challenges, Hawkins' drug problems reached critical mass when he overdosed in London; while he was determined to clean up his act, he admitted that he might have been in too much of a rush to get back to the studio after he recovered. "I wanted to get over that hurdle and start working," he told Murphy. "I think we all wanted to start working, but in hindsight we jumped into it a little quick."
Grohl's ultimately unreasonable desire for perfection was another reason why the original "One by One" recordings were scrapped. Looking back, he felt that his approach "sucked a lot of the life out of the songs" and resulted in a sterile, uninspired product.
All they really needed was a three-month break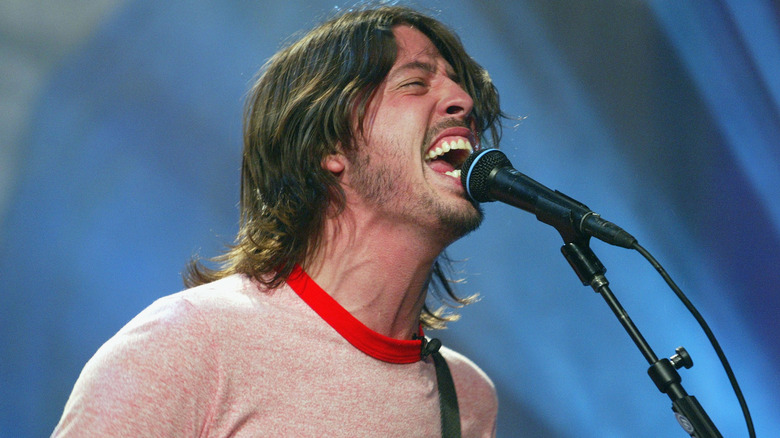 Kevin Winter/Getty Images
At the time the Foo Fighters were recording "One by One," Grohl was keeping himself busy in other ways, playing drums for Queens of the Stone Age as they recorded their breakout album, "Songs for the Deaf." He told Louder that since playing for QOTSA was more inspiring and productive than working on a Foo Fighters album he wasn't happy with, he decided that it would be best for his main band to go on hiatus. It wasn't long, however, before he felt ready to return to the studio with the rest of the Foos. "It felt great, but within three months, I started missing the guys and the music," Grohl said. "So I came back and we thought we'd just go back into the basement with [producer Nick Raskulinecz] and start demoing."
As recalled by Hawkins, one of the new songs Grohl wrote for the second attempt at recording "One by One" was "Times Like These" — an autobiographical tune about the Foo Fighters' three-month break and how they remembered how good it is to make music together. "That feeling was back," Grohl added. "You could hear it. And that's what was missing from the first time. It was like: 'Holy s***, are we making a record right now?'"
And make a record they did. "One by One" peaked at an impressive No. 3 on the Billboard 200 and stayed on the charts for close to a year.