What Happened To Kiki Camarena's Wife?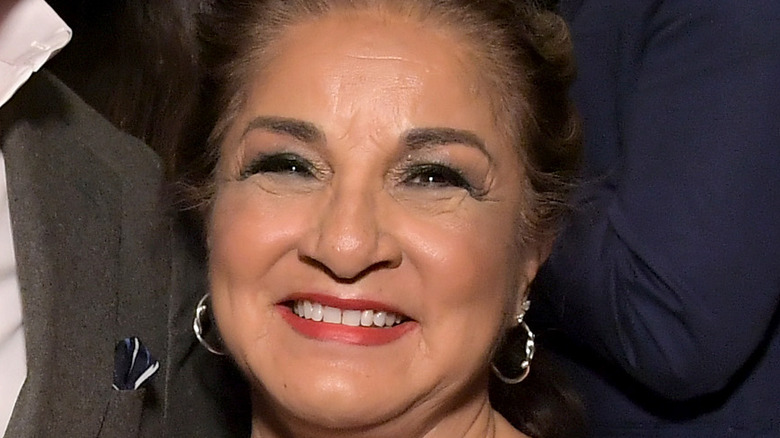 Charley Gallay/Getty Images
Despite the War on Drugs launching in the 1970s, it didn't hit full steam until the '80s. Thanks to President Ronald Reagan, that decade was when the American government began to laboriously crack down on the influx of drugs coming into the U.S. Through the enforcement of the Drug Enforcement Agency (DEA), trained agents traveled to the many narcotics hubs, mostly in Central and South America, to enforce anti-drug and trafficking laws. One of those hundreds of agents was DEA Special Agent Enrique "Kiki" Camarena. Unfortunately, he was brutally murdered on the job in Mexico in 1985 by the Guadalajara Cartel, per the DEA. His death stunned the nation and forever changed the war. Camarena was survived by his widow, Geneva (also known as Mika), and their three children.
According to The San Diego Union Tribune, the couple met at Calexico High School in Calexico, California, and became high-school sweethearts. Soon after, they got hitched and had three sons — Enrique Jr., Daniel, and Erik. In 1981, the entire Camarena family left Fresno, California for Guadalajara, Mexico where Camarena was assigned. He would spend four years pursuing the cartel and sharing intel with the DEA — much of which was dramatized on the Netflix show, Narcos — but his life came to an untimely end when he was kidnapped, tortured, and murdered. On the day of his abduction, Camarena was supposed to meet up with his wife, but she would never see him again. That was more than 36 years ago. Where is she today?
Kiki Camarena's wife since his death
Geneva Camarena returned to California after her husband's death and relocated to San Diego. She went on to raise her three boys alone. In 1988, she met with President Reagan (pictured above) and First Lady, Nancy, to raise awareness about drug abuse, per the DEA. This led to the creation of Red Ribbon Week, an annual weeklong event that commemorated her husband, and campaigned against drug-related crime. She worked briefly in the medical insurance field and in a courthouse, before pursuing a career that would last more than 13 years, says The San Diego Union-Tribune.
But during this time, Geneva Camarena was also speaking tirelessly at school anti-drug events. In 2004, she founded the Enrique Camarena Foundation, where she is the current president. The non-profit's aim is to fight against youth drug use and abuse. The program has worked with many schools nationwide, sharing Kiki Camarena's story, and the harms of using drugs.
In her interview with The San Diego Union-Tribune, Camarena says that, since retiring, she has been able to fully dedicate herself to the foundation, and using the money it receives to offer scholarships to college-bound students. She continues her mission to combat the societal effects of drugs in her late husband's honor.