The Tragic Death Of Secretariat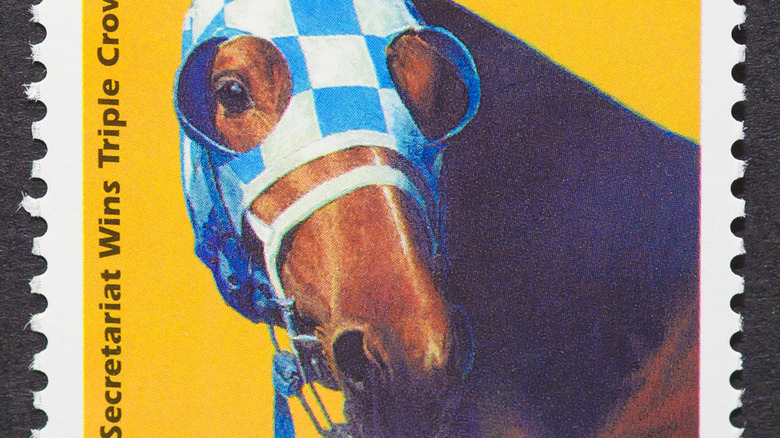 Shutterstock
Secretariat is quite possibly the most famous racehorse of all time. The thoroughbred was born in 1970 at the struggling Meadow Farm stable. The farm's owner, Penny Chenery, had taken over the enterprise from her ailing father, going against the wishes of her siblings, who wanted to sell it.
Secretariat had inauspicious beginnings, per History. Described as "strong-made," his eventual groom, Eddie Sweat, later reported, "I didn't think much of him when we first got him. I thought he was just a big clown. He was real clumsy and a bit on the wild side, you know." Despite the misgivings, Secretariat ran his first race on July 4, 1972, and by the end of the season, had won seven out of nine races and was the first two-year-old to be named Horse of the Year. 
After a disappointing start to 1973, Secretariat went on to win the Kentucky Derby, setting a course record that has yet to be beaten. Two weeks later, he set another course record at the Preakness, becoming a bona fide equine celebrity, appearing on the covers of Time, Newsweek, and Sports Illustrated. The general mood in United States was pretty low at the time due to the Vietnam War and the Watergate scandal. Writer George Plimpton later spoke of Secretariat as "the only honest thing in the country at the time ... Where the public so often looks for the metaphor of simple, uncomplicated excellence, the big red horse has come along and provided it." 
A country mourned the loss of a great horse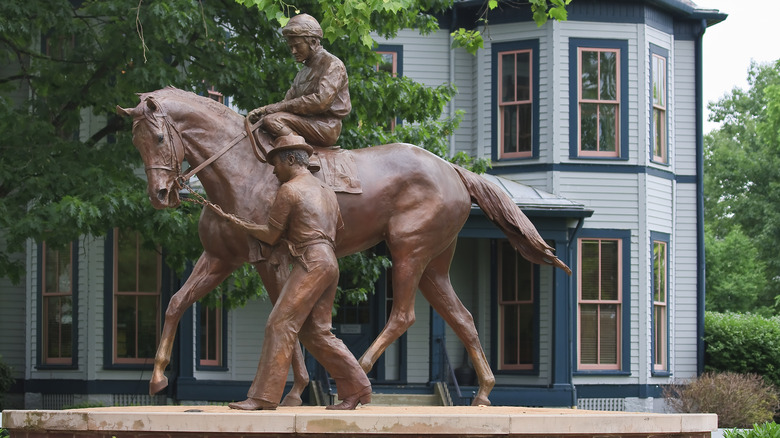 Shutterstock
Secretariat won the Triple Crown on June 9, 1973 at Belmont Park, making him the first Triple Crown winner in 25 years, per History. In a 1993 interview with the Colorado Springs Gazette Telegraph, jockey Ron Turcotte remembered the historic race: "I never experienced anything like it. Faster, faster, faster. Enemy hoofbeats soon disappeared; too far behind us on the track for me to hear. What a race. What a memory." Secretariat set yet another record, beating the nearest runner-up by 31 lengths. He retired after his third year and was flown to Claiborne Farm in Paris, Kentucky, where he sired 582 offspring, with 41 stakes winners among them. 
Secretariat had to be put down via lethal injection in October of 1989 after being diagnosed with laminitis, a painful, incurable condition that inflames the soft tissue of a horse's foot. As reported by US Sports History, his death made national news, with papers covering not just his career but his funeral and burial as well. The New York Times report read like a person's obituary, including details about the private funeral at Claiborne Farm and about Secretariat's grave, placed beside those of his sire, Bold Ruler, and grandsire, Nasrullah. A postmortem examination led to the discovery that Secretariat's heart was twice the size of an average horse heart, weighing between 21 and 22 pounds. 
A life-sized statue of Secretariat with groom Eddie Sweat and jockey Ron Turcotte (above) stands at the Kentucky Horse Park of Lexington, Kentucky.