Why There Was A Fight Over John Wesley Hardin's Remains
Notorious outlaw John Wesley Hardin took his final breath in El Paso's Acme Saloon, but some folks didn't want him to rest in peace (or at least not in El Paso). A gunslinger known for about 30 killings, he met his end on August 19, 1895, when John Selman, a police officer, shot him in the back of the head (via History). Hardin and Selman had reportedly argued earlier in the day, and Selman sought to settle some dispute once and for all. Selman's fatal action didn't get him in any trouble, though — a jury acquitted him in the killing. Hardin's girlfriend paid for his burial in El Paso, according to United Press International.
Hardin's remains stayed in El Paso for nearly a century. In August 1995, descendants of Hardin traveled to El Paso intending to dig up his remains and move them to the town of Nixon, Texas, where he had lived with his first wife, Jane, according to the Chicago Tribune. The group, however, encountered resistance at the gravesite in the Concordia Cemetery. Members of El Paso's Concordia Heritage Association and a local Old West re-enactment group defended the city's rights to keep Hardin's remains. "It looked a little like the showdown at the OK Corral," local historian Leon Metz told the Chicago Tribune.
Courtroom brawl over Hardin's remains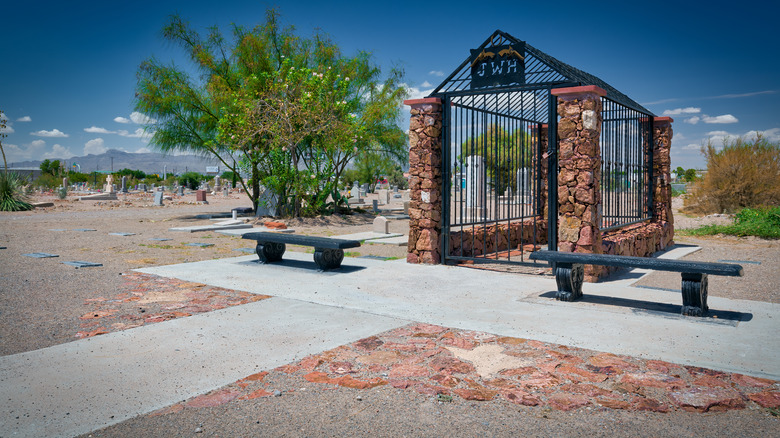 Shutterstock
The Hardin descendants "had a valid state permit" to remove the remains, Fred Billings, a family spokesperson, told the United Press International. "A majority of the descendants had agreed that Hardin's remains should be taken home to Gonzales County." Despite their permit, the descendants were turned away after being served with an injunction by El Paso supporters (via the Orlando Sentinel). The battle of Hardin's remains became a matter for the courts to decide.
For months, both sides sought to get their way with the remains. On the pro-Nixon side, Wendle Scott, the publisher of The Cow Country Courier, explained to the New York Times that "Wes Hardin lived here, married here and had his children here." He went on to describe Hardin as "a family man and we just want to return him to his family." Those who wanted to keep Hardin in El Paso were skeptical of these claims. Local historian and Hardin biographer Leon Metz told the New York Times that "Nixon is a little one-stoplight community that needs Hardin as a tourist attraction." In the end, the courts sided with El Paso (via FindLaw). The infamous gunfighter's elaborate memorial still stands not far from the place he died, and it looks like that's where his remains will stay.