Here's What We Know About Queen Elizabeth's Relationship With Donald Trump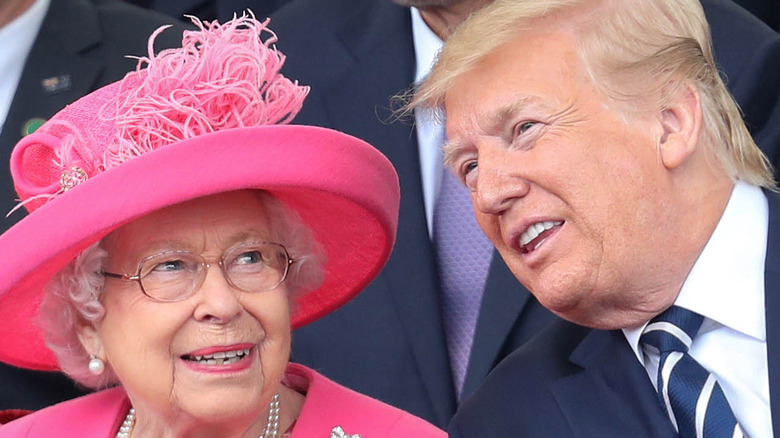 Chris Jackson/Getty Images
Queen Elizabeth and Donald Trump met twice while Trump was president, according to Business Insider. Once in 2018 and again in 2019 when Trump traveled to England to commemorate the 75th anniversary of D-Day. 
During the first visit, Trump was criticized for not following the expected protocol when he walked ahead of the queen at one point, then stopped, forcing her to walk around him, The New York Times reported. Not a huge deal for regular people, but the British Monarchy certainly does live by its prescribed proprieties. Naturally people on social media chimed in on the faux pas, but the queen, who holds her feelings about Trump tightly to her chest, let the moment pass like it warn't nothin' but a thang. Betty is cool like that. 
Business Insider reports that the queen stayed "diplomatically mum" about what she thinks of the 45th president of the United States, who is the 12th sitting president she's met since 1951, the year before her 1952 coronation. But Trump had nothing but lovely things to say about Queen Elizabeth. 
Donald Trump said he had 'automatic chemistry' with Queen Elizabeth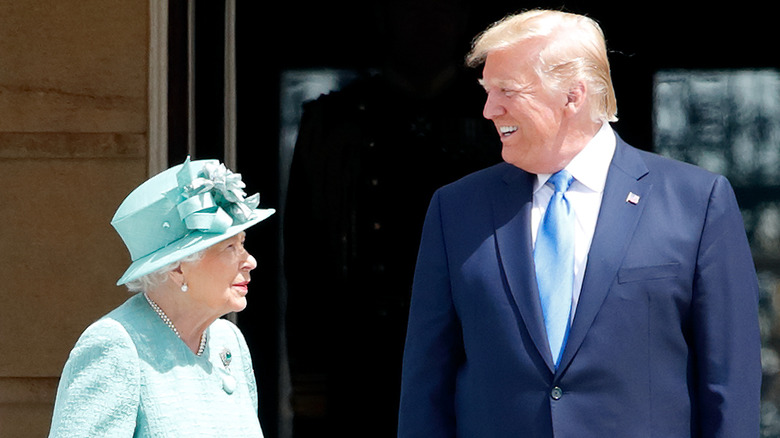 Max Mumby/indigo/Getty Images
While Donald Trump may have gotten off on an awkward foot during his first meeting with Queen Elizabeth in 2018, according to him, the 2019 visit went swimmingly. He told Piers Morgan (via Fox News) that his mother was always enamored with Queen Elizabeth and the royals, so Trump told the queen about that. "She was honored," he said. 
According to what Trump told Morgan, the pair had a "great rapport" and they had a "conversation that lasted an hour and a half," but he declined to say what they talked about, joking he didn't think he was supposed to share that information. He also spoke with Fox News host Laura Ingraham (via YouTube) about the D-Day visit that he and Queen Elizabeth had "automatic chemistry" and called her a "spectacular woman." Trump said, "The meeting with the queen was incredible. I think I can say I really got to know her because I sat with her many times." The Irish Times reported that Trump told Ingraham,"There are those that say they have never seen the queen have a better time, a more animated time."
While there were plenty of photographs of Trump and the queen looking chummy and pleasant, according to CNN, Buckingham Palace said Trump's comments "are not something we would comment on."