The Wild Costumes Peter Gabriel Wore With Genesis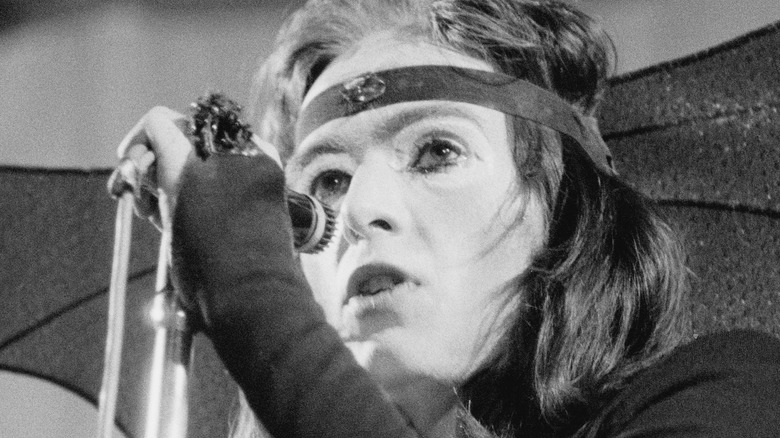 Michael Putland/Getty Images
Perched between the no-holds-barred Summer of Love and the stern but stylish materialism of the '80s, the 1970s was a time of experimentation and boundary-pushing; it gave us everything from the filed-off edges of what's now known as "yacht rock" to the caterwauling fury of punk. It also gave us Genesis — and the magnificently bizarre costumes of founding member Peter Gabriel.
It may be tempting to dismiss such grand theatrics as just wacky '70s kitsch, but even just a little digging will find some fascinating stuff about the whys of Gabriel's sartorial choices. Those reasons were rooted in storytelling, and in Genesis' early days, Gabriel had to learn how to step into that role. As he recounted to Uncut, "Well, firstly, I was left with the job, while they were busy tuning up their 36 strings of guitars, of filling in these enormous silences. To entertain the audience, I started telling stories. I found I could hold their attention and they wouldn't all go to the bar." The costumes he created for the songs' various characters were a natural next step in holding the audience's attention.
The Slipperman Cometh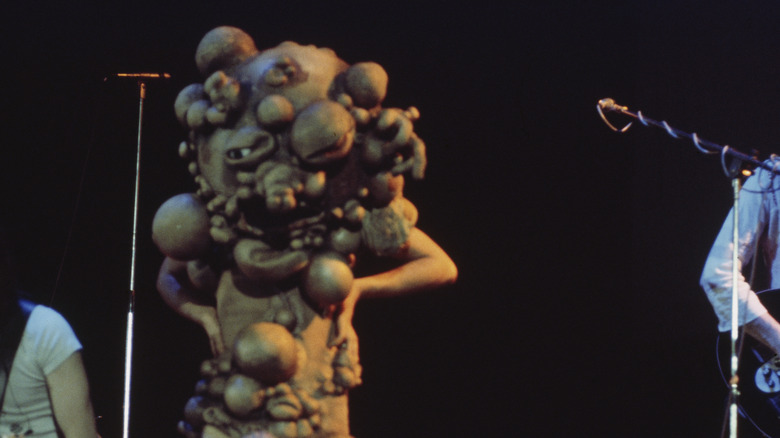 Michael Putland/Getty Images
Genesis guitarist Mike Rutherford remembers Gabriel as shy; it's not much of a stretch to think that dressing up in costumes could have been a coping mechanism for dealing with the stress of being the band's frontman. When Gabriel started wearing costumes on stage, they were based on characters in the band's songs, enabling him to truly embody their experiences and immerse the audience in them.
A basic Google Images search will show some of those fantastic creations. One of the most famous is his Fox character for the band's 1972 album, "Foxtrot," for which he donned a red designer dress and a full fox head. Before Ozzy Osbourne was gothing things up, Gabriel was dressing as "The Watcher in the Skies" in 1973, topping off his sleek, all-black ensemble with a bat wings headpiece and black-rimmed eyes. And perhaps Gabriel's most unsexy, discomfort-giving entity was known as "Slipperman," all lopsided face and bubbles that look like they're filled with something you don't ever need to see. 
Considering all the best-of lists these costumes have generated, it's hard to believe that Gabriel only did this for three years, from 1972-1975 (per Musical Brick), but there are just some moments in pop culture that defy time's flimsy limits. Sleep tight when Slipperman pops into your head later tonight.