The Song Aileen Wuornos Requested For Her Funeral
Aileen Wuornos is arguably America's most famous female serial killer. Confessing to killing seven men in Florida but convicted of only six murders, Wuornos was put to death by lethal injection on October 9, 2002, according to the Death Penalty Information Center. 
Wuronos' story differs from that of most male serial killers in that her life story elicited a certain level of public sympathy. Maybe it's because, as Capital Punishment in Context reports, she suffered physical and sexual abuse during childhood, her mother abandoned her, her father was a convicted child molester who killed himself in prison, and Wuornos ended up pregnant at 14. The man who impregnated her was allegedly a friend of her grandfather's. 
She gave the baby up for adoption and was kicked out of her grandparents' home. That's when she turned to sex work, claiming that the men she killed were johns who picked her up and raped her — or tried to — so she killed them in self-defense. 
Filmmaker Jasmine Hirst met with Wuornos while the convicted killer was on death row, to get Wuornos' story for a documentary. Hirst said in an essay published on Australia's Ozy that Wuornos claimed during her trial that she killed men in self-defense as they either raped her or attempted to. But during the interview, Hirst's takeaway was that while that may have been true the first time, the subsequent murders were committed because the men triggered Wuornos' trauma somehow, and she'd become a "bounty hunter for rapists" in her own mind. 
Aileen Wournos loved Natalie Merchant's album 'Tigerlily'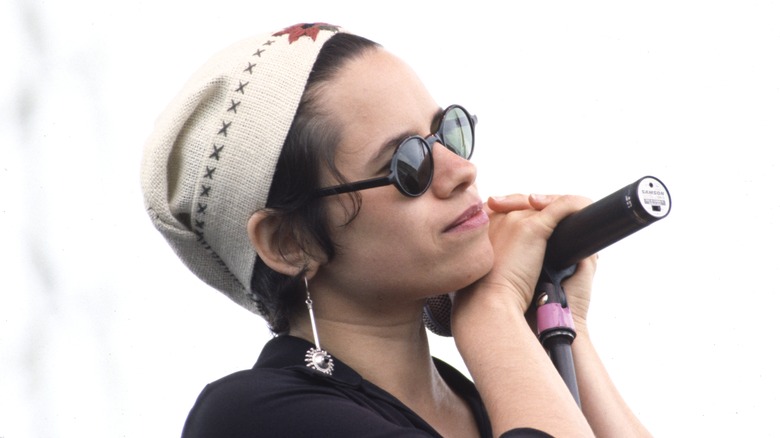 Tim Mosenfelder/Getty Images
Wuornos dropped her appeals in 1997 and accepted her death sentence, according to Hirst, because she was tired of life in prison and "wanted to leave the planet." One thing that Wuornos did enjoy in prison though, was the album "Tigerlily" by Natalie Merchant (above). Song Facts reported Wuornos requested that the song "Carnival" from the album (posted on YouTube) be played at her funeral, and it was. 
The song was also used in the 2003 documentary "Aileen: Life and Death of a Serial Killer" with Merchant's permission. Bustle reported Merchant wrote about the situation, saying, "When director Nick Broomfield sent a working edit of the film, I was so disturbed by the subject matter that I couldn't even watch it. Aileen Wuornos led a tortured, torturing life that is beyond my worst nightmares. It wasn't until I was told that Aileen spent many hours listening to my album 'Tigerlily' while on death row and requested 'Carnival' be played at her funeral that I gave permission for the use of the song. It's very odd to think of the places my music can go once it leaves my hands. If it gave her some solace, I have to be grateful."
Wuornos' ashes were scattered in her home state of Michigan, per Find a Grave. Her last words were, "I'd just like to say I'm sailing with the Rock, and I'll be back. Like Independence Day with Jesus, June 6, just like the movie, big mother ship and all. I'll be back."