How Much Money Jeffrey Dahmer Made In Prison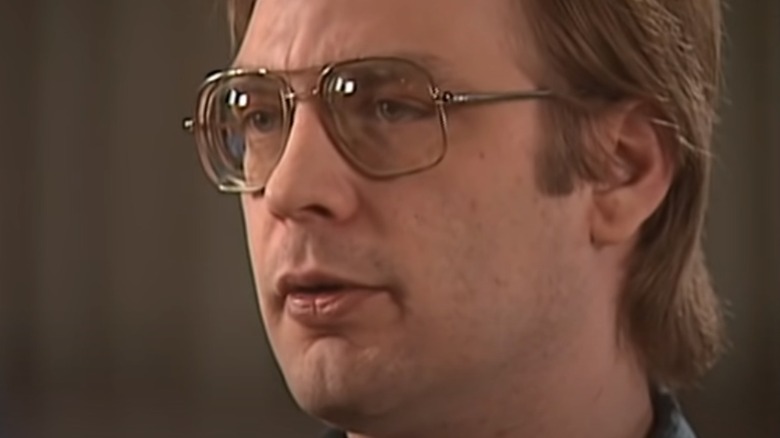 Live from Apt 213/NBC/YouTube
When serial killer Jeffrey Dahmer was captured in the summer of 1991, and the full scope of his depraved crimes had been discovered, he became known as the "Milwaukee Cannibal." The gruesome murders he committed included necrophilia, dismemberment, cannibalism, and preserving body parts, after he would lure his victims to his apartment, drugging and killing them. It wasn't until one victim, 32-year-old Tracy Edwards, escaped screaming from Dahmer's apartment on July 22, 1991, that police investigated and found the serial killer's house of horrors. In it, police found body parts belonging to 11 victims, including some in the refrigerator and freezer, according to History. They found more in barrels of acid. Others had been preserved to become mementos. Dahmer later confessed to cannibalism and sexual acts with the bodies of his victims.
When his trial was aired in 1992, many Americans were glued to their televisions as they despised the man who was in court for murdering 16 males, while also wanting to understand how one person could become so deviant. Even stranger, a smaller group of people empathized with the man who had already confessed to the whole range of heinous crimes. "I have a bit of sympathy for him, because he was such a damaged, diminished person," one mental health specialist told Vice. "I think it's easier to romanticize him because he genuinely wanted love and closeness. He just undertook some very odd practices to get [those things]."
Jeffrey Dahmer fans became patrons
Jeffrey Dahmer was making 24 cents an hour for janitorial services while he was at Columbia Correctional Institution in Portage, Wisconsin (pictured above). But it was fans who truly kept him in cash while he was in prison. In 1994, the AP reported that Dahmer had received $12,000 from dedicated letter-writers from around the world. One woman who sent $50 said she wanted Dahmer to be able to buy "cigarettes, stamps and envelopes." People from foreign countries mailed in donations, including one woman in London, who sent a stunning $5,920 gift.
Under Son of Sam laws in many states, criminals are not permitted to profit from the crimes they committed. The laws have kept convicted serial killers like Charles Manson, Ted Bundy, and Dahmer from cashing in on their poetry, books, interviews, writings, and artwork at the expense of their victims. But the laws didn't apply to Dahmer's unsolicited donations, much to the displeasure of some, including Thomas Jacobson, an attorney who represented the family of one of the victims, who said, per AP, the donors were "a very sick group of people" and added that it was "an absolute travesty" that Dahmer had not shared his donations with the victims' families.
On the morning of November 28, 1994, Dahmer was found bloodied on the floor of the prison's gym bathroom after having been bludgeoned by a fellow prisoner, per CNN. He died one hour later.