How Richard Ramirez Was Finally Caught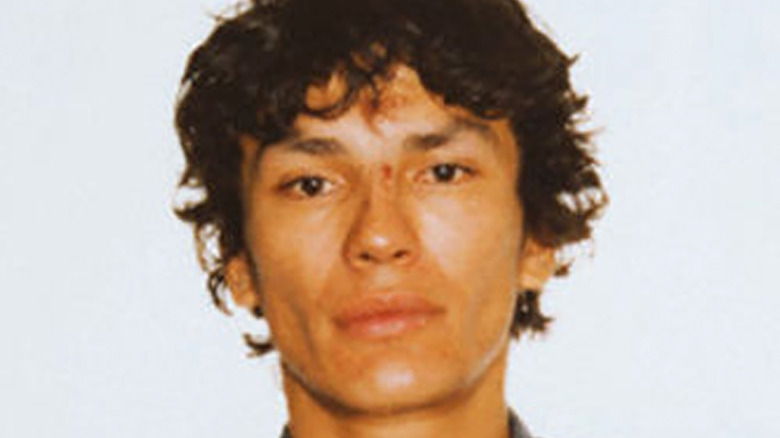 Michael Ochs Archives/Getty Images
Serial killer Richard Ramirez killed at least 13 people and sexually assaulted at least 11 in Southern California in the mid-1980s, according to CBS News. Known as the Night Stalker, a list of his crimes published by the El Paso Times as reported in Clifford L. Linedecker's book "Night Stalker" says that Ramirez's victims ranged in age from 16 to 83. They were male and female. Ramirez shot them, stabbed them, and slashed their throats. He bludgeoned, mutilated, and sodomized. He burglarized and robbed. The Night Stalker terrorized the city of Los Angeles. 
With so many crime scenes and a public that was eager for law enforcement to find whoever was menacing the city, catching the Night Stalker became a community affair. Detectives were able to finally pull a fingerprint from a stolen car a witness saw Ramirez driving, and they ran it through what was then a relatively new technology in 1985 called Automated Fingerprint Identification Systems, per the U.S. Department of Justice. 
It was thanks to that fingerprint they got a name and a face for the man they suspected of being the Night Stalker. On August 31, 1985, Ramirez was finally caught, and in the most fitting of ways.
Richard Ramirez was captured by the community in East Los Angeles
Once police had a name and a photo they gave it to the media to be shared with the public. It wasn't long before he was spotted by people at an East Los Angeles liquor store according to the The El Paso Times, who reported Ramirez saw his photo in the paper in the store and ran out. 
According to the The Los Angeles Times, Ramirez tried to steal a car but failed so ran to another vehicle where a woman fought him during his carjacking attempt. Her 82-year-old neighbor, Jose Burgoin, heard the commotion and came out. 
He told the newspaper, "I ran to defend her and he told me, 'Don't get closer or I'll shoot you.' I didn't see a gun so I opened the door and pulled him out of the car."
From there the woman's husband came out and hit Ramirez on the head with a steel rod, and though Ramirez was able to run, Borgoin called for his two son to give chase. They caught him and made him sit on the curb, the Los Angeles Times reported. Other neighbors came out to make sure he stayed there when someone realized he looked like the man in the paper who police suspected was the Night Stalker.
Julio Burgion, one of Jose's sons, told the newspaper, "People started coming out and saying that's the killer, but in Spanish. 'El maton, el maton!'" The community held Ramirez until police arrived. He died in prison in 2013.