The Real Reason Joni Mitchell Passed On Woodstock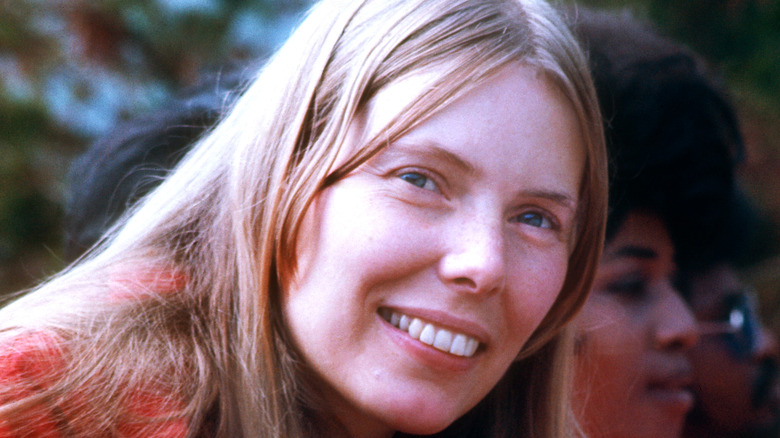 Robert Altman/Getty Images
Joni Mitchell is one of the greatest singer-guitarist-songwriters of all time. As singer Shawn Colvin said when inducting her into the Rock and Roll Hall of Fame in 1997, "I had never seen a woman come along ... that had the degree of sophistication and excellence that she did." Recognized as one of the literal voices of her generation, songs like "Both Sides Now," "Big Yellow Taxi," and "The Circle Game" are interwoven into the cultural fabric of the 1960s and 1970s and instantly bring to mind a very specific time, place, and feeling in history. Another one of her famous songs, "Woodstock," is a tribute to the 1969 Woodstock festival; however, despite the evocative descriptions of the festival within the song, Mitchell did not actually attend Woodstock herself. 
Per a 1995 article from Goldmine magazine, reprinted on Joni Mitchell's website, she was set to appear on "The Dick Cavett Show" the Monday after the festival with the band Crosby, Stills, Nash, & Young and feared she'd get stuck in Woodstock and not make it back to New York City in time. David Crosby, Stephen Stills, Graham Nash, and Neil Young did go, and even made it back in time to accompany Mitchell to "The Dick Cavett Show." Mitchell later said about her decision to miss Woodstock, "I was the girl of the family and, with great disappointment, I was the one that had to stay behind."
Joni Mitchell saw Woodstock as "a modern miracle"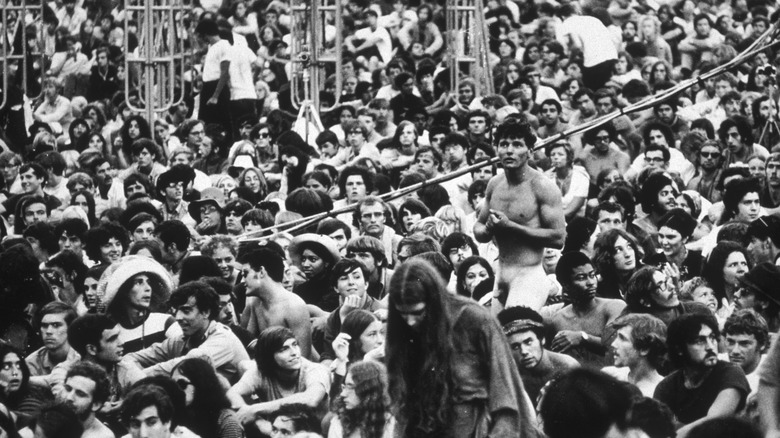 Hulton Archive/Getty Images
Being the gifted songwriter that she is, Joni Mitchell actually used the experience of missing Woodstock to write an emotional song about attending the festival, explaining "I was one of the fans. I was put in the position of being a kid who couldn't make it. So I was glued to the media ... Woodstock, for some reason, impressed me as being a modern miracle, like a modern-day fishes-and-loaves story. For a herd of people that large to cooperate so well, it was pretty remarkable and there was tremendous optimism," per Goldmine magazine, reprinted on Mitchell's website. 
In addition to using her imagination, Mitchell's then-boyfriend Graham Nash told her stories of his experiences at Woodstock after he returned from the show, and she used this as inspiration as well.  As reported by Spinditty, David Crosby later said that Joni Mitchell "captured the feeling and importance of the Woodstock festival better than anyone who had actually been there." She performed the song live for the first time at the Big Sur Folk Festival less than a month after Woodstock and included the song on her 1970 album "Ladies of the Canyon." Crosby, Stills, Nash, & Young covered the song on their own 1970 album "Deja Vu"; their version peaked at No. 11 on the Billboard Hot 100, per Slice The Life.