How Much Joe Walsh Is Actually Worth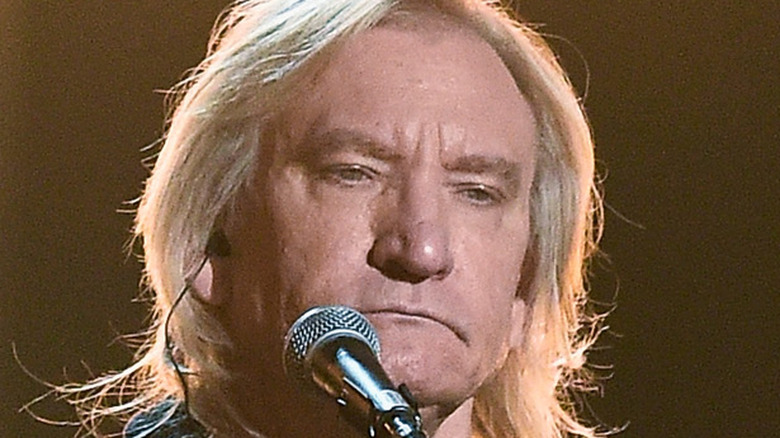 Kevork Djansezian/Getty Images
Joe Walsh found his "Peaceful Easy Feeling" and his fortune as a vocalist and guitar player for the American country-rock band, the Eagles. The band, founded by Randy Meisner, Bernie Leadon, Don Henley, and Glenn Frey, featured various members throughout the years, including Don Felder, Timothy B. Schmit, and Joe Walsh.
The band surpassed Michael Jackson's "Thriller" as the best-selling record ever in 2018 with their "Greatest Hits (1971-1975)" album that sold 38 million copies, reported CBS News. What's the #3 album after "Thriller?" Why, the Eagles' "Hotel California," with sales of 26 million. The group won six Grammys. Forbes named the band #8 on its 2019 "World's Highest-Paid Celebrities" List, pointing to their more than $100 million earnings, partly due to extensive tours that grossed about $3.5 million each show.
Walsh grew up in Kansas and Ohio in a musical family; his mother was "an avid piano player," said the Kent State website. After his family moved to New York City when Walsh was 12, he became involved in the school band and played oboe. Music remained important during his time at Kent State University, where he joined several bands while pursuing an English major and music minor, a degree he never finished.
He joined the James Gang as lead guitarist and found a national audience for his music. The group became the first rock band to play Carnegie Hall and got notice with hits like "Funk #49" and "Walk Away," said The Joe Walsh website. 
A guitarist makes bank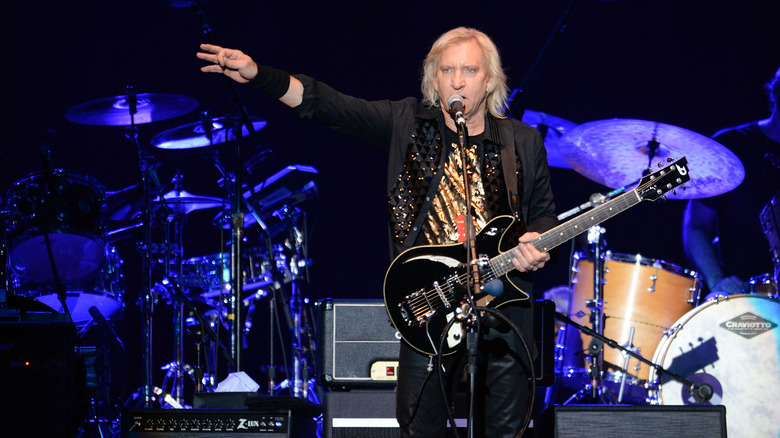 Scott Dudelson/Getty Images
Walsh left that band to form Barnstorm in 1972, which made three albums before disbanding. Their producer, Bill Szymczyk, worked with the Eagles and recommended Walsh. He replaced founding member Bernie Leadon as guitarist and keyboard player. It was a good time to join; the Eagles had just started working on their iconic "Hotel California" album, which also produced hits "New Kid in Town" and "Life in the Fast Lane."
Besides his work with the Eagles, Walsh also had a solo career, and released several albums prior to the Eagles split in 1980, including "So What" and "But Seriously, Folks..." He'd go on to make other solo endeavors during the '80s to mixed results. "There Goes the Neighborhood" in 1981 peaked at No. 20 and contained the hit "A Life of Illusion," but some of his work were considered critical and commercial disappointments, reported Celebrity Net Worth.
The Eagles reunited in 2001 and began touring regularly (and continue to do so). The group was inducted into the Rock and Roll Hall of Fame in 1998. "The best part of success is that it got me past the basic survival level of existence so that I was comfortable," said Walsh to Rolling Stone. "I didn't have to worry about stuff pertaining to survival. Once that was taken care of, I got the chance sit down and create and work at what I do ... So that's a blessing."
Today, Walsh has a net worth of $75 million, according to Celebrity Net Worth.