The Malibu Barbie Doll Was Inspired By This Iconic '60s Starlet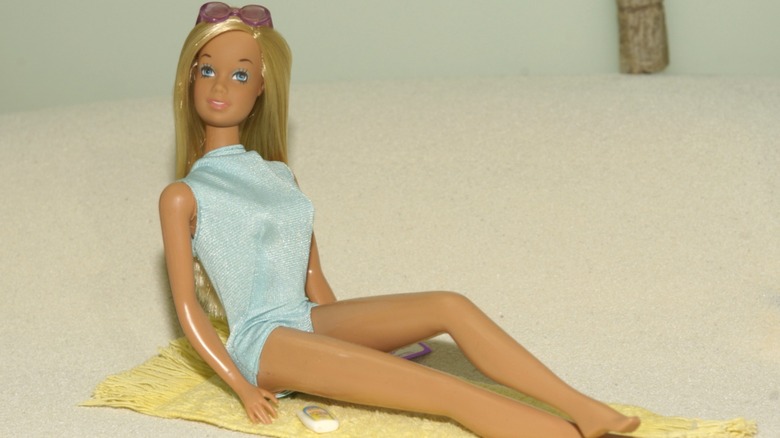 Lawrence Lucier/Getty Images
The Barbie doll might just be the most iconic and controversial toy that's still in existence today. And if there was one iteration of the doll that people love, it's the Malibu Barbie.
Malibu Barbie inspired young girls worldwide to dream of living in a beach house and looking chic in a swimsuit. It's so popular that there's even a makeup line devoted to the Malibu Barbie and her palette of pinks, oranges, and yellows. Much like other Barbies before and after her, Malibu Barbie represented such a fantastic life. She's fun, laid-back, and goes to the beach or hangs out by the pool anytime she wants.
So it's astounding when you find out that Malibu Barbie was inspired by someone who did not have such a fun and light life. According to HuffPost, Mattel took inspiration from Sharon Tate for Malibu Barbie.
Many people know Tate for her tragic end. She was one of the victims of the Manson Family murders along with her unborn child. At the time, she was a rising star who had just appeared in several movies. She also happened to be married to Roman Polanski, years before he escaped sentencing for statutory rape and banned from Hollywood, reported Vox. They were essentially a golden couple, two talented people on the verge of greatness.
Before you think the makers of Barbie are super morbid, they modeled Malibu Barbie after one of Tate's more popular movie roles.
She basically was Malibu Barbie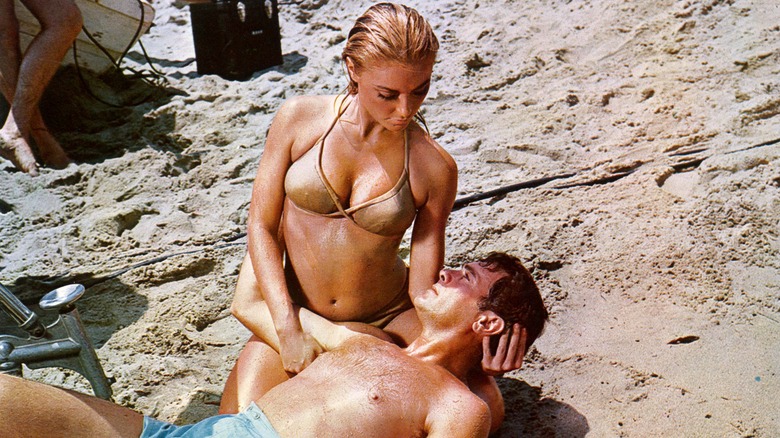 United Archives/Getty Images
In 1967, Sharon Tate starred in a movie called "Don't Make Waves," wrote The Lineup. According to IMDb, the movie followed tourist Carlo Cofield, as played by Tony Curtis, who meets an artist and somehow ends up at the beach. If it wasn't evident from the title, "Don't Make Waves" is a beach movie that was super popular at the time.
Tate played a surfer named, prophetically, Malibu, per IMDb. Before making "Don't Make Waves," Tate had been doing television. Her most famous role to date was in "Beverly Hillbillies." In the show, she was Janet Trego, an employee of the bank where the Clampetts kept their money. She was virtually unrecognizable then because she wore a black wig.
"Don't Make Waves" is widely considered Tate's film debut, and the image of the blond bombshell was tied to her in other films like "Valley of the Dolls," where she earned a Golden Globe nomination, and "Fearless Vampire Killers."
She seemed the perfect person to play Malibu. She was known for her long, straight blond hair. And, as HuffPost pointed out, she exuded a hip, beachy vibe in both her attitude and style.
It's weird that "Don't Make Waves" is the one that immortalized Tate because she didn't like the film, said author Greg King in his book "Sharon Tate and the Manson Murders." She didn't like how she came off on the screen and said Malibu was the "sexy little me."
Mattel never admitted it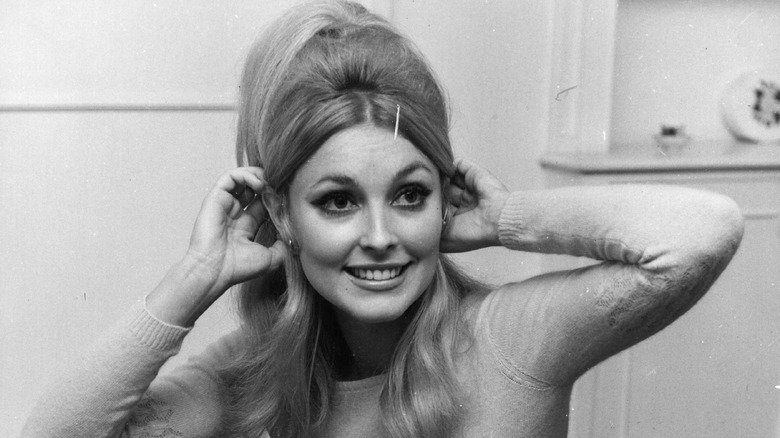 Keystone/Getty Images
The New York Daily News explained Mattel has never acknowledged that Sharon Tate was the inspiration behind the Malibu Barbie. But the coincidences are uncanny.
Mattel released the Malibu Barbie in 1971, two years after the gruesome murder of Tate and her friends. The first edition of Malibu Barbie did look like Tate in doll form. It had long blond hair and wore a fashionable one-piece bathing suit. Her family said she was very much a flower child despite the glamorous and designer clothes she had, so she liked the idea of comfortable clothes. The Los Angeles Times wrote that when the Malibu Barbie came out, she was barefoot, much like Tate usually was. Sure, Malibu Barbie wasn't in a bikini, but the doll was seemingly Tate as Malibu.
For many people, they know of Tate as a victim. She was a tragic person whose death was gruesome and sensationalized. But for so many children who owned a Malibu Barbie and continue to love the doll, they encountered a far different version of Tate, maybe one a little bit closer to whom she really was alive. Mattel may not officially confirm this, but what a fitting tribute to a woman who wanted to live a life of fun, being laid-back, and the ultimate beach girl.
Just like Malibu Barbie.