The Tragic Death Of Henry VIII's First Son
Henry Tudor was crowned King Henry VIII of England in 1509 at the age of 17. Less than two months after taking the throne, he wed Catherine of Aragon, who was his brother Arthur's widow. As a ruler, one of King Henry's goals was to have a son — an heir to continue the Tudor dynasty, which started in 1485. As reported by Hampton Court Palace, Henry VIII was happy with his marriage to Catherine. Soon after their marriage, Catherine became pregnant, but the child was stillborn.
In 1510, Katherine became pregnant a second time. The pregnancy went well and she gave birth to a baby boy on January 1, 1511. King Henry VIII was ecstatic to finally have an heir-apparent to the Tudor line. The baby was baptized on January 5. He was named Henry and given the title Duke of Cornwall (via Tudor Times.) The king organized extravagant banquets to celebrate the birth of his son, with pageants, jousting, and bonfires attended by the people of London.
King Henry's jubilation was cut short, however, as young Henry died just 52 days after his birth.
Henry's death devastated the king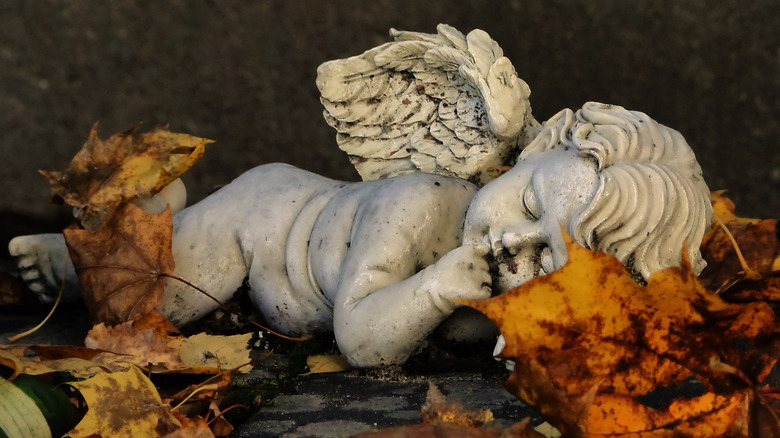 Shutterstock
The death of Henry was unexpected, as he was reportedly a healthy baby on his birth. One of the suspected reasons is Sudden Infant Death Syndrome (SIDS), according to The Anne Boleyn Files. SIDS typically happens when a baby is asleep and is usually the cause given when healthy babies under the age of 1 suddenly die (via Mayo Clinic.)
The death of infants was also more common in the 16th and 17th centuries, with 12% of infants dying before their first birthday. Statistics show that 2% of babies at that time died within their first day of life. The high death rate, as modern medical experts have studied, may be attributed to birth traumas or unsterilized tools used during birth, according to a report from Plimoth.
King Henry VIII and Catherine of Aragon were devastated by the death of their son. The baby had a state funeral, which was attended by mourners wearing black. Henry, the Duke of Cornwall, was buried at Westminster Abbey. According to Find a Grave, the exact location of young Henry's grave wasn't recorded.