The Record Amount Of Money Secretariat Was Syndicated For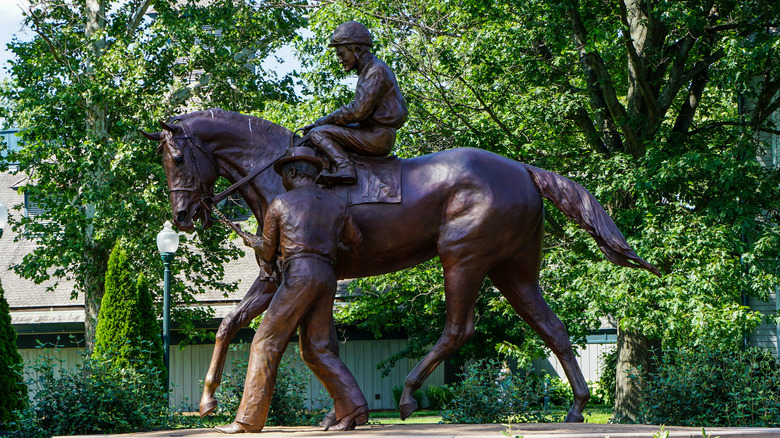 Shutterstock
The name Secretariat is still recognizable, even though the horse's incredible Triple Crown win in 1973 — at the time, the first in 25 years — took place almost 50 years ago. The most exciting part of that feat came during the third race, the Belmont Stakes, when Secretariat outpaced his nearest competitor by an extraordinary 31 lengths. Secretariat's times from those three races remain record-breaking, according to History, which reported that no horse has surpassed them.
The legendary horse had humble beginnings. Secretariat, nicknamed "Big Red," was born at Meadow Stable (now the Meadow Event Park), a failing Virginia business owned by Chris Chenery, according to USA Today. When Chenery fell ill, his children wanted to sell the stable, but his daughter, Penny, believed she could make it profitable again.
She began breeding a mare, Somethingroyal, with Bold Ruler; the second effort produced Secretariat. At first the horse generated low expectations. Lawrence Scanlan's book "The Horse God Built" tells a story from a 1973 article in the magazine Canadian Horseman that quotes Secretariat's longtime groomer Eddie Sweat, who said, "I didn't think much of him when we first got him. I thought he was just a big clown. He was real clumsy and a bit on the wild side, you know. And I remember saying to myself I didn't think he was going to be an outstanding horse."
A horse creates a legacy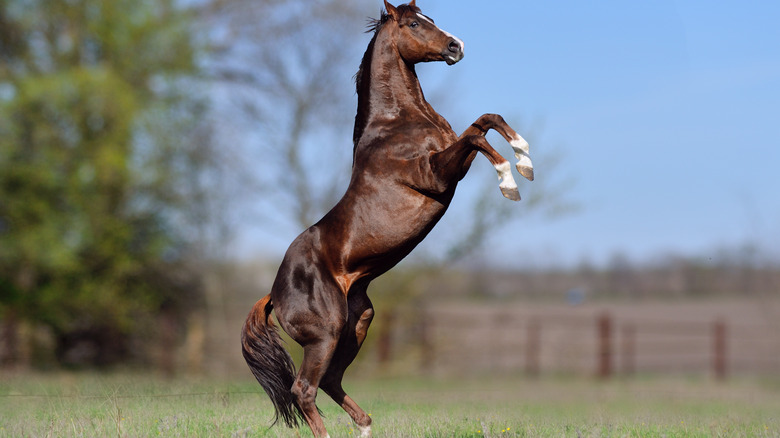 Shutterstock
But Secretariat proved his mettle. Even though he placed fourth in his first race, on July 4, 1972 at the Aqueduct Racetrack, by the end of the year, he had captured the title of Horse of the Year, winning seven out of nine races.
Meadow Farm lost its owner the next year, and his daughter, Penny, struggled with expenses, including a high tax bill. She decided to syndicate her horse for future breeding and sold 32 shares at $190,000 each, generating $6.08 million, according to Sports Illustrated. 
The move turned out to be a good investment. Secretariat won the 1973 Kentucky Derby, finishing the race with a record-breaking 1 minute 59.4 seconds. Only Monarchos in 2001 came close to beating Big Red's time. Two weeks later, Secretariat claimed the title at the Preakness race, with a final time of 1:53, another record. Then he won the Belmont Stakes and received the Triple Crown, the first winner since 1948.
After the victory, Secretariat received other honors, including his induction into the National Museum of Racing and Hall of Fame in 1974. He also was the first thoroughbred race horse honored with a U.S. Postal stamp. Big Red's story received the Hollywood treatment with the 2010 movie "Secretariat," starring actress Diane Lane as Penny Chenery.
Secretariat also sired about 600 horses (see a great grandson pictured above), according to Mental Floss. While none reached his success, his great-granddaughter, Rags to Riches, came out on top at the 2007 Belmont Stakes.