The Truth About Serial Killer Bobby Joe Long's Death
Bobby Joe Long was one of Florida's most notorious serial killers, responsible for murdering 10 women in the span of eight months. He also raped women before his killing spree, targeting those who sold items on classified ads. Long then showed up in their homes, sexually assaulted them, and then robbed them. Thus, he was dubbed the "classified-ad rapist," according to Entertainment Daily.
In 1984, women, most of them sex workers, were found murdered in the Tampa Bay area. Some of them were left posed and the victims were killed in a gruesome manner. Authorities were left baffled, and with little evidence to go on, they were not able to catch the perpetrator of the crimes.
Bobby Joe Long's killing spree stopped when one of his victims, Lisa McVey, outsmarted him and reported him to the authorities. McVey was 17 years old when Long abducted her while she was riding her bike home from her work at a donut shop. Long took McVey home and raped her repeatedly. After 26 hours in the clutches of the murderer, McVey pleaded for Long to let her go, making up a story that her father is ill and she's the only one who can take care of him in order to get his sympathy (via A&E Real Crime.) Surprisingly, Long let her go, saying "Tell your father he's the reason why I didn't kill you."
Bobby Joe Long's arrest and death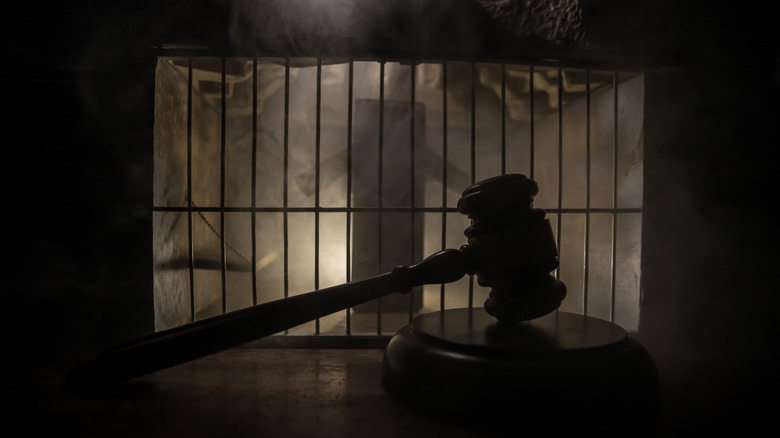 Shutterstock
After McVey's release, she reported Bobby Joe Long to the authorities, providing details of her abduction and rape. Evidence collected from McVey's clothing also matched the fibers found on the murdered women. Bobby Joe Long was arrested soon after, and he confessed to the murders of the women, as well as the rapes of dozens of women in the early '80s, according to Oxygen.
Bobby Joe Long was sentenced to death in 1984. In April 2019, Florida Governor Ron DeSantis signed Bobby Joe Long's death warrant. Long's defense team argued to stop his execution by lethal injection, stating that the drugs might cause a seizure as Long suffered from epilepsy. A judge ultimately denied the request. As reported by The Florida Times-Union, prosecutors said that Long was "not entitled to a pain-free death" because of the cruel way he killed his victims.
Bobby Joe Long's execution proceeded at the Florida State Prison. Some relatives of his victims were present as well as Lisa McVey, who said, "I wanted to look him in the eye." Long was pronounced dead at 6:55 p.m. on May 23, 2019 (via CNN.)