What Migos Really Mean By Their Song 'Straightenin'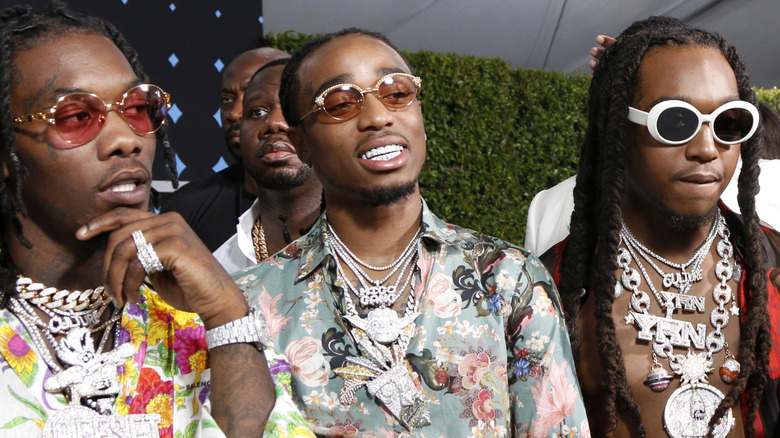 Shutterstock
It's time for another Migos album. The hip-hop trio, which comprises rappers Quavo, Takeoff, and Offset, who haven't done much together since 2018 (focusing instead on solo work and, in Quavo's case, a burgeoning film career), is finally dropping the third panel in the "Culture" triptych (titled, as you've probably guessed, "Culture III") Friday, June 11 (via Vulture). It's been a long time coming. Originally scheduled for December of 2019, "Culture III" was first delayed to early 2020 for unspecified reasons, and then kicked to the curb for more than a year by the COVID-19 pandemic. To tide fans over, the trio promised a "Quarantine Mixtape" (via Revolt), but, like many COVID-era promises, it never materialized. The upshot is that fans have been waiting almost three-and-a-half years since the last Migos album.
What's the trio been up to in all this time? Well, to quote the first few lines of Quavo's opening verse, "In this game, sit back, be patient / N***as act like the gang went vacant / N***as act like somеthing been taken / Ain't nothing but a little bit of straightenin'."
In other words, don't call it a comeback. They've been here for years, and they've just been tying up loose ends. Let's take a deeper look at some of the other memorable couplets from the lyric sheet.
'Straightenin' opens with a big shoutout to Robert De Niro ...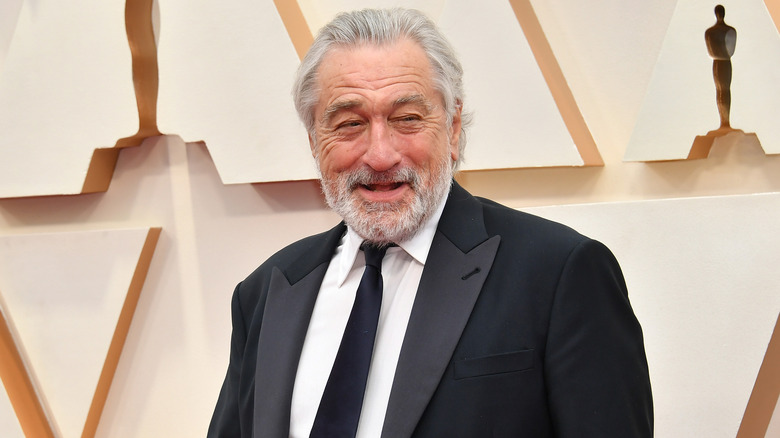 Amy Sussman/Getty Images
Directly following the "straightenin'" lines, Quavo drops some knowledge about his upcoming film debut: "Been kicking s***, poppin' out daily / On an island, it's a movie I'm making / I'm counting dineros with Robert De Niro / He telling 'em that Cho amazing." He's not just dropping De Niro's name because it sounds sort of like "dinero"; Quavo is actually co-starring with Robert De Niro in the upcoming thriller film "Wash Me in the River," directed by "The Irishman" producer Randall Emmett and slated to hit theaters in 2022 (via The Wrap).
Quavo plays (what else?) a gangster named Coyote, and had nothing but praise for his twice-Oscar-winning costar. "He's a nice dude," he told NME, adding, "I told him I said a line in one of my new songs about the trip I just took, and he was just like, 'For real. M-I-G-O-S, right?' I was like, 'Yeah, he's finna go home and look me up.' It was too hard."
Given that De Niro is old enough to be Quavo's grandfather, it's not exactly shocking he wasn't readily familiar with the group. Here's hoping he digs the tunes when he finds them on Spotify.
... and continues on to a diss aimed at ... Eminem?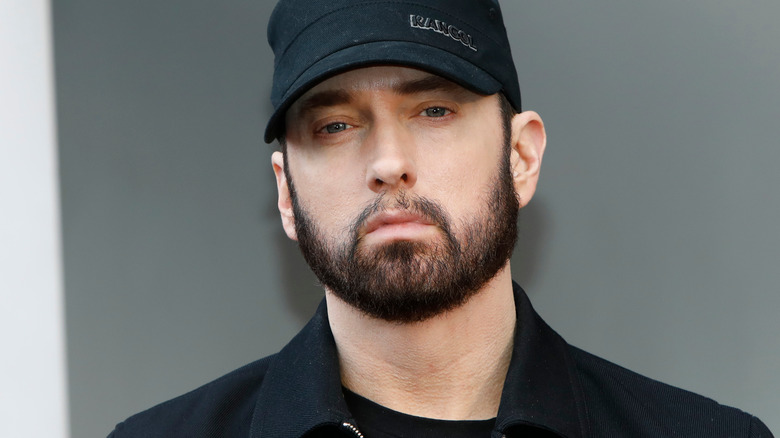 Shutterstock
How long has it been since anyone's talked about Eminem? The rapper who became arguably the biggest hip hop artist of all time around the turn of the century has been consistently churning out tunes since then, but hasn't had a number-one hit in the U.S. since 2013's "The Monster." That doesn't stop Takeoff from dissing him in verse two, though: "I keep the cookie like my grandma made it / I keep the keys and the pounds and the babies / And the bricks came white like Shady."
"Shady," of course, refers to Slim Shady, Eminem's alter-ego (or alter-alter-ego, we guess, since "Eminem" isn't his real name either), out of which he somehow wrung two hit singles and an entire album. "White bricks," of course, are bricks of cocaine, but they're also white like Em, who is famously of European descent. In the same verse, Takeoff gives a shoutout to Drake, another godfather of the genre ("Spin back to back, it's a repeat / Championship, it's a three-peat / Shoot out the window like Drizzy and Freaky").
There are other gems for those looking to dig them up — you can the full lyrics over at Genius – but the message is clear: As Quavo puts it in verse one, they "turn[ed] a pandemic into a bandemic." We're honestly not sure with that one, but we assume it means something like "We made music, even though quarantine was a thing." Fair enough.