A Look At Aileen Wuornos' Tragic Love Affair
Aileen Wuornos is one of the most notorious female serial killers in modern history. She was convicted of six counts of first-degree murder and was given six death sentences. Aileen was executed by lethal injection in 2002 in Florida.
Wuornos had a troubled life from the very beginning. She never met her father, who was in jail when she was born, and her mother left her and her younger brother to be raised by her grandparents when she was four years old. Her new home wasn't a good place for Aileen, as she was sexually abused by her own grandfather, which ended in pregnancy when she was 14 years old. She gave birth but gave the baby up for adoption (via Film Daily).
Wuornos was soon kicked out of her grandparents' house and turned to sex work in order to survive. Through the years, she was charged with several crimes, including assault, armed robbery, and theft, among others. She also married a man who was decades older than she, though that ended in an annulment.
When she was 30 years old, Aileen met Tyria Moore at a bar in Florida. The two hit it off and started a relationship. Wuornos' biographer, Sue Russel ("Lethal Intent"), told Biography that Moore was "the anchor that Aileen had been looking for," as reported by The Cinemaholic.
Aileen and Tyria's relationship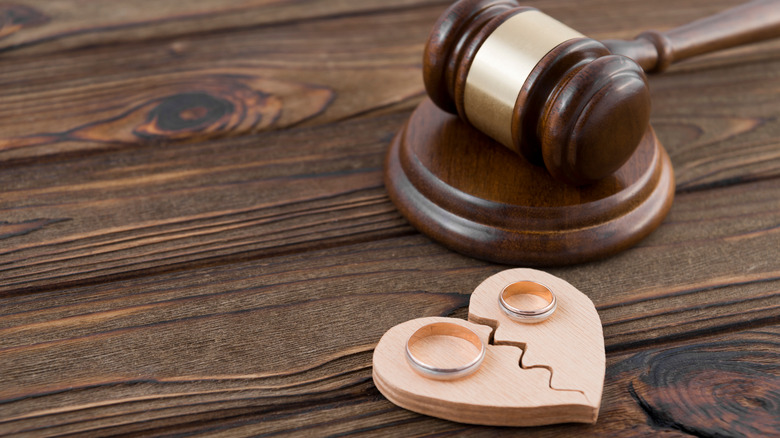 Shutterstock
As Wuornos and Moore grew closer, they decided to live together. Wuornos used the money she got from her sex work to support them. It seemed that the relationship was becoming serious, as Wuornos started referring to Moore as her wife. Moore wanted Wuornos to stop her sex work, but Wuornos didn't want to give it up. Like every couple, the two had their share of fights, but their relationship remained intact.
Wuornos started killing men during her relationship with Moore. In 1989, Wuornos killed Richard Mallory and went home to MooreTyria to tell her she did it in self-defense (via Serial Killer Shop.) Wuornos killed more men the following years, bringing home items she stole from her victims. In those instances, however, Wuornos never told Moore where the items were from, as she feared Moore would report her to the authorities.
Upon investigating the murders, the authorities were able to narrow down their list and came up with Wuornos as a suspect. She was soon arrested and she warned Moore to leave so that she wouldn't get caught up in her crimes. When the authorities got wind of this, they used Moore to get to Wuornos, as reported by Meaww.
A love affair gone bad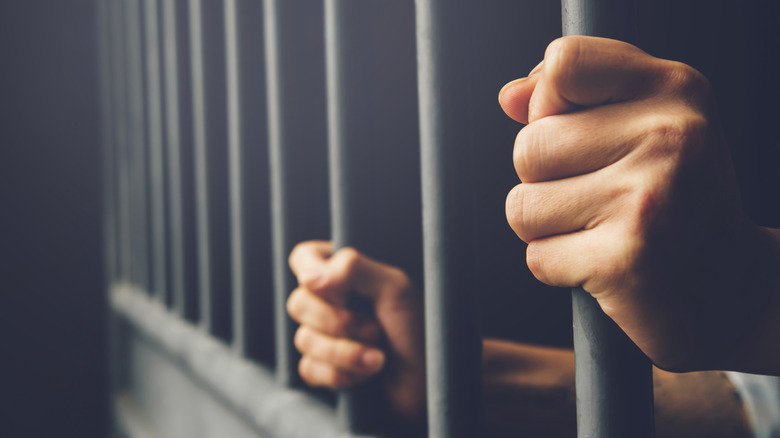 Shutterstock
Moore agreed to work with the police, as she was scared of being caught up in Wuornos' crimes She had phone calls with Wuornos, saying she was scared the police would pin the murders on her. This was, of course, a ploy by the investigators to get Wuornos to confess — and it worked. Wuornos eventually confessed to the murders and stated that Tyria Moore had no hand in the crimes. In one phone call, as reported by Oxygen, Wuornos told her, "You're innocent. I am not gonna let you go to jail. Listen, if I have to confess, I will," as well as, "I am the one who did everything. I cannot let you get in trouble for something you did not do."
Tyria Moore served as a witness during Wuornos' trial and while being questioned, she revealed that she deliberately lied to Wuornos during their phone calls in order to clear her own name (via Orlando Sentinel.) Although Wuornos learned of Moore's role in helping to get her convicted, she still proclaimed her love for Tyria.