The Strangest Things People Have Left Behind In Ubers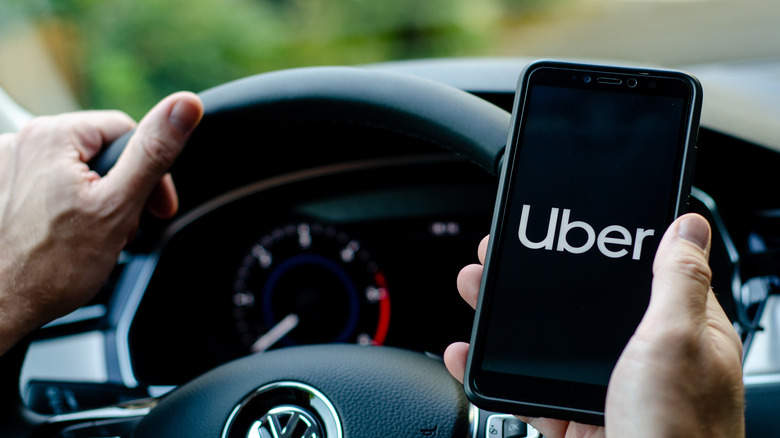 Shutterstock
We all have our forgetful moments. Leaving the house without your phone, misplacing your keys, and, of course, leaving something in a taxi or a ride-share. And once again, Uber's Newsroom has released its fifth-annual 2021 Uber Lost & Found Index, a list of the strangest things that have been left behind by passengers.
While you can understand slipping out the car door and leaving a pair of glasses or a phone behind, two of the top-ten most commonly forgotten items, it's hard to imagine forgetting some things on the list, just because of their size and volume. One rider forgot 22 bundt cakes and a pan of mac and cheese. Seeing as it must have taken a while to put those in the car, it's hard to believe you would forget to take them out, even if they're in the trunk. Another passenger left a crystal chandelier, while one person left, "frozen meat, a lot of it."
Some of the others items — like a catheter or raw chicken — might inspire the driver to get their car detailed.
Uber notes Fridays and Saturdays are the days with the most absent-minded riders worldwide, especially late at night. They also pointed out the most forgetful days of 2021 coincided with some big event days, with Halloween weekend, New Year's Day, and Mardi Gras evening as big culprits. It's easy to understand leaving a green dinosaur Halloween costume or a unicorn tail and a piñata after a few drinks at a party.
Uber also releases international lists
Uber releases lists for a few other countries as well. The Australian 2021 index included a glass eye, a Yoda lightsaber, and bagpipes, as well as a list of the most forgotten "Aussie" items, which for 2021 included a surfboard, an esky (a portable cooler), and "Budgy Smuggler swimwear." Canada's index features a fake, bloody machete, eight Canadian Tire fishing rods, a retainer with a tooth attached to it, and — just to be extra Canadian — poutine. In Hong Kong, a barrister's wig and gown made the list, along with a frozen lamb chop, and dentures. It also notes the most expensive things left, including a black and gold Rolex, Burberry wool coat, and a Hermes wallet.
Tokyo, Vienna, and Milan top out as the most forgetful cities in the world, with Gold Coast and Perth in Australia taking the 4th and 5th spots. In the U.S., Austin, Texas is at the head of the 2021 pack, followed by Fort Meyers, Florida, and Nashville, Tennessee. Canada's Gatineau, a city in Quebec across the river from Ottawa, is the worst culprit, followed by Halifax and Winnipeg, while in South Africa, Johannesburg heads the list, with Pretoria, and Cape Town following behind (via TechSmart).
Uber's lost and found department keeps a lot of statistics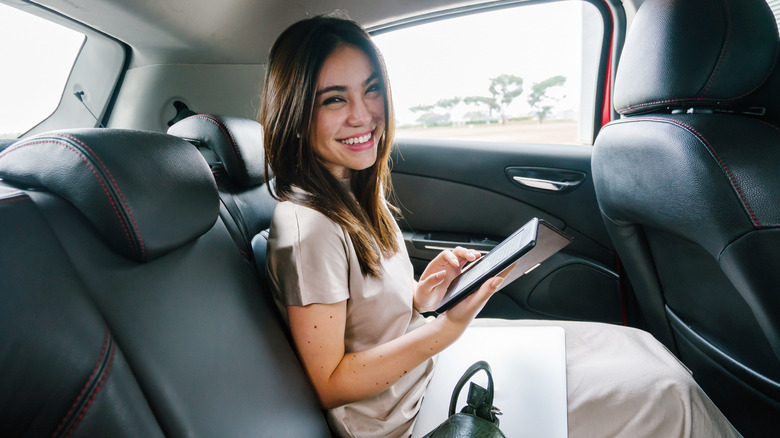 Shutterstock
Along with a list of strange things and forgetful cities, Uber also notes they've also seen trends in what gets lost on certain days of the week. Mondays are backpacks and groceries, Tuesdays are cameras, Wednesdays it's cash, Thursday it's party items like cakes and gifts, Fridays people leave IDs and baby items, including strollers and car seats, while Saturday is the day for jewelry, and Sunday says goodbye to the most phones.
Apple products are lost nine times more frequently than Samsung products, Uber notes, and Hong Kong's list pointed out that AirPods were lost 130% more in 2021 than in 2020, and more than 400 iPhones were forgotten in 2021 alone. 
They also noted that color matters. Red, blue, pink, and green items were more likely to be forgotten, while turquoise and peach items were the least often left behind.
On all the country's lists, Uber provides a list of instructions —and a video — for people who have left something behind on how to track down and contact your driver to recover your items, either using your own phone, on a friend's phone, or on a computer — just in case the item you left behind is your own smartphone.