The Messed Up Truth Of Burke And Hare, Body Snatchers Turned Murderers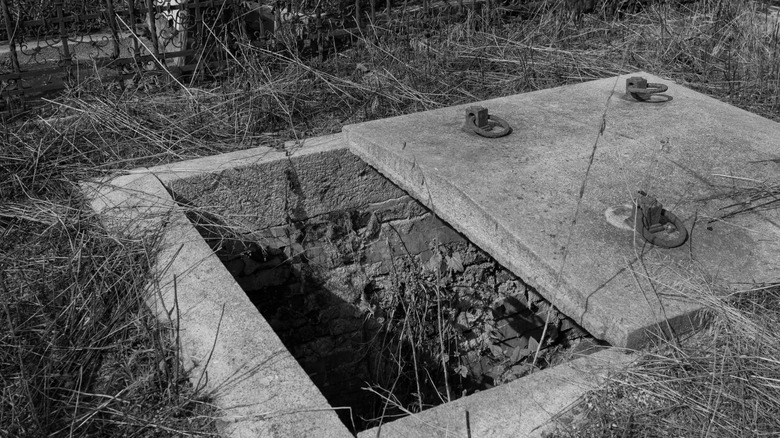 Shutterstock
In the 19th century, body snatching was frowned upon, but not uncommon. According to The Raven Report, body snatchers, who were also referred to as resurrectionists, dug up graves and sold corpses to physicians and other scientists, who used the remains to study anatomy and practice surgery.
Although people commonly donate their bodies to scientific research in the present time, the practice was unheard of during the 19th century. As a result, hospitals and laboratories relied on resurrectionists to provide them with a steady supply of corpses. According to The Raven Report, grave robbers were often paid the equivalent of $2,500 per corpse.
In response to the increasing number of disturbed gravesites, cities hired watchmen and enacted laws to curtail the practice. Nevertheless, resurrectionists continued to find ways to steal corpses. One pair of body snatchers, however, resorted to committing murder.
SyFy Wire reports William Burke and William Hare, who were both natives of Ireland, met and became friends after they both moved to Edinburgh, Scotland, for work. Between 1827 and 1828, the pair would work together to become the world's most famous body snatchers and two of Edinburgh's most notorious killers.
Burke and Hare: The early years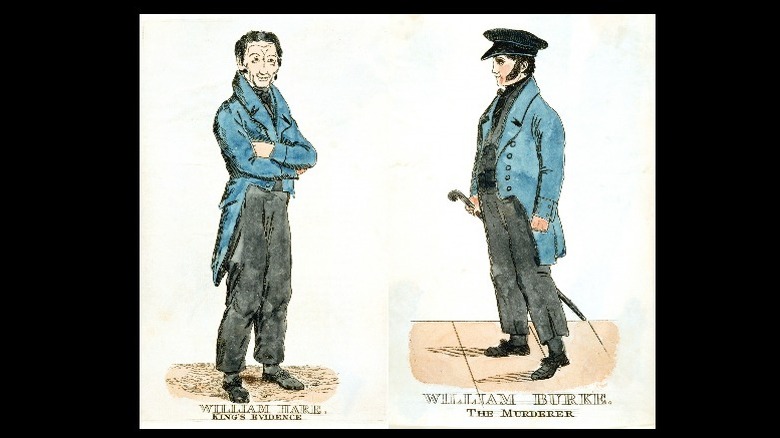 Print Collector/Getty Images
William Hare was born and raised in Ireland's province of Ulster. As reported by Undiscovered Scotland, when Hare arrived in Scotland, he initially did construction work on the Union Canal. However, he and his common-law wife, Maggie Laird, eventually opened a boarding house for local laborers.
William Burke, who was also from Ulster, had a wife and two children in Ireland. However, he left his family in 1817 to move to Edinburgh and work construction on the Union Canal. Over the next 10 years, Burke changed jobs often, working as a baker, a general laborer, and a weaver. However, he later settled into work as a cobbler.
In 1827, William Burke moved into the boarding house owned and run by William Hare and his common-law wife. Undiscovered Scotland reports Hare and Burke sold their first corpse later that same year. Although the man died of natural causes, Burke and Hare reportedly realized they could produce more corpses, and subsequently make more money, if they killed people themselves. 
Burke and Hare team up with Dr. Robert Knox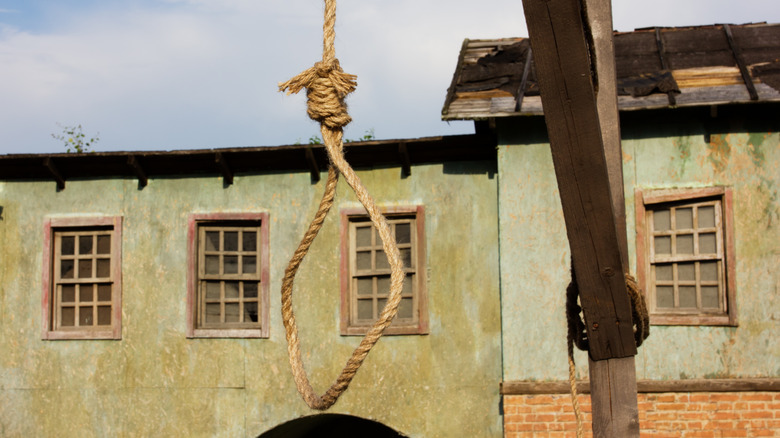 Shutterstock
As reported by Historic UK, the duo killed more than a dozen people over the next year. A majority of their victims were killed at William Hare's boarding house — and included a homeless woman, a young deaf boy, a blind boy, an elderly woman, and at least 11 others. Dr. Robert Knox, who was happy to have a steady supply of bodies, paid them between £7 and £10 per corpse. 
Burke and Hare's murderous scheme was exposed when a couple, who was staying in the boarding house, noted the sudden absence of another boarder. Although Burke and Hare insisted the woman left voluntarily, Historic UK reports, the couple were denied entry to the room to fetch some belongings, so they became suspicious.
When they finally gained access to the room, the couple found the missing woman's body under the bed. They immediately reported the incident to police.
Amid the investigation, Burke and Hare blamed each other for murdering the boarder. As they had little evidence to prove exactly who killed the woman, authorities eventually offered William Hare immunity to testify against William Burke.
As reported by Historic UK, William Burke was convicted of murder, sentenced to death, and publicly hanged. William Hare was released per his plea agreement. He immediately fled to England, and there is no record of his existence after that time. Dr. Knox was cleared of any wrongdoing.