Why Anne Frank's Diary Wasn't Published At First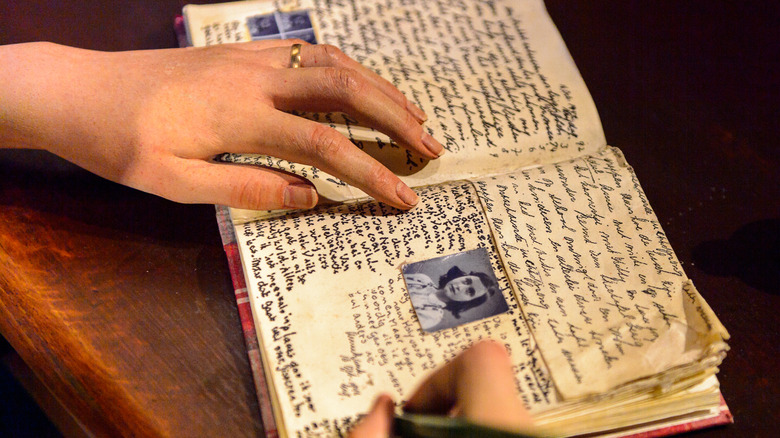 http://wp.looper.com/wp-content/tmp/ss-535535404.jpg
"The Diary of A Young Girl" by Anne Frank is a classic of Jewish, Holocaust, and historical literature. The book was written between 1942 and 1944 while the author, a Jewish German-Dutch 13-year-old girl, was in hiding with her family and others in a cramped annex in Amsterdam, Netherlands to avoid detection by the Nazis who occupied the country during World War II. The family was discovered in August of 1944 and in September they were deported to the Auschwitz concentration camp. Anne and her sister Margot were later transferred to the Bergen-Belsen concentration camp, where they died of typhoid fever in 1945.
Anne's father, Otto Frank, was the only member of the family to survive the war. He returned to Amsterdam and stayed with his former secretary, Miep Gies. After the Franks and their friends were discovered and taken away, Gies had found and saved Anne's diary in hopes of being able to return it to her. When Anne and Margot's deaths were confirmed, she presented the diary to Otto. Otto was eventually emotionally prepared enough to read the diary and, per the Anne Frank House website, was surprised by its contents, saying, "The Anne that appeared before me was very different from the daughter I had lost. I had had no idea of the depth of her thoughts and feelings." Friends and relatives called Anne's diary "an important human document" and encouraged him to submit it for publication.
Many publishing houses turned down 'The Diary of a Young Girl'
After historian Jan Romein wrote about the diary in his newspaper column, Dutch publishing house Contact expressed interest in publishing it. "Het Achterhuis" ("The Secret Annex") was published in 1947. French and German editions of Anne Frank's diary were published in 1950, according to Anne Frank House. Per The New York Times, when Otto Frank submitted the book for English translation and publication, it was a very different story. Despite the positive Dutch reviews of "Het Achterhuis," its English-language edition was rejected by 16 American publishers before Doubleday published it in 1952. As quoted by The New York Times, an editor at Alfred A. Knopf Inc. turned down the manuscript in 1950, writing it was "very dull" and "a dreary record of typical family bickering, petty annoyances and adolescent emotions." 
The diary was eventually published as "The Diary of a Young Girl" in both the United Kingdom and the United States in 1952. According to Mental Floss, the book has been translated into 67 languages and sold over 30 million copies. As reported by Anne Frank House, it was adapted into a Pulitzer-winning Broadway play, "The Diary of Anne Frank," in 1955, and a movie in 1959. 
Miep Gies reportedly later admitted that if she had read the diary upon finding it, she would have destroyed it, as it contained incriminating evidence against everyone who had illegally helped to hide the Frank family. Gies didn't read the diary until Otto Frank encouraged her to do so once it was in its second printing.