These Two Buildings From The 1893 World's Fair Are Still In Use
The 1893 Chicago World's Fair, or the "World's Columbian Exposition," as it was called at the time, was a key moment in Windy City history. Occurring just two decades after a devastating fire destroyed huge swaths of the city, the fair showcased emerging technologies, including the first Ferris wheel. The event was emblematic of hopes for the future, not just for the rebuilding Illinois city, but for the whole world.
Despite its focus on the future, many of the fair's buildings didn't last much past the end of the event, as they were designed to be temporary, according to The Chicago Tribune. Much of the fair's former grounds are now given over to the city's Jackson Park and Midway Plaisance (park), according to The Chicago Sun-Times. However, a few remnants of the fair remain here and there, scattered across the city and its environs. Some mementos are as small as a ticket booth, while two others are full-scale buildings that have not only stood for over a century, but are still occupied, in use today, and serve as major tourist attractions.
Two major Chicago tourist attractions were once fair buildings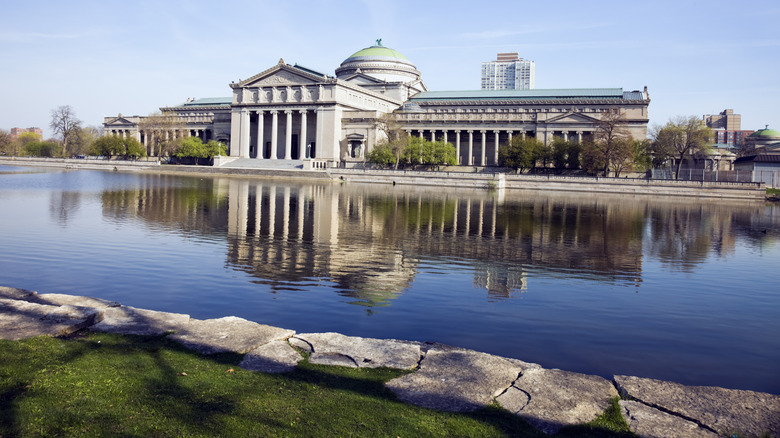 Shutterstock
According to The Chicago Tribune, the Palace of Fine Arts, which at one time housed the city's collection of precious artworks, was built to last. When the fair was done, the exterior was changed so that the front was now the back, and vice-versa, and the building was given a new color scheme, but otherwise it's the same as it was in 1893. Today, it houses the Museum of Science and Industry (pictured above), and according to 2016 statistics from the Themed Entertainment Association, hosts over a million visitors per year.
Another Columbian Exposition building was built specifically with a view toward another use after the fair was over. As The Art Institute of Chicago explains on its website, the institution needed a permanent home, and there was even talk of using the building that eventually became the Museum of Science and Industry. Instead, the Art Institute put up money to build a structure. However, it was used during the exposition first, not as a tourist attraction, but as a site for meetings and discussions. After the dust had settled on the fair, the museum moved into its new site.